The superior growth rates of the three technology giants, reaching 35-50% per year, continue to be a major difference.
This year's tech jolt could offer a huge opportunity for investment in cloud computing infrastructure giants, which are enjoying extraordinary growth caused by rapid cloud adoption and strong balance. Recent earnings reports and current analyzes suggest a bullish outlook.
The cloud infrastructure consists of all the hardware and software components needed to support the delivery of cloud services to customers. It is flexible and scalable, making it ideal for enterprise computing. It offers an attractive return on investment thanks to its reduced infrastructure and storage costs, its flexibility, its scalability and its security measures to combat cyberattacks.
It accounts for almost 50% of all data stored worldwide. And as data becomes central to future secular trends, such as AI and automation, and real-time analytics for industrial, healthcare, or consumer purposes, cloud infrastructure is essential for innovation. hosting and data processing.
The cloud infrastructure giants have built robust cloud businesses that together will generate $ 178 billion in revenue by 2021. The secular "sticky" trend in cloud adoption continues to spur growth, potentially providing opportunities for unique investments. Synergy Research Group data shows that enterprise spending on cloud infrastructure services grew 34% in the first quarter, year-on-year, the eleventh time in the twelfth quarter that year-on-year growth was in the range of 34 to 40%.
Who are the major players of cloud infrastructure?
Amazon (AWS) leads with 33% market share, followed by Microsoft Cloud with 22%, and Google Cloud with 10%, which together make up 65% of the market.
Amazon Web Services: In the first quarter, the giant grew faster than the rest of the market for the third consecutive quarter. Its market share remains stable.
Microsoft Cloud: Its market share grew at a rate of approximately 2% per year.
GoogleCloud: Its market share grew at a rate of approximately 1% per year.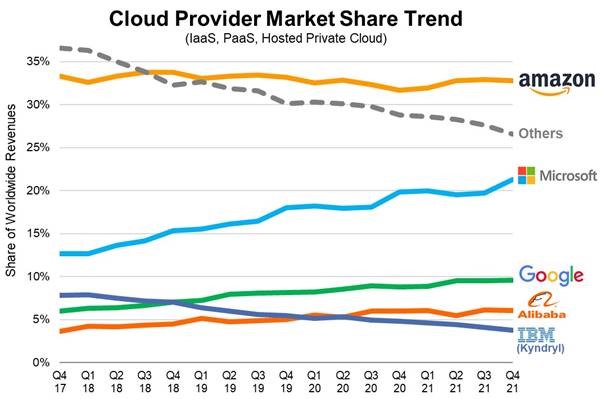 Source: Synergy Research Group.
The superior growth rates of the three technology giants, reaching 35-50% per year, continue to be a major difference, allowing them to increase their market share. Other players have continued to increase their profits, but at a slower growth rate, around 10-20%.
Overview of first quarter results
AWS expressed strong customer momentum in the first quarter, with cloud adoption in many key industries. It won new customers such as T-Systems, Verizon Connect, Telefonica and Boeing, and announced new partnerships with the MongoDB database platform, among others.
In the first quarter, AWS grew 37% annually, with revenue of $ 18.4 billion. Operating income reached 6.5 billion USD, up 57% over the same year.
The turnover of Microsoft Cloud grew 32% to $ 23.4 billion, driven by Azure and other cloud services grew 46%, driven by growth in consumption -based services. Operating income rose 29%. The company featured strong customer commitment to the cloud platform and efficient sales execution on commercial reservations.
The turnover of Google Cloud grew 44% to $ 5.8 billion in the first quarter, year-on-year. The Google Cloud segment includes i. Google Cloud Platform (GCP) which includes infrastructure, platforms and other services, as well as ii. Google Workplace, at iii. other business services. In March, it reached an agreement to acquire Mandiant, a head of cyber defense, in a deal worth $ 5.4 billion.
Growth was driven by GCP, powered by infrastructure and platform services. The quarterly operating loss dropped by $ 43 million to $ 931 million, due to higher costs.
While cloud growth is remarkable, the repeated losses and small size of the cloud business associated with all other Alphabet businesses make it difficult to justify an investment in Alphabet based on the potential. clouds only.
Macroeconomic headwinds, including rising costs and wages in particular, exchange rate headwinds and rising borrowing costs, could hurt growth in the coming quarters. It remains to be seen, but slowing cloud growth could also provide opportunities for the Big 3.
Salesforce results showed a positive picture for the cloud, citing no "significant impact." Similarly, Oracle Corp.'s earnings this week revealed that its cloud infrastructure business has entered a "hypergrowth phase" that could see the company record "exceptional revenue growth in the coming quarters.
The results of the second quarter in late July and early August should provide more clues about the state of demand for cloud infrastructure.
Compelling reviews
At its lowest in March 2020, cloud giants offer "not to be missed" opportunities. In the current environment, resilient earnings point to a stable outlook, even as growth slows.
But how many have fallen values?
It may be too early to tell, as it depends on the potential change in future earnings, but the overall valuation multiples have been compressed significantly. For Amazon, the data was influenced by a one -time loss at stake in Rivian in the last quarter.
Uncertainty remains about the non -cloud businesses of these giants, which could be further affected by the slowing economy and shrinking budgets. On the bright side, the stock market crash could also accelerate mergers and acquisitions, such as Broadcom's recent acquisition of VMware, a multi-cloud service for all applications, for $ 61 billion in cash.
In conclusion
The strong cloud growth trend, combined with a significant market correction, is compressed into valuation multiples. The three cloud giants have captured most of the cloud infrastructure market share and boast large balance sheets. The more difficult economic situation could give them an additional advantage to capture market share or get competitors to promote their business in the cloud.