As every year, Contentsquare presents its report Digital Experience Benchmark providing market insight through user sessions around the world. It brings together 1 year of data collected on more than 3,800 websites, in 25 different countries (including France), and approximately 14 major industries. Focus on conversion and innovation.
Learn more about Contentsquare
Forced buying remains a legend
With an average of 22 pageviews per purchase session, the number of pageviews per session is particularly high when buying. In fact, the study indicates that the number of page views is rising on average by 348% when it comes to buying sessions across all e-commerce industries. In some specific sectors, this increase was even stronger: + 567% for high-tech and + 360% for luxury.
That was pointed out by Pierre Casanova, chief revenue officer at Contentsquare "The buying session is the session of all risks. With an average of 22 pages consulted, this is a real career that awaits your users: multiplying error risks, UX risks and turnaround times. -load. […] There is a real correlation between conversion rate and short journey: it is simple, fast and reliable ». When buying, users want to do more research to be sure of their choices. It is important to give them all the important information from the beginning, to shorten their journey as much as possible, and thus reduce the risk of mistakes and abandonment.
Purchase sessions are longer than others
Time spent purchasing sessions is a metric that represents "the time a user spent on your site before purchasing". According to the study, this is an important indicator, because the higher it is, the more it reflects the time your customers spent to decide to convert. So sometimes it makes it possible to realize that it is necessary to shorten the journey of the customer.
All e-commerce industries combined, the average duration of a purchase session is 17 minutes and 11 seconds. This average time was higher than that spent by all visitors, in all sectors. At retail, purchase sessions last an average of 21 minutes and 22 seconds, compared to just 5 minutes and 16 seconds for international visits. Contentsquare determines that it is important to do everything "reduce this time and speed up the purchasing process, by not rubbing against the elements of assurance, personalization and automation".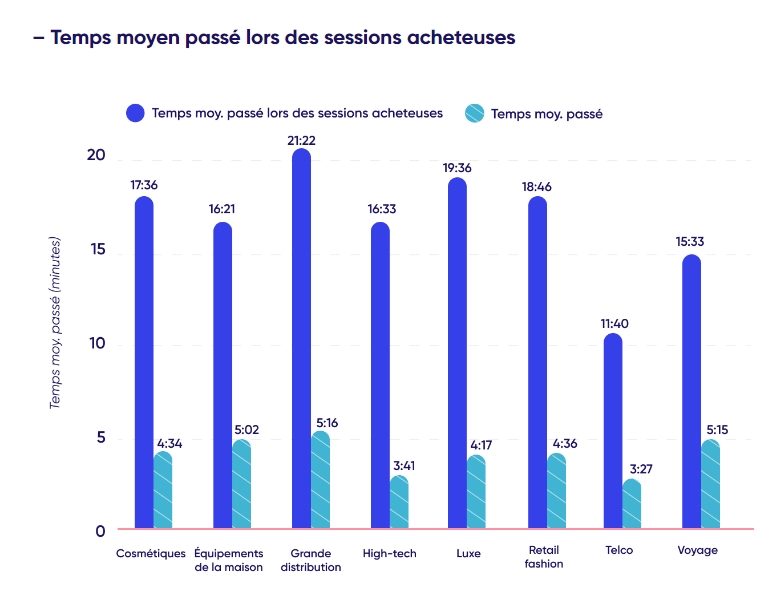 Mobile users buy faster than desktop users
By comparing the average purchase duration of sessions by device, we realized that mobile users perform the purchase action faster than those on desktop. In fact, the average time spent during purchase sessions on this type of device is 13 minutes, compared to nearly 22 minutes on the desktop.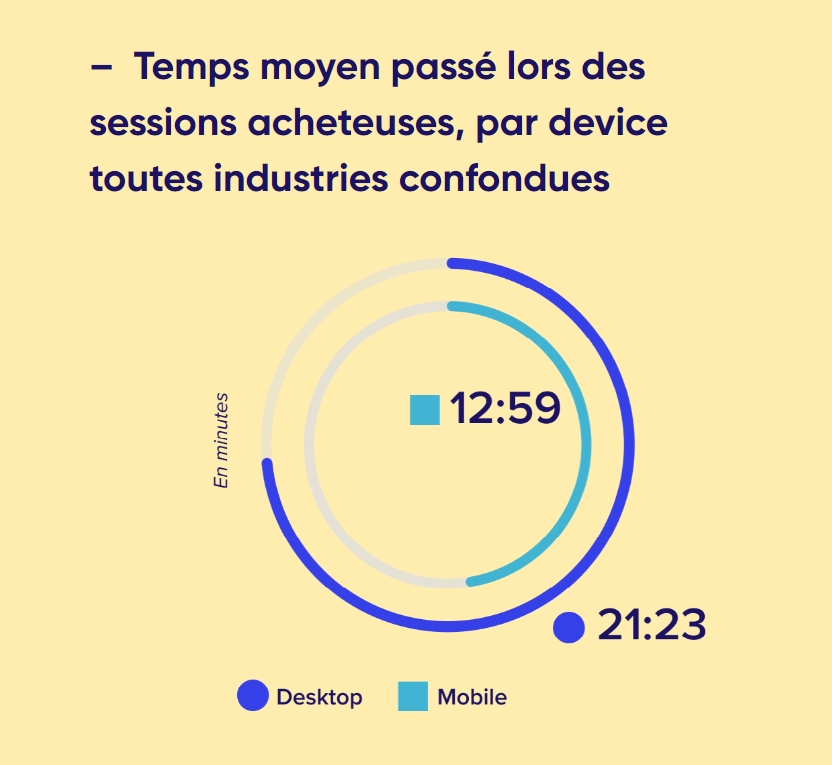 This difference in the duration of purchase sessions between mobile and desktop was observed for all industries. However, this is more pronounced in some specific areas such as travel or high-tech, and more moderate in others such as mass distribution or retail fashion.
The average conversion rate is 2.96%
Considered one of the most important metrics, conversion rate is a measure of brand success. The study states that between 2020 and 2021, this rate increased from 2.27% to 2.96% (+ 30%) for all e-commerce industries combined. Over the years, some industries have stood out because of significant changes in their average conversion rate, such as mass distribution (from 5% in 2020 to 6.8% in 2021) or travel (from 2.4% in 2020). up 3.9% in 2021). Contentsquare defines that "to improve conversion rates in 2022, brands should simplify checkout as much as possible".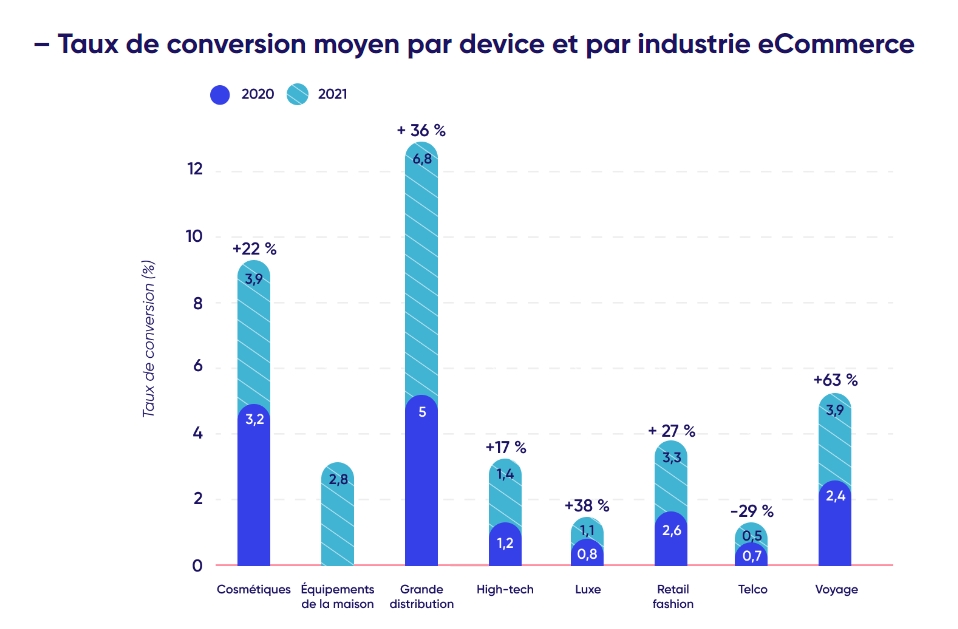 The study also highlights the fact that the average conversion rate on desktop (3.7%) is higher than on mobile (2.2%). This indicator shows that optimizing the user experience, especially for mobile devices, should remain a priority for brands.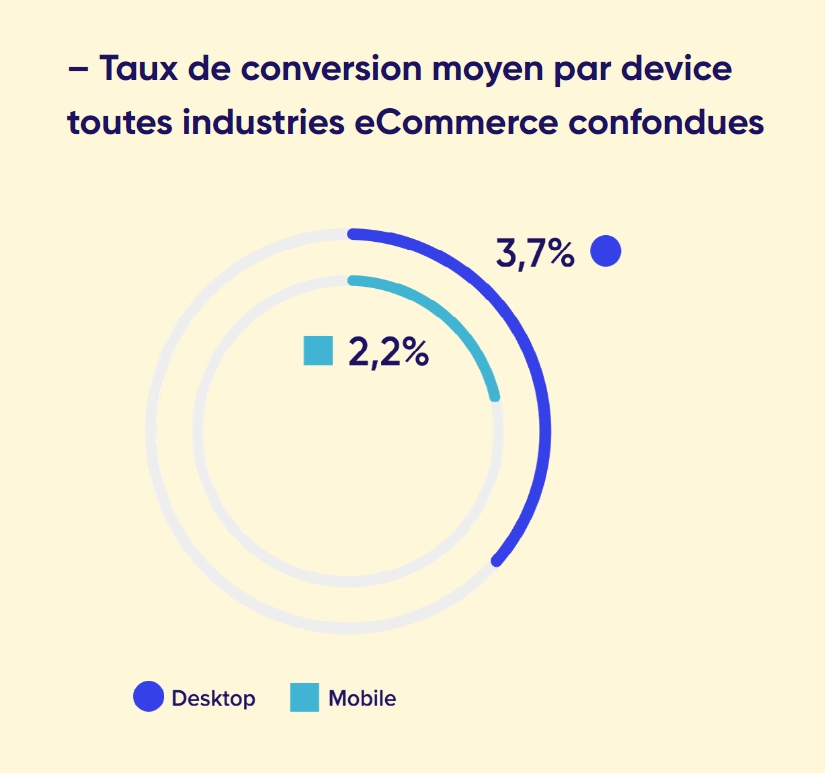 The average basket on the desktop is almost twice as high as on the mobile
With the average order value on desktop being 91% higher than on mobile, we noticed that the largest purchase is typically made on desktop. However, the luxury sector is an exception, as the average shopping basket for this industry is almost twice as high on mobile than desktop ($ 336 spent on average on desktop, compared to $ 615 on mobile).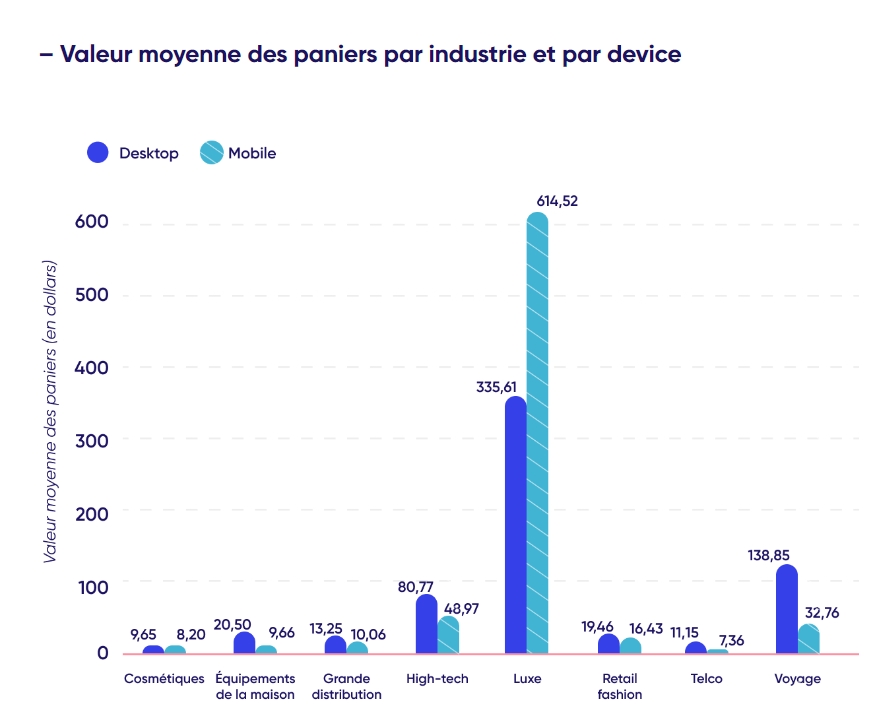 Contentsquare explains that "The average order value lets you determine which channels will most effectively generate revenue for your brand, but also lets you know if your pricing strategy meets the specifics of your industry.".
Discover the full study on Contentsquare