Nobuyuki Matsuhisa, or more simply called "Nobu", is part of the very close circle of the most charismatic Chefs on the international scene, recognized for his unique style that combines originality the codes of Japanese gastronomy with the exoticism of flavors and inspired techniques. .of his stay in Latin America.
Nobu grew up in Japan. At the end of his apprenticeship, he was offered a professional opportunity in Peru in 1973. Then at the age of 24, he took advantage of his opportunity and flew to Lima where he opened his first restaurant. This stage across the Atlantic will mark his creativity forever. Unable to find the ingredients needed to make typical Japanese dishes, he was forced to make recipes using local products. This is how he discovers new textures, original seasonings, unknown spices, and tries new marinade techniques. These new sources of inspiration, along with a devouring passion for fish in all its forms, will help shape the artist of cosmopolitan Japanese cuisine that he has become.
After 10 years of traveling between Peru, Argentina and Alaska, Nobu settled in Los Angeles and opened his own Matsuhisa restaurant in Beverly Hills in 1987. Thanks to his unique culinary footprint, his cuisine was quickly recognized from the current offer. His restaurant then became the source of Hollywood stars, which gave him worldwide fame.
Based on this success, Nobu continues its expansion and gradually establishes itself on five continents. He already owns it more than 60 restaurants around the world. Matsuhisa Paris is its sixth gourmet restaurant. the palace The Royal Monceau – Raffles Paris and renowned Japanese Chef Nobu Matsuhisa joined forces to open his first restaurant in France in March 2016.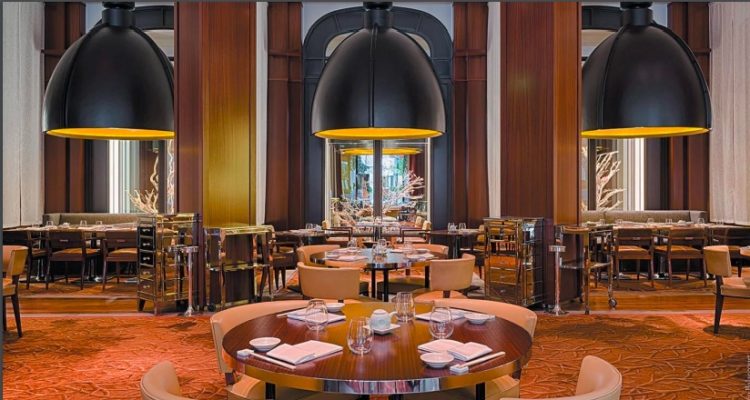 Led by Chief Hideki Endo and the brigade of sushi masters, the restaurant Matsuhisa Paris delivers a very contemporary perspective of Peruvian-Japanese cuisine, the result of the gastronomic encounter of two cultures dear to the heart of Nobu Matsuhisa: Asia and Latin America. " Paris is the capital of gastronomy. I greatly appreciate the City of Light for its energy and those who live here. I am happy to introduce and share my cuisine with Parisians. The Royal Monceau – Raffles Paris is a place where beauty is combined with comfort and modernity, and this atmosphere can also be seen in my restaurant.", said Nobu. Matsuhisa Paris was inspired by the formula that Chef has been successful at in his other restaurants such as Beverly Hills, Aspen, Athens, Mykonos and Munich.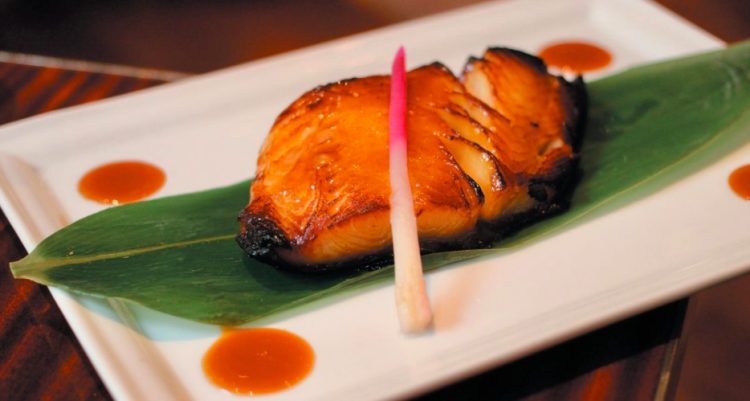 The menu, generous and whimsical, offers a unique culinary adventure in its Peruvian-Japanese style. Albacore tuna sashimi with its jalapeño peppers, black cod and miso sauce, tacos or even traditional sushi are some of Nobu Matsuhisa's legendary "signature" dishes. The Chef also made the game of working with exceptional local French products: Wagyu nigri with black truffles, whole lobster and its wasabi pepper sauce, or even grilled octopus, spinach maki and its vinaigrette. coriander. Lots of wedding fun with a sharp selection of sake and delicious cocktails revisited the world of Nobu's taste.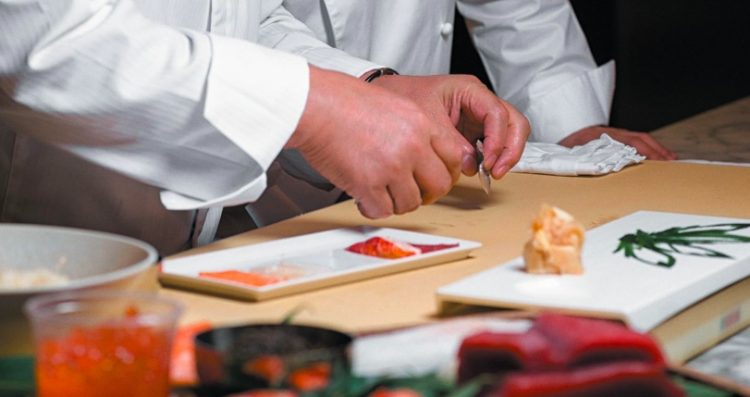 Mixology according to Nobu Matsuhisa
To extend the restaurant experience The Royal Monceau – Raffles Paris welcomes a selection of Matsuhisa Paris cocktails to the menu Long Bar. Place of exchanges and meetings, characterized by stately high and bright tables created by Philippe Starck and its comfortable deep leather sofas, the Long Bar offers a privileged friendly space to relax. After the opening of Matsuhisa Paris, it also becomes a perfect setting to discover some of the signature cocktails created by the Chef. Each of its interpretations revisits the classic Martini, Mojito, Bloody Mary, or Margarita by putting it in a personal touch with Sake.