By Philippe Guerrier | The | In the meantime
VivaTech 2022: Adecco presents Tech initiatives on the theme: "How to recruit differently in a tight job market?" System details with Pierre Matuchet, Managing Director Transformation, Digital and Candidates, of Groupe Adecco
The temporary working group The Adecco Group take advantage of the show's Tech showcase VivaTech 2022 of Paris to show some innovations in its stance.
Sometimes alone focused on QAPA's Premiers Jobs platform initiative, named after a start-up digital temporary employment expert acquired in September 2021;
Sometimes relying on an ecosystem of partners like TikTok or Salesforce;
Sometimes by going to start-ups that help Adecco move forward with new trends or HR practices.
In an interview, Pierre Matuchet, Managing Director Transformation, Digital and Candidates, Adecco Groupdiscusses the area of ​​digital transformation of HR function.
What are the key challenges in digital transformation identified by the Adecco group?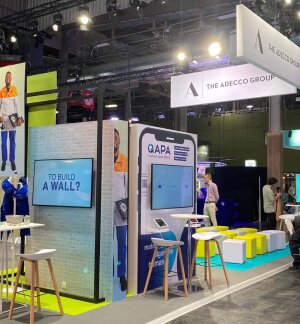 We have our own challenges inside and we also support our clients in their own digital transformation. We are entering a phase of acceleration in the digital transformation of HR functions, which are affected later than others, such as travel or banking.
We are for the first time at VivaTech with a key question: how else to recruit in a crowded job market?
The Adecco group aims to support professional trajectories, with strong social and ethical meaning, while remaining helpful to our customers.
At The Adecco Group, we have developed three columns for this change:
digital,
integration,
Training.
The digital component, in The Adecco Group, is described in the Adecco & Me application used by 85% of our temporary workers who tend to request their time sheets or salary deposits. We've enriched our QAPA recruitment solutions, with digital char expertise to recruit more and faster.
QAPA's First Work: the appeal to youth and students
"On the occasion of VivaTech 2022, we are launching a new 100% digital recruitment platform with no CV and open to all under the QAPA brand: Premiers Jobs.
• It makes it possible to have missions and jobs, while incorporating social coverage into the interim contract.
• The target population is youth and students. They are not required to have self-employed or freelance status or send invoices to clients.
• Adecco takes care of everything by signing a standard temporary employment contract: payment of wages, paid holidays, health and retirement cover, professional insurance during the mission and unemployment cover of Pôle Emploi.
• Candidates are free to choose their assignments without interference from recommendation algorithms.
• Even if the person works with three different clients in a particular month, the person will have one payroll. »
How is QAPA's integration with the Adecco group progressing?
We have maintained and grown the QAPA brand which is now called "Adecco's digital solution". This becomes our strong arm, for example, for all customers who choose the 100% digital delegation offer (finding temporary workers on behalf of customers) and contract management (payroll).
The technology developed in -house is powerful and we are increasing it.
From QAPA, it is possible to access the group of Adecco candidates. The two databases provide access to more than 8 million candidates. With the acceleration of QAPA's integration within the Adecco group, faster than expected, Stéphanie Delestre (co-founder of QAPA) and Laurent Delaporte (general manager) passed after six months.
How well do you work with big tech players like TikTok and Salesforce?
TikTok will be present at the Adecco booth at VivaTech along with influencers who will come to explain how to highlight their profile and CV through the entertainment application. Adecco has a corporate account with TikTok (over 53,000 subscribers). It is also a very interesting recruitment channel for us.
Salesforce, which specializes in cloud CRM solutions, is also present in our stance on the subject of training temporary workers and the learning path to become a developer of its ecosystem (Traihead). Global collaboration is conducted on the use of their products. Adecco is also a customer of the Salesforce CRM platform: 3,800 employees through our network of agencies are connected to Salesforce.
Overall, how do you work in the ecosystem of HR Tech start-ups?
We work with these start-ups on the edges of our activities but also on key topics where we believe we are still lacking in maturity. For example, the method of recruiting in a different way notably involves the evaluation of soft skills and the return of them to our client companies.
This is the case of:
OpenMind Neurotechnologies (method of testing and training that combines virtual reality, gamification and neurotechnology),
pitchboy (virtual coach, based on AI, to simulate interviews),
Skilleo (review via e-gaming for recruitment).
Since April 2022, we have also started a full-scale pilot with scale Yaggo in Île-de-France to assess the quality of the candidates 'CVs, our recruitment processes and the candidate's experience.
What place do you give digitally to Adecco's physical network of temporary employment agencies?
Digital comes as complementarity of physical agency.
We decided to digitize without dehumanizing. Digital aims to save our agents time by automating and eliminating tedious tasks. And so, to have more time to better understand the career paths of the candidates and the needs of the customers.
Digital comes as complementarity of physical agency. The first will not destroy the second.
By implementing the three pillars of digital transformation, we will integrate counters dedicated to integration or training in our agencies.
We are also interested in our physical network in the success of QAPA in digital. When an agency finds a lead for QAPA, it gets a reward: it counts towards its goals.
(Adapted from an article from the professional information portal accessible by subscription to News Tank RH. To access the Discovery offer)