On the occasion of its annual event in the United States, Cisco announced advances in managing switches from the Catalyst and Nexus range. Through Meraki, the equipment can be managed in cloud mode.
Live from Las Vegas. Chuck Robbins, CEO of Cisco inaugurated his Cisco Live event that brought together nearly 10,000 people. "I'm glad I'm no longer in front of the camera", the leader underlined in reference to the many web conferences held during the health crisis. But referring to various crises (Ukraine, supply chain, etc.), he acknowledges "we have learned that technology is an important part of stability and we already have the opportunity to accelerate to bring people into the digital economy. ". Especially in a work environment that has become hybrid, "with collaboration, but also increasingly distributed applications".
Catalyst devices monitored using Meraki
The decor planted thus imposes according to him to "modernize applications, architectures by moving towards public or hybrid cloud". And the network side is no exception to this rule with announcements about the Catalyst cloud mode management (switches for subsidiaries and campuses) and Nexus (equipment for datacenters) range. "We've worked for several years to reduce the complexity of our portfolio and to integrate our solutions," said Todd Nightingale, executive vice president, network and cloud business at Cisco. To manage this management in cloud mode, the equipment manufacturer relies on Meraki, the cloud management tool for network infrastructures for SMEs (acquired in 2012).
The service is primarily aimed at the Catalyst 9000 series (9200,9300 and 9500) and recent WiFi 6E access points that are now recognized and enrolled by the Meraki platform. A dashboard gives IT teams several types of information: topology, state of health of switches, firmware version and of course alerts in case of malfunction (troubleshooting). Access to the Meraki service is available free of charge to DNA Center -licensed customers. For Cisco, customers will have the option "DNA Center for on -site or cloud mode monitoring with Meraki according to their needs or regulations for example". Aside from early adopters, Meraki's full oversight customers may be waiting for the Catalyst portfolio. Cisco thus announced that in 2023, more equipment from the Catalyst range (switches, WiFi access points or Edge platforms) will benefit from Meraki monitoring. On the other hand, customers with Catalyst equipment and Meraki offers for WLAN and SD-WAN will see today's announcement as the first step towards centralized cloud platform-based management.
Once mapped to Meraki, Catalyst equipment will benefit from cloud mode monitoring. (Photo credit: JC)
Nexus Cloud with Intersight
The other switch announcement is related to the Nexus range for data centers with the launch of the Nexus Cloud. Cisco started from the observation that large companies, according to a study, must deploy, connect and manage an infrastructure to support more than 400 applications on site and 300 in SaaS mode. Therefore, it is necessary to have a management solution in cloud mode to make the link between these two worlds. Therefore, the answer is Nexus Cloud, which relies on the expertise of Intersight, the cloud environment management platform.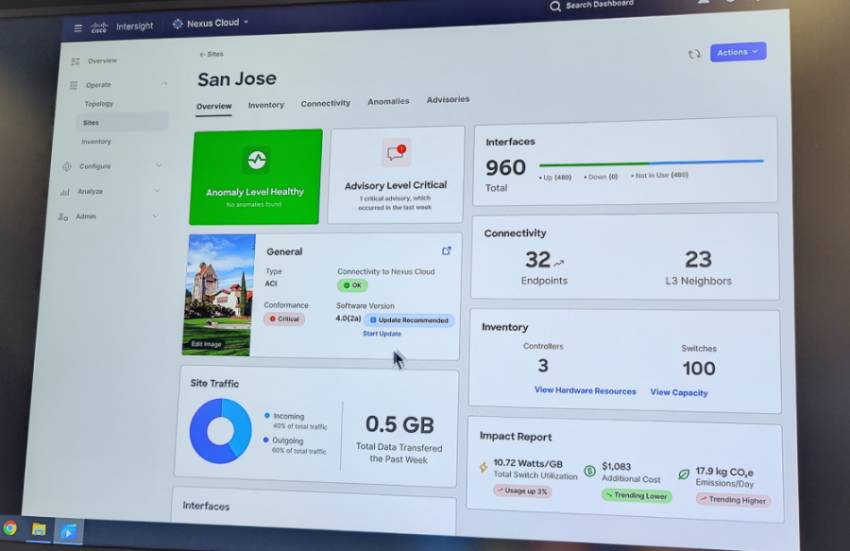 The dashboard brings together essential Nexus management elements. (Photo credit: JC)
In detail, the Nexus Cloud maps all the equipment present and the topology in place (leaf-spine for datacenters), making it possible to configure and deploy new switches. Of course, the platform detects anomalies and offers solutions to resolve them. Cisco emphasizes that its solution is also able to determine in real time the energy consumption of the network. This indicator is particularly useful in the context of companies 'decarbonization strategy and their CSR policy. Note that the Nexus Cloud will be available from next fall.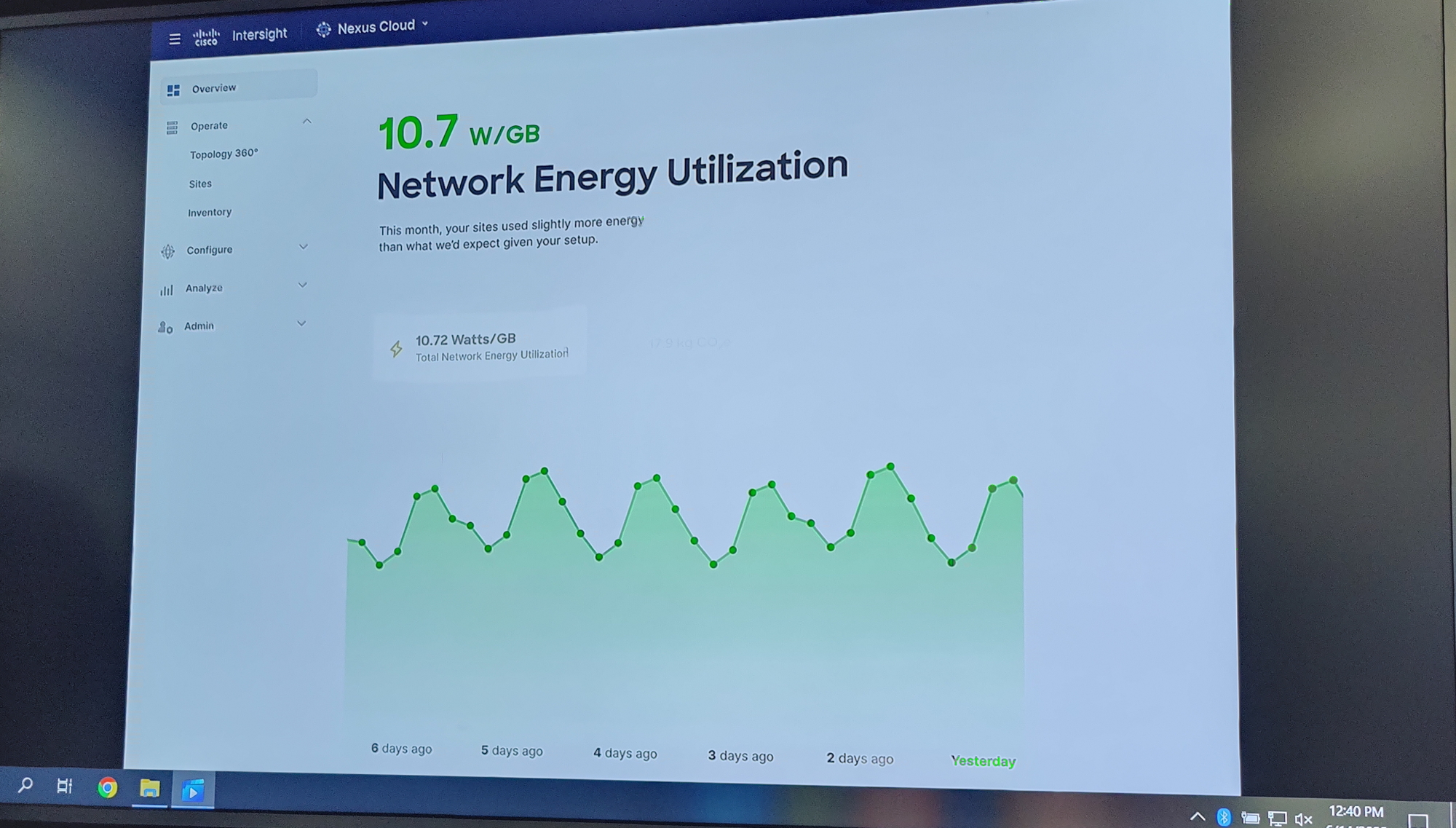 Nexus Cloud provides a real-time view of network energy consumption. (Photo credit: JC)