For its first face -to -face conference at the Javits Center in New York since 2019, MongoDB has presented several announcements around its Atlas platform (including a new Serverless mode) and is increasingly presenting itself as a true alternative to relational database.
During the MongoDB World 2022 plenary conference, Dev Ittycheria, CEO of MongoDB, returned to this pandemic that began in March 2020, which "Agitated, terrified. But this episode has clearly pushed companies to engage in digital change faster. " MongoDB presents its solution as a global development platform that spans the entire data lifecycle and aims to accelerate application development. "This is what we offer to developers, who spend most of their time managing data" continued the CEO of the publisher.
MongoDB is a document -oriented NoSQL database. It can be used for massive data storage. Unlike relational databases whose development in the 1980s was designed around structured data, MongoDB does not rely on tables and columns but stores data in the form of collections and documents.
It is around Atlas, the multicloud service based on MongoDB and now available from three major cloud service operators – AWS, Azure and Google – in approximately one hundred regions around the world, making MongoDB the main its announcement.
MongoDB strongly pushes for integration with cloud service operators that it clearly considers partners and not competitors, even if they can offer alternative solutions. In 2016, when the publisher announced the first appearance of this service, Atlas was available on AWS and only four regions. This is a trade-off that needs to be made by all software publishers but becomes a must to be able to offer a truly multicloud solution that allows companies to store their data in regions of their choice according to regulations. , technical and costs. At the same time, MongoDB also offers an OEM solution as a Service mode to many regional cloud operators (DigitalOcean, Rackspace, IBM Cloud, Alibaba, Tencent, OVHCloud, Yandex + Naver Cloud).
"We are convinced that our database and NoSQL databases in general can replace all relational DBMS and thus bring benefits in terms of performance, scalability and productivity in development", Considered by Ian Massingham, Head of Developer Relations. "The best example is Amazon's move from Oracle to its in-house NoSQL database. That also makes AWS a partner and competitor, but where Amazon offers special NoSQL databases (Time Series, Key Value, Graph), we offer a general NoSQL database with connectors and drivers (12 offered by MongoDb to which third party developers should be added) ". These drivers allow developers to retain their programming language and thus stay in the environment with which they are familiar.
Among the many announcements at this conference, Sahir Azam, Chief Product Officer the general existence of serverless mode for the Atlas service. "Until now, developers who wanted to access server-free functionality had to make a trade-off between cost and performance, he explains. With Atlas Serverless, MongoDB overcomes this difficulty. That is why serverless makes it possible to set up a platform in multicloud mode and take advantage of the benefits of each cloud service provider ".
No Atlas Server allows users to support a wide range of application requirements with little or no initial configuration and ongoing capacity management. Users benefit from the ability to deploy across all three major cloud providers, automatically optimizing workload costs without upfront commitments.
MongoDB has signed a partnership with specialist front-end applications, Vercel, to provide a service to build, preview and deploy websites and applications using Atlas as a database. With this integration, developers can build new applications without the need for Atlas configuration.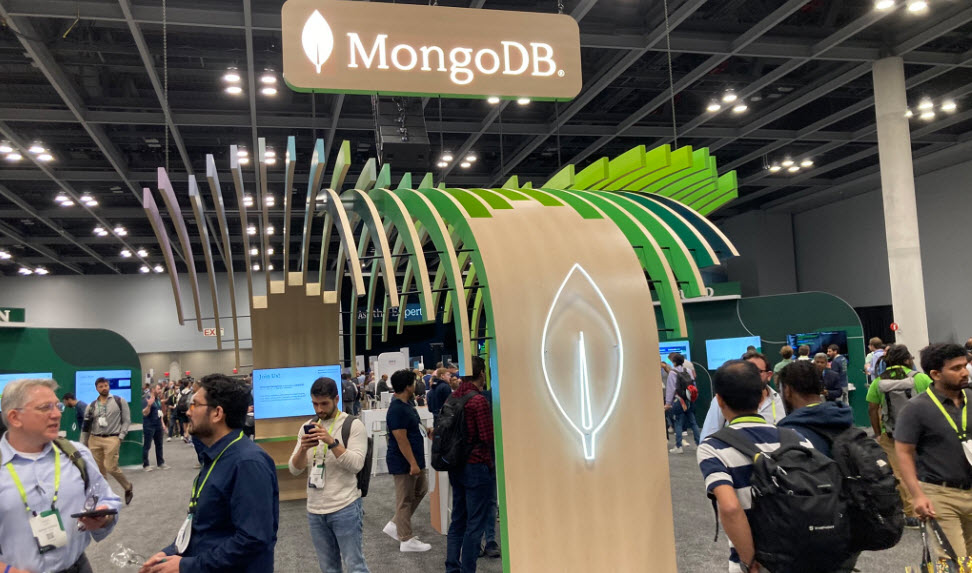 One of the characteristics of MongoDB is its elasticity. Some companies use clusters of more than 100 nodes for databases containing millions of documents. Hence the need to provide high-performance synchronization function. MongoDB provides seamless cluster-to-cluster data synchronization regardless of environments, whether in Atlas in public clouds, with MongoDB in private clouds, on-premises or on the edge (Edge). Cluster-to-cluster synchronization allows users to easily migrate data to the cloud, create test environments, create dedicated analytics environments, and support deployment requirements. data storage.
Another ad, Atlas Device Sync connects Atlas to Realm, the popular mobile database available on edge (Edge) and mobiles from the recently acquired company with the same name. The new option Flexible Sync MongoDB provides granular control over data synced to user applications with intuitive native language queries and hierarchical permissions.
The Data API is a secure API for accessing Atlas data via HTTPS with no performance penalty. This allows developers to easily extend Atlas data to other applications and services in the cloud or to their server-free architectures.
Along with these architecture -focused announcements, MongoDB also introduced new features related to the database and data lifecycle as well as a unique encrypted data search function. Every organization needs to be able to secure the most sensitive information in any environment without compromising the ability to create rich app experiences that use that data. While existing encryption solutions (in motion and rest) cover many use cases, none of them protect sensitive data while in use.
Queryable Encryption introduced the industry's first encrypted search scheme using an innovative cryptography method. This technology gives developers the ability to query encrypted sensitive data without affecting performance, without the necessary crypto experience. Data remains encrypted at all times in the database, including in memory and in the processor; the keys never leave the application and are inaccessible to the data server. This end-to-end encryption uses new encrypted index data structures so that, for the first time, developers can run expressive queries against fully encrypted data. confidential workload.
Queryable Encryption is based on standard NIST cryptographic primitives that aim to ensure data integrity against all types of attacks. This technology was developed by startup Aroki Systems from the Encrypted System Lab at Brown University. It will be available in preview mode with MongoDB 6.0 but should be commercially available before the end of the year.
Dev Ittycheria recalled some facts describing the rapid evolution of the publisher since the 10gen company adopted the name of its solution in 2014. The number of client companies has increased from 1,100 to 35,000; displayed by the editor 255 million downloads with significant acceleration with more downloads last year than in the last ten years. Sales and R&D increased sharply. The company is still at a stage where it prioritizes growth as it has lost over the past six years: $ 306 million for the 2022 financial year (ended January 31) for a turnover of $ 873M. Like many IT companies, MongoDB saw its stock fall from $ 556 in November 2021 to $ 293 today. But investors are still confident as it priced itself at $ 30 in October 2017 during the IPO.
MongoDB aims to meet the growing needs of businesses in terms of development. "Change or be changed" according to the expression of Catherine Li of bank Wells Fargo who developed the mobile app using MongoDB. By 2025, more than 750 million applications will be developed according to IDC and the United States will have a shortage of more than 400,000 developers. In 2011, Marc Andreessen wrote "software eats up the world". In MongoDB the editor can be added.