The European Commissioner responsible for digital and competition talks to us about the potential dangers of a virtual universe and the challenges facing the European Union in the cyber field.
Qualified as the "beast of Silicon Valley", Margarthe Vestager closely follows the development of web3 – a decentralized Internet, based on blockchain technology – to be proposed by tech giants. Denmark's competition and digital commissioner also faces the continent's worst crisis since World War II with the war in Ukraine, and hopes member states will come together in the face of Moscow -led disinformation campaigns.
We met him at the International Cybersecurity Forum. Interview.
Numerama – After trying to regulate Facebook in the European market, should we look at Meta's ambitions in the virtual world?
Margarthe Vestager – Obviously. Although it is too early to talk about regulation, we should consider all the possible flaws of a virtual reality universe, and many of them: user data, service security, targeted advertising, monitoring in sales of products … A virtual The world controlled by a company worries me. In fact, virtual reality is a used one. I'm not a gamer, but I know that VR is very present in the video game world and set to expand. In this aspect, we can already think about the safety of users in this particular market.
Cloud is also a sector dominated by tech giants in Europe. Google, Microsoft and Amazon share 70% of the market. How are we going to leave so little room for European champions?
We plan to give companies more freedom to switch cloud providers. American giants offer attractive prices, of course. Once all the IT hardware is installed, going to a cloud provider will be more complicated, as it will require replacement costs. The goal is for these large groups to facilitate the uninstallation of their equipment. This is part of the proposed Data Act passed in February 2022. I see that Microsoft is ready to go down this path.
Depending on the States, laws and development sectors, it is sometimes mandatory to change the contract and equipment. At that time, the customer may have more choice and especially with more specialized European players, for example.
With Thierry Breton, the European Commissioner for the Internal Market, you talked about a financial contribution from tech giants to 5G networks, how will it be announced?
We are in a weak position in negotiations with these large groups, as their services have become very important to the European Union. However, these giants we are talking about are the ones that widely use the Internet installations of member countries. However, they do not participate in investing in this network, they only benefit from it. We want to find commercial agreements so that they can supply these services on the Internet. We need a lot of investment in the digital world, in the 5G network for example, and there is nothing surprising in their contribution to it.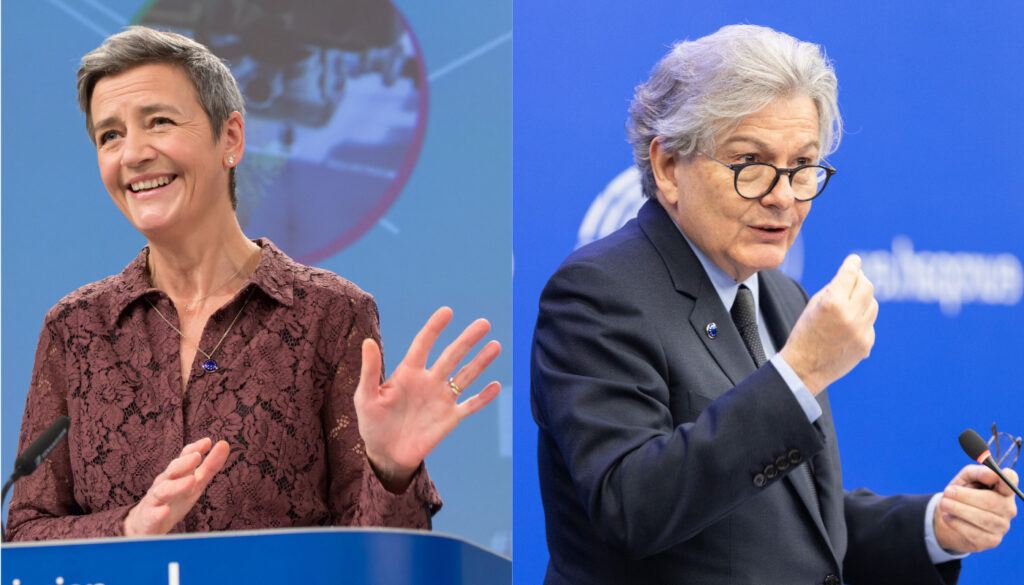 Many IT experts criticize the lack of a common cyber defense. Should member countries in this area unite in the face of Russia's current threat?
We may have lacked unity in the past, really. Some countries tend to turn to the United States, for example, when faced with a major incident. In the past year, we have been working on the Joint Cyber ​​Unit, a common platform of mutual assistance between member countries in this sector that should be fully operational next year. Private as well as administrative actors can work together and act together within the same structure.
The NIS2 directive, adopted in May, lays out a common set of cybersecurity rules. We ask companies to be more demanding in their protection, but also to communicate in the event of attacks against the authorities. It takes an expense, but financially, it's better to protect yourself right away than to lose everything and take emergency steps in stride.
The European Union has undergone a Kremlin -led disinformation campaign for several years, is it still possible to stop it now?
Europeans are also guilty of letting Russia do this. We have witnessed so much manipulation organized by the Kremlin … There is a war in Ukraine led by Moscow and at the same time the day-to-day field of information in Europe. In every news feed, in Twitter trends, we see Russia in action. It is our duty to inform the population, in every possible way, about what is really happening in Ukraine.
Interview with Bogdan Bodnar
For more