By Philippe Guerrier | The | Special workplace
Freelancing platform Cherry Pick has joined the ESN Neo-Soft Group. For what combinations and what synergies? Update with Stéphane Aubin, CEO and co-founder of Cherry Pick.
This reconciliation adjustment is rare enough to underline it: ESN Neo-Soft has already included Cherry Pickthe freelancing platform that specializes in the IT, data and digital professions,
"Cherry Pick and Neo-Soft are becoming one company. But, from an operational standpoint, we remain independent and the economic model of Cherry Pick does not change. "Explain Stéphane Aubin, CEO and co-founder of Cherry Pick. "We are deepening our positioning: bringing our network of freelancers closer to companies at the national level. »
This comparison should be interpreted in a double sense:
On the Cherry Pick side, the 15,000 freelancers registered on the platform have access to Neo-Soft's client portfolio (180 clients), all business sectors combined, looking for specific technical and business knowledge.
On the Neo-Soft side, Cherry Pick's knowledge is available to Neo-Soft customers from the angle of expanding the service offer that meets the expectations of independent consultants and their needs and a direct access to "a business community. and technical experts to service their IT projects through diversified sourcing ", according to Soig Le BruchecPresident and founder of the group takes on IT services, which is keen on external growth operations to expand its range of skills.
An ESN well established in the regions of France
Created in 2005, Neo-Soft has a base of 180 referenced customers in 5 target markets:
• insurance and social protection,
• banking – finance,
• telecoms-media,
• tingi,
• public sector.
ESN has a staff of 1,800 employees and offices in France (12 agencies), Tunisia, Spain and Germany. It expects to achieve in 2022 a turnover of 180 million euros in 2022 (including Cherry Pick).
Its 5 areas of expertise are:
• Consulting and Project Management,
• digital innovation,
• cloud and network,
• cybersecurity,
• data.
Cherry Pick, with "additional support" in Neo-Soft's customer service
Hosted on the Parisian digital campus Station F since its creation in 2017, Cherry Pick offers access to 4 communities of experts on its digital networking platform:
digital innovation,
Project management,
IT and DevOps,
Data.
The start-up has 50 customers with different profiles (start-ups, scale-ups, groups) including Unify (TF1 group), Ornikar, Leboncoin, Monoprix Online, Carrefour, and Cdiscount.
"At Cherry Pick, we bring in 15,000 experts in all areas addressed. The goal is to support Néo-Soft customers for all their needs in Paris and the regions, through additional support. "said Stéphane Aubin.
"We work together and in partnership with Neo-Soft. We remain independent, but we meet the needs of the group's customers. It allows us to cover all the needs of our customers, something which we cannot achieve without joint effort. »
A double monitoring system is conducted when a mission is filled:
on the one hand, the account manager (the business manager) regularly takes stock of the operational staff (the client) to make sure everything is in order. Therefore, he is the sole point of contact of the client for a project involving a freelancer.
on the other hand, the freelancer is followed in parallel by a 'tech recruiter' who accompanies and coaches him throughout his mission. «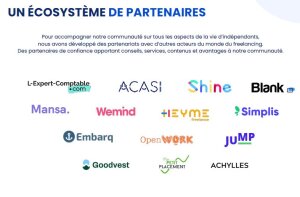 A differentiating system according to Cherry Pick
Stéphane Aubin defended the Cherry Pick model against competition on freelancing platforms:
»We only apply commission fees to our clients, unlike some platforms. The traditional system commonly applied by our "colleagues" allows them to also invoice their services to freelancers via a monthly subscription or a rate applied to TJM for each day worked. Therefore, it has an impact on the TJM of freelancers raising their prices to compensate for these losses and directly affect the market "
»At Cherry Pick, a commission of approximately 15 to 20% is charged to our customers. This is applied for our freelance offer but also when we are working as a hunting firm to meet the permanent work needs of our clients. «
"When they start working together, clients and freelancers know our margins (15-20%). This avoids friction, something we traditionally see in consultants at consulting firms whose margins is higher. We also avoid piling up margins because we work directly with our customers. "
(Adapted from an article published in News Tank RH on 05/25/2022. To access the discovery offer)