Paris, February 03, 2022
4th quarter 2021
PRESS RELEASE
42 million online shoppers in France
According to Médiamétrie's Observatory of Internet Uses, in the 4th quarter of 2021, the number of cybershoppers was almost 42 million.
For Xavier Lemuet, Director of the ad'hoc division and key surveys at Médiamétrie: "After a very marked increase in 2020 in the context of the health crisis, the number of cybershoppers will experience slower growth in 2021 to reach the volume of 41.8 millionthat is 80% Internet users aged 11 and over. On the other hand, we have noticed an intensification of practice because the proportion of weekly shoppers now represents 32% Internet users, either 2 score more than 2020, attributed to the development of mobile as a medium of purchase, used by more than half of online shoppers. Furthermore, the study shows increasing new trends that need to be followed in the short term, such as the use of platforms that connect consumers to local businesses, which are used by more than1 online shoppers at 10 in 2021 ".
Trending
Price reduction announcements: new regulations
According to Marc Lolivier, General Delegate of Fevad: "It's a fact, the health crisis has pushed the French to consume more of the internet: 38% Online shoppers say they order more on the internet than before the crisis began. And they are almost united in thinking that new online shopping habits will last despite the crisis. But the impact of the health situation is far from limited to simply increasing internet orders. The study also features a whole series of new trends that show the desire of the French to consume differently. Among them is the second-hand Internet market, which is now affecting more than 80% cyberbuyers, who declare that they have bought and/or sold second-hand goods on the Internet. For some, checking if the product is available second-hand has become a reflex before buying a new product ".
Médiamétrie and Fevad publish the results of an exclusive study conducted online from January 6 to 12, 2022, on 1,002 cybershoppers aged 15 and over. Médiamétrie // NetRatings and Fevad publish quarterly audience rankings for the top twenty e-commerce sites, all sectors combined, on computers, mobiles and tablets. This quarterly ranking makes it possible to track the audience evolution of France's major merchant sites in the number of visitors and in the percentage of France's population at the time in question.
Médiamétrie, in collaboration with Fevad, asked Internet users about their online consumption practices in 2021, the outlook and trends for 2022.
Source: Médiamétrie – FEVAD proprietary study – January 2022
What habits will dominate online shopping in 2021?
In 2021, several categories of products and services are growing, particularly online offers for transportation and lodging, recognized by 32% online shoppers (up to 4 at 6 points compared to 2020), thus testifying to the recovery of the entire tourism sector.
The priority expectations of online consumers are related to security points: the security of transactions, for 63% them, and the protection of personal data for 53% to them, both upwards 5 score against 2020.
Expectations in terms of CSR (commitment to the environment and corporate social responsibility) are also rising and are now in action. 31% online shoppers. In this area, the vast majority consider that brands have improved packaging management (reduction in quantity, reusable packaging).
In the same vein, made in France is a standard purchase for 2/3 online shoppers (66%).
What's left in 2020?
if 54% of online shoppers have not changed their online shopping habits, 38% they are said to order more on the Internet than before the health crisis began. In details, 9% of online shoppers are ordering more food products than in 2020 and 24% more things not food. These, 48% is boosting their online purchases "to take advantage of advantages not available in stores". And, probably a sign of fatigue, 46% order more online "to avoid health barriers imposed on stores".
71% of online shoppers buy on the websites of brands that are also present in the physical area of ​​sale (brick and pandikdik such as large dishes and special surfaces, etc.). While 67% to them turn to brands that are only present on the Internet. To notice that 14% ordered short circuit sites in 2021, and 13% at local merchant sites, "to support them" in the first place.
Finally, in the delivery phase, the use of services click & collect and of drive also intensified: 33% of online shoppers will use it the most in 2021.
What are the prospects for 2022?
To online shoppers who say they order more products (food or non-food) on the Internet in 2021, more than 90% say they will continue this habit in 2022.
The trend towards second-hand purchases is firmly anchored in the practice of cybershoppers:50% buy refurbished or second-hand products online in 2021; 80% to them it was made "to save" and 51% "to access branded products they couldn't afford to buy when new".
If we consider online shoppers who sell well, it's more than that 80% online shoppers who have already purchased refurbished or second-hand products and/or sell the products themselves on the Internet.
Finally, Live Stream Shopping, this new purchasing channel in video and interactive format that allows instant purchasing, is not yet known to the general public. so alone 18% of online shoppers have heard this and 12% already participated in such an event, 45% find the concept interesting.
Top 20 most visited e-commerce sites and applications in France-Internet Global 3 screen-4th quarter 2021
On average, 46.9 million Internet users (74.3% of French people) consult at least one of the Top 20 sites and/or applications each month.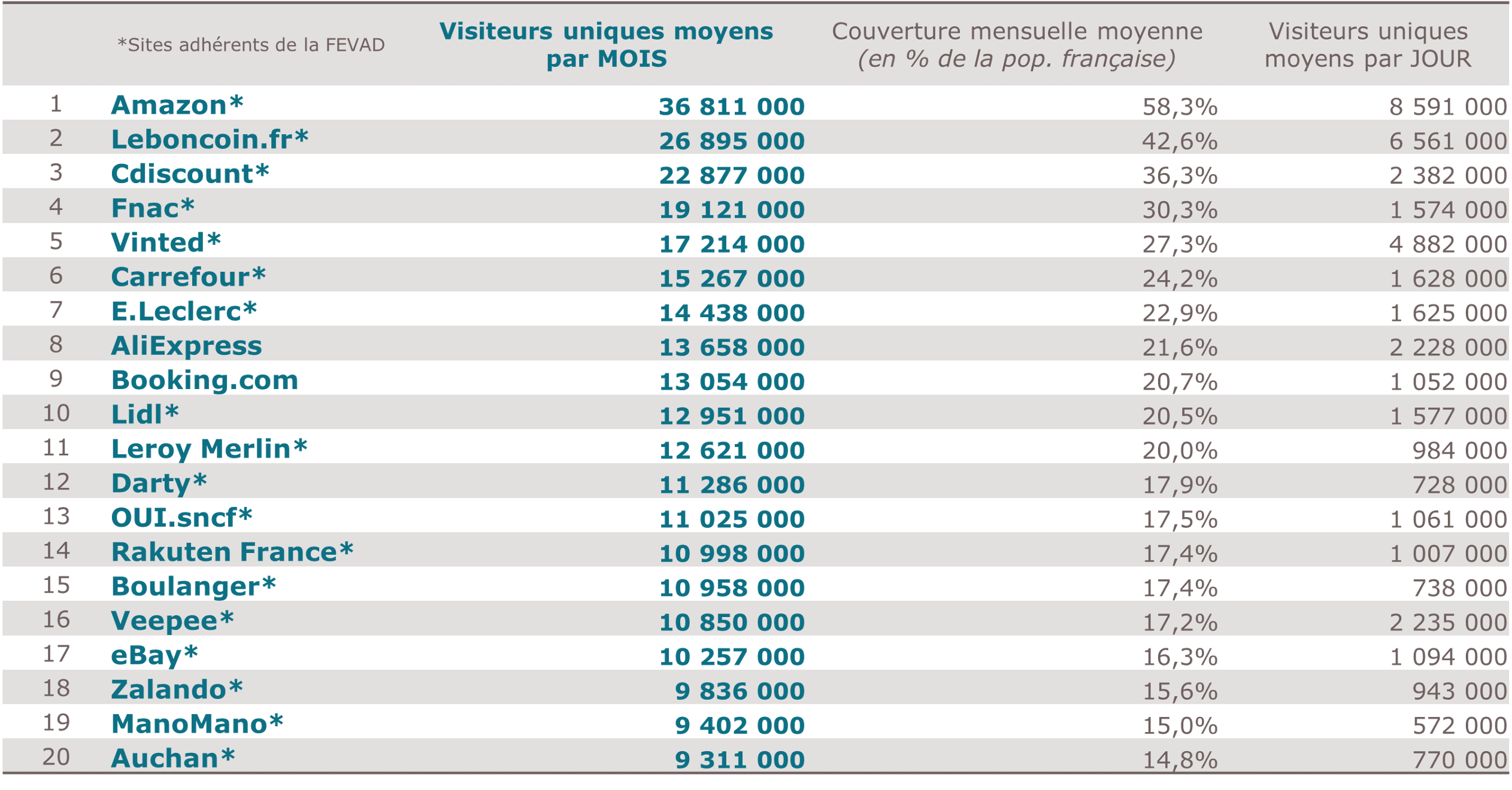 Top 20 most visited e-commerce sites and applications in France-breakdown by screen-4th quarter 2021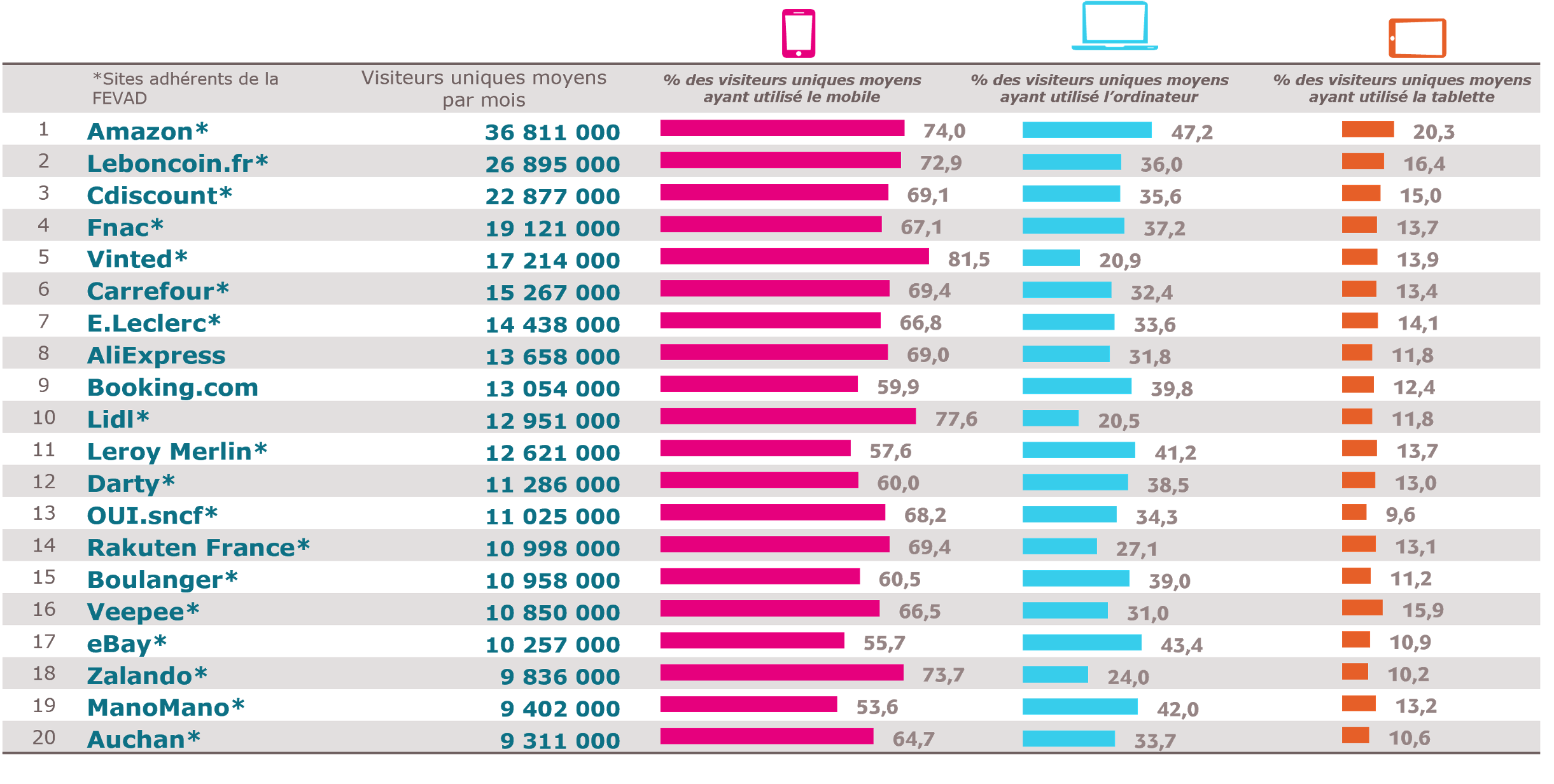 Learning access (reserved for members):
Sorry, this content is for members only.
If you are a member, you can access it simply by logging into your MyFEVAD account. If you are not a member and would like information on joining FEVAD, feel free to contact us contact@fevad.com.
Full review available to panelists upon request (members only):
Sorry, this content is for members only.
If you are a member, you can access it simply by logging into your MyFEVAD account. If you are not a member and would like information on joining FEVAD, feel free to contact us contact@fevad.com.
Access replay (reserved for members): View replay
Definitions
Unique visitors per day / month : Total number of individuals who visited a brand at least once in an average day or month concerned, regardless of their place of connection: home, work, other places. Individuals who visited the same brand several times were counted only once.
Cover : Number of unique visitors of a brand, expressed as a percentage of the population of France for the period concerned.
About Fevad:
The Federation of e-commerce and distance selling brings together 600 companies and 800 websites, including the leading e-commerce sites in France. It is the organizational representative of the e-commerce and distance selling sector. Ang Fevad Its main mission is to collect and disseminate information to improve knowledge in the sector and act in favor of the sustainable and ethical development of distance selling and e-commerce in France.
To find out more: www.fevad.com/ follow us on twitter: @FevadActu and at LinkdIN
About Médiamétrie:
A leader in media analysis, Médiamétrie observes, measures and analyzes public behavior and market trends and promotes the emergence of a benchmark for media data in France. Founded in 1985, Médiamétrie has developed its activities in France and around the world into Television, Radio, Internet (computers, smartphones and tablets), Cinema and Cross-Media. Médiamétrie // NetRatings is the company created and owned by Médiamétrie and Nielsen. Médiamétrie // NetRatings develops and markets benchmarks measuring Internet audience and online effectiveness in France.
www.mediametrice.fr
Twitter: @Mediametry
Instagram: Mediametrice.official
Touch contacts:
FEVAD
Nathalie Laîné Tel: 01 42 56 38 86
nlaine@fevad.com
MEDIAMETRY
Juliette Destribats
Tel: 01 47 58 97 55
jdestribats@mediametrie.fr