Selling more than their number of customers, many neobanks highlight their transition from a deficit balance sheet to a profit balance sheet, often referred to by the expression "in the green". But few have actually achieved profitability. Many use calculation methods or shortcuts that are sometimes very easy to reach their conclusions.
These sparkles, to give confidence to customers and investors, will only last for a while. The model seems unprofitable despite the multi-million dollar injection of investment funds in America, Europe and Asia. The trend is towards consolidation: some neobanks are being bought while others are losing business.
95% of neobanks are at risk
This observation is in a new report published by Simon-Kucher & Partners, a consulting firm that specializes in growth strategy. We can read there that of the more than 400 neobanks operating at the beginning of 2022, only 5% have reached the break-even point. In other words, 95% of the world's neobanks, which serve more than a billion individuals, fail to earn enough money to cover their costs and investments.
Analysts then spoke of "shallow", "shallow" success, and predicted that many of these young startups would not survive under current economic conditions. In May, fundraising of more than 100 million euros dropped according to figures from Crunchbase, after two years at record levels in venture capital history.
For customers, this is not a good sign. Neobanks accounts in deficit and since closed exist and show how such a situation can be a nightmare. We think of Swoon, in France, who left hundreds of customers in silence for almost a year, with no possibility of recovering their funds. We also think of the Wirecard scandal, which forced neobanks like Boon to close its doors.
At the most popular neobanks, such as N26 and Revolut, we clearly recognize in their approach the importance of being profitable. International deployments, new plane and hotel booking services, buying stock or cryptocurrency … companies are stepping up projects in an attempt to go green.
In a less straightforward way, some others prefer to opt for rude strategies to grow their numbers. Bunq, the Dutch neobank, bought the Tricount application at the beginning of the month to rise from 1.1 million to more than 5.4 million customers. Except Bunq doesn't take away to say that its customers have nothing to do with free Tricount users, who don't necessarily open a new bank account.
Orange Bank, in a completely different style, did well in October 2020, five months before announcing major financial problems. So far, lemon squeezer an anomaly in the number of customers was discovered in the accounts of the bank's subsidiary. From 500,000 to 1.1 million, the bank has 600,000 customers who have subscribed to a smartphone insurance contract in its customer volume with Orange Bank.
Which banks to go to?
Online banks or neobanks, there are many shaky establishments and we no longer make much difference between the two labels, because neobanks have got their own banking license, as is the case with Revolut.
However, in order to have confidence in his bank, it is still better to make the establishment bet connected to traditional groups. Last quarter, despite the war in Ukraine, the groups BNP Paribas (Nickel account, Hello bank!) And Société Générale (Bursorama Banque, Shine) revealed good results.
Of the mobile banks mentioned, Boursorama Banque still serves as a model. At the top step of the podium in France, with more than 3.7 million customers (since March 31), it is the most solid and also the most interesting of all thanks to its ultra-complete and less expensive offer (most Boursorama formulas are free).
Current account
Conditions: No income conditions – Welcome and Ultim cards
Annual fee: € 0 • Initial deposit: € 300
Check deposit: ✔ • Cash deposit: ✘
Bank card
Monthly card value: 0 €
Euro zone withdrawals: Free • Euro zone payments: Free
Foreign currency withdrawals: 1.69% • Foreign currency payments: Free
Suggested cards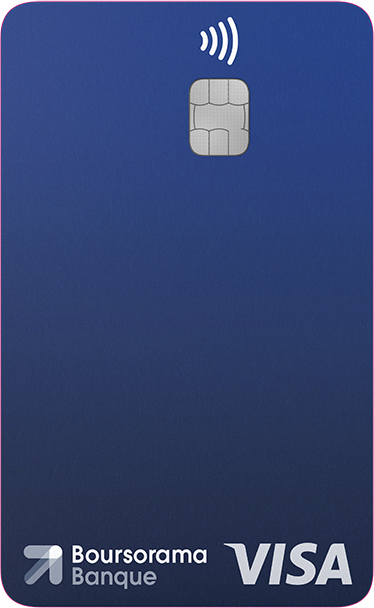 mobile payment
SEE MORE
1
In terms of profitability, Boursorama intensively left it in 2016 to make large investments. But its lack is explained only by these large amounts to offer new cards, welcome bonuses and a whole host of more modern additional services. Now the bank expects to return to profitability in a year or two. With over 4.5 million customers at this time, it will completely relieve the competition.