"Loop" interface, easy adding attachments, better integrated "To Do" function, these are some of the features of Outlook of the future unveiled by Microsoft.
In the middle of the week, Microsoft officially unveiled its next Outlook for Windows. Along with features built into Microsoft's futuristic Loop interface, the email tool brings more convenient innovations, including an easier way to add attachments, a "My Day" schedule summary, and reminder for replying to important emails. But for now, these features are only available to members of the Office Insiders program, and more specifically, Beta Channel Insiders.
This isn't the first time Outlook has had a refresh, from the simple and efficient versions of Outlook shipped in 2015 for iOS and Android, to the more coherent versions shipped in 2017 that aim to unify Outlook on different platforms. This time, we're starting to see the first fruits of the Cortex project in the way Redmond publisher (and its rival, Google) is blurring the lines between different apps. Microsoft has also cleaned up different versions (Web, Office 365, Web applications, etc.) to deliver a unified version of Outlook for the PC. This version, which was leaked earlier this month, is now available.
One facility is available for now
Microsoft has made Outlook familiar, and it will be familiar, especially for users familiar with the Outlook web app. Unfortunately, only members of the Office Insider program will – for now – have access. To do this, you must have a subscription to the consumer edition of Microsoft 365 or ask the company administrator to activate it. Individuals can easily become a member of the Insider Program (from any Office app on Windows, click File> Account> Office Insider> Join Office Insider, then check the box next to "Sign up for 'early access to new versions of Office'). However, one will also need to use a paid work or education account as the primary email to test this version of Outlook, which may complicate the process.
Here are the Outlook features that Microsoft has highlighted:
Checking the name of documents: In Outlook, by typing the @ symbol, then in a person's name, one can display his or her email. You can quickly call files using the same @ symbol in front of files and documents, as long as they are stored in the cloud. Unfortunately, this probably means you'll need to find the full genre name "FinalVentesPresentationMars2022" to attach it this way.
A list of files is displayed when you type the @ symbol in Outlook. (Credit: Microsoft)
Respond to requests: Microsoft's AI in Cortana, among other things, has already flagged a potentially important message in the inbox, to respond to a customer's message, for example. If Outlook thinks it has found such an email, it will pin it to the top of the inbox until it finishes. It's also possible to manually pin an email message to the top of the inbox by clicking the appropriate icon.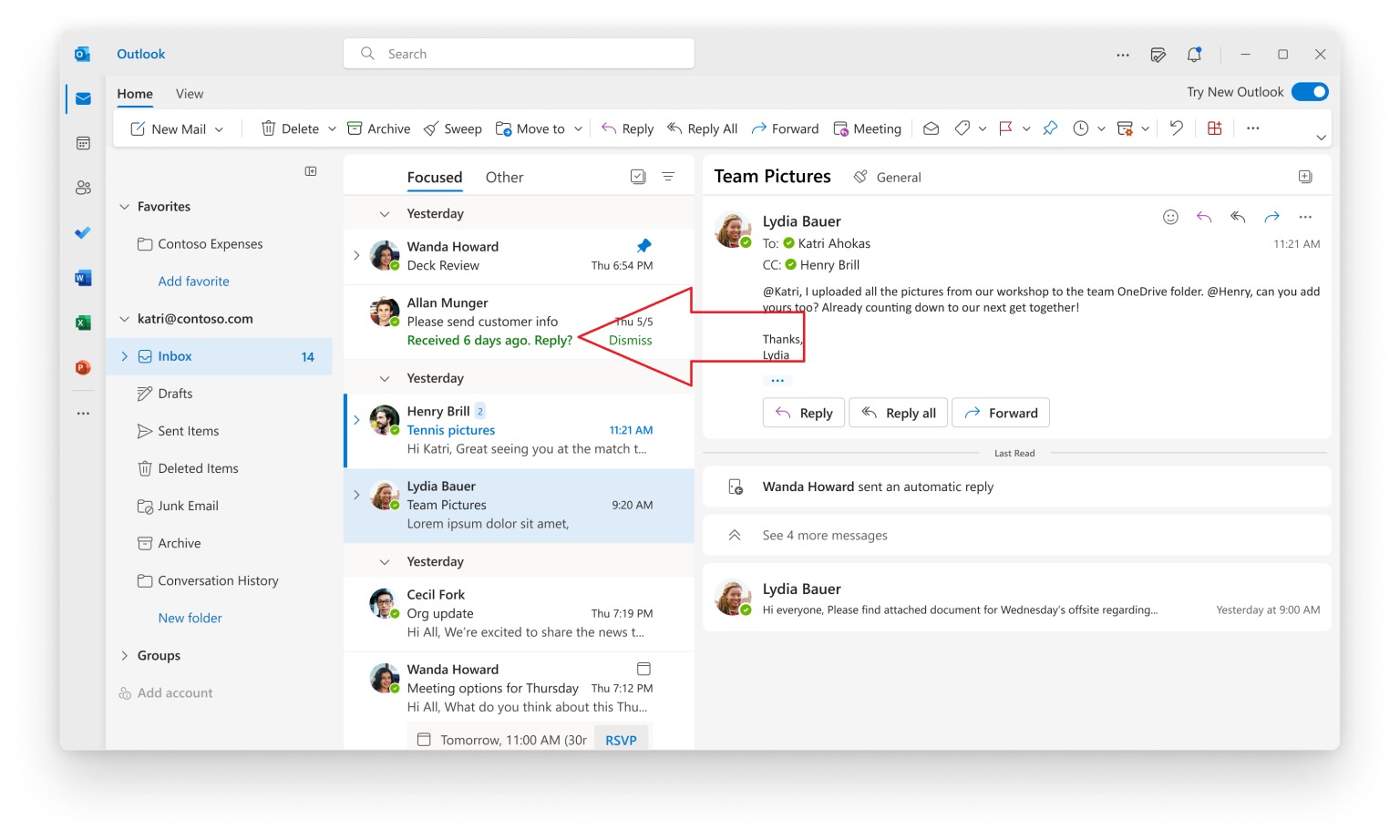 Important messages will be pinned to the top of the Outlook inbox by default. (Credit: Microsoft)
"My Day" and "My To Do": placed to the right of the inbox, the "To Do" column, also called "My Day", has become more visible. You can use this space to infiltrate emails, which will be tasks that you can review.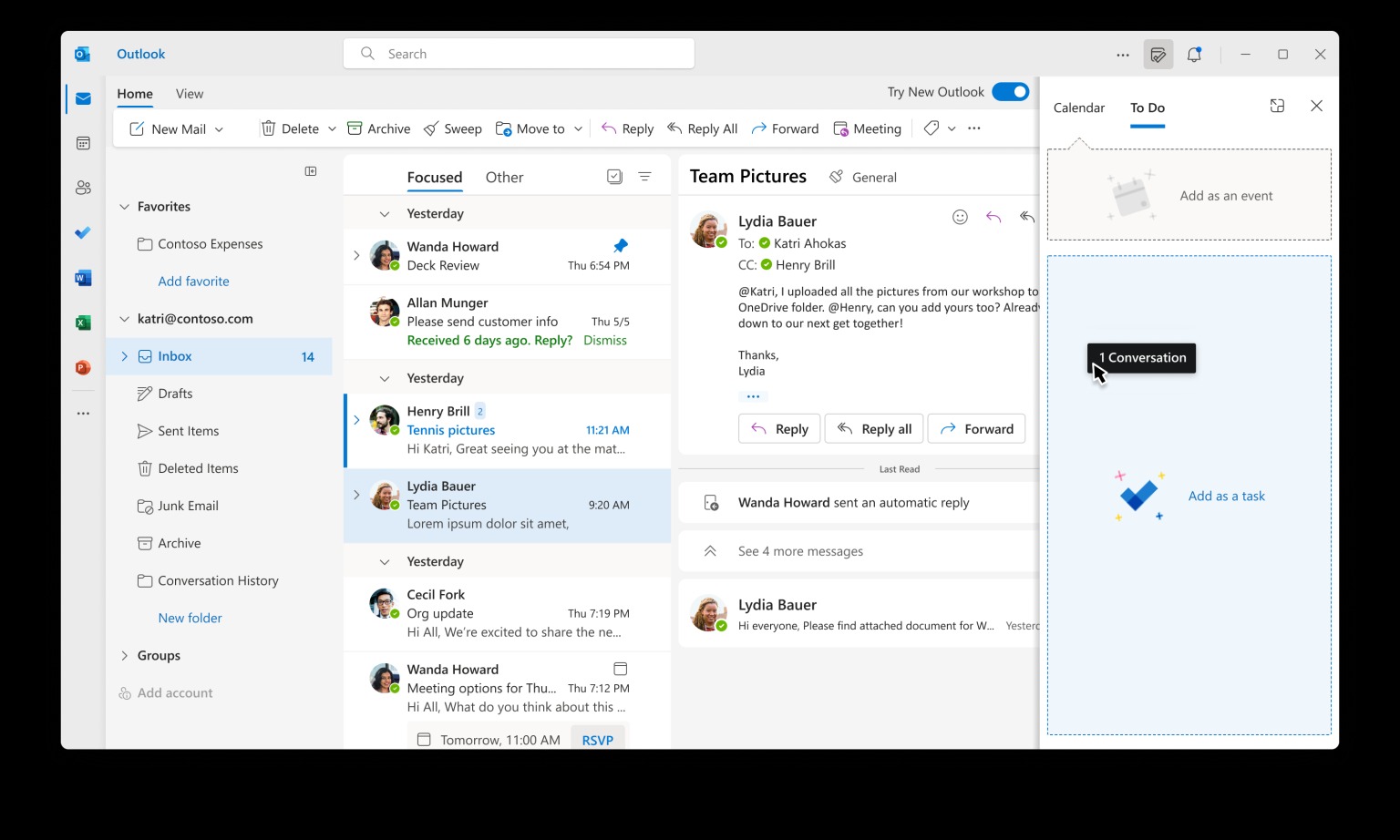 The "To Do" section of Outlook, more visible and more accessible. (Credit: Microsoft)
An updated Calendar: If the Calendar doesn't change much, the new Board view will make the Calendar a bulletin board. You can display the work schedule as a map, along with tasks, important documents and tips. You can also reserve space on your calendar and let contacts know that you will be attending their meeting, in person or virtually.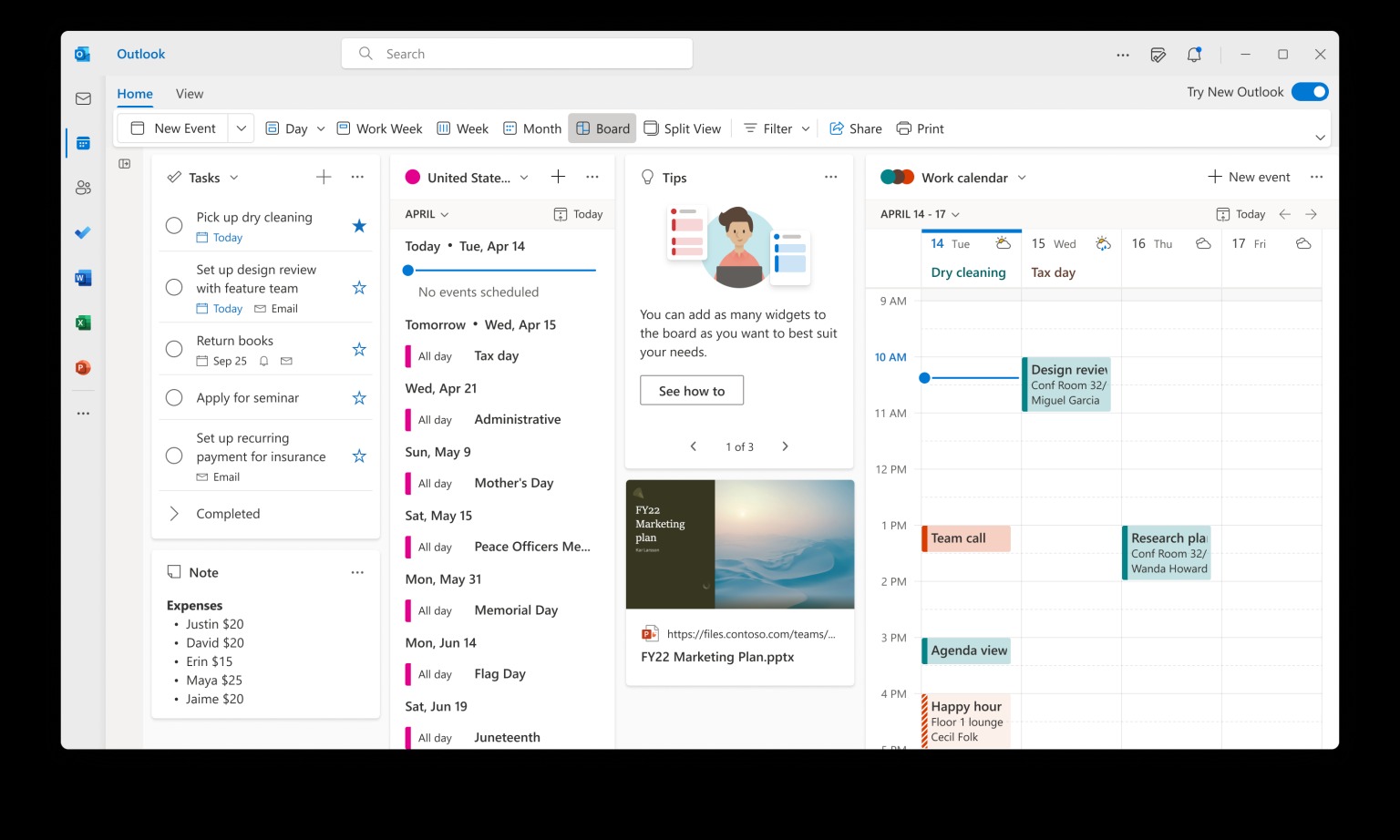 Tiles and maps appear in the calendar view of the Outlook table. (Credit: Microsoft)
Organize your home: Microsoft also encourages the use of well -documented tools, such as Rules, to automatically manage and control emails that arrive in the inbox. This sweeping function is called "Sweep" by Microsoft.
Loop: This is, according to Microsoft, the most important addition to the Outlook client. According to the editor's description, Loop transforms documents into a widget type. This blurs the line between a document and a shared workspace – which for some users is considered heresy, and for others is a natural extension of close team communication. We'll have to wait and see how the Loop evolves in the coming years and months.
Right now, this Outlook is accessible by a few users who are fixing bugs and adding features. Unfortunately, some key features we expected, such as offline support, multiple accounts, etc., are not there. Microsoft will expand its Outlook client access to other audiences as it improves.