On the occasion of its first post-pandemic physics event, Aveva provided an update to the catalog of its solutions for the industry sector, particularly the digital twin. CEO Peter Herweck, also returns to three key trends: sustainability, skilled labor and the flexibility to change quickly.
Aveva returns to physics events this week by launching its first event at PI World in Amsterdam. For the occasion, 1,500 people came for this first day and 2,800 were expected for the entire event. PI World is intended to be hybrid and also offers live broadcast, followed by approximately 1,000 people. The opening keynote was presented by Peter Herweck, CEO of Aveva since May 2021, after leaving Schneider Electric, where he led the global industrial automation business and was Vice Chairman of Aveva's Board of Directors. Aveva. This first day of the show focused on an update on industrial specialist software solutions, and was warned of feedback from several international players. The highlight has to do with the improvement of its digital twin solution. It is combined with two systems: the mobile 3D scanner for cartography produced by NavVis and the document management software from Assai.
Using a mobile 3D scanner for mapping from NavVis, Aveva completes its digital twin solution. A factory's digital replica empowers engineers to continuously evaluate and optimize their production processes remotely. (Credit: NavVis)
The company specified that the NavVis and Assai solutions will be linked to its 3D data capture service (Point Cloud Manager) and Asset Information Management, its software that identifies and cross-references correspondence between equipment, documents, plans and other data formats. "Aveva customers can now experience a complete digital twin in just 60 days, even without existing models, thanks to deeper contextualization and enhanced visualization," said Amish Sabharwal, executive vice president of engineering from Aveva.
The digital twin, an answer to all challenges?
"Using the latest integrations and our cloud-native solutions, customers looking to grow and enhance their digital twin can now design, build and operate sustainable facilities using data-based insights to optimize processes and decisions while in the value chain "added the leader. Essentially, operators have general and contextualized access to all engineering, operational and maintenance information in the cloud, using any form of visualization (3D models and/or laser scanning), and integrated reviews.
Among its customers, the British firm mentioned companies Yinson, TotalEnergies, Saudi Aramco and Shell, which are already using digital twin technology. The latter has delivered 30 copies and plans to deliver 44 more in the future. In general, the sectors that will use this technology in the future are Oil and Gas, Power, Power & Utilities, Chemicals, Marine and Mining. The industry sector is increasingly producing strategic data: according to a Statistician study conducted in June 2021, 50% of all available industry data has been created in the last two years. In question, the pandemic, which accelerates the digital transformation of companies.
The industry sector in full digital transformation
As the industry sector faces increasingly complex challenges, Peter Herweck announced that he wants to facilitate "data integration into a digital thread that spans the value chain and transforms industries." According to a study conducted by Anaconda in 2022, 63% of a data scientist's time is actually spent collecting and cleaning up data. Defining "connected workers" – which can be translated as "connected workers" – the company explained that its solutions represent significant time savings for data scientists and help various trades make of decisions and act faster.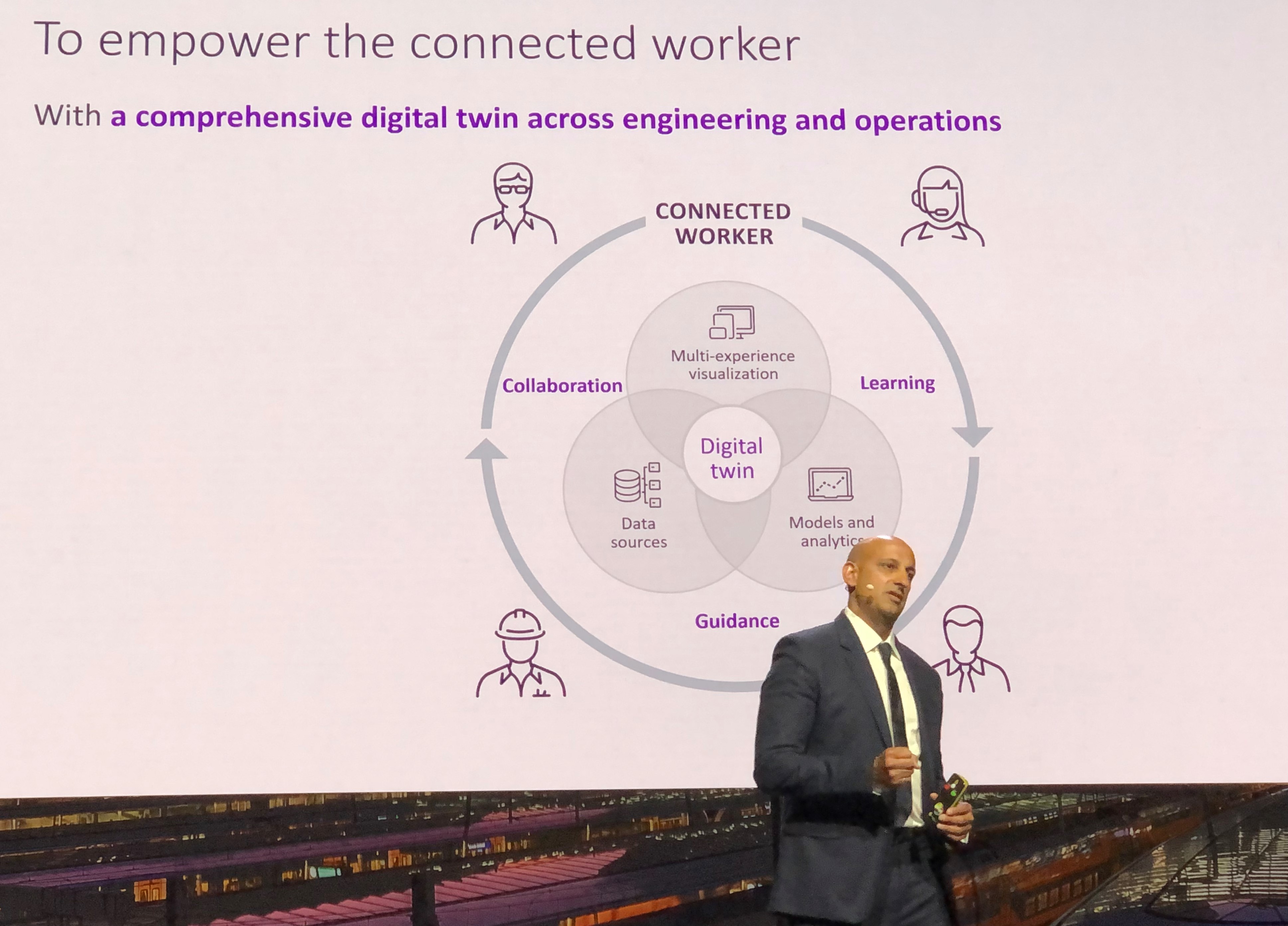 Amish Sabharwal goes back to the notion of "connected workers" mentioned by Peter Herweck, to show the collaboration of these operators in digital twin technology. (Credit: CS)
In this sense, Peter Herweck dramatically returned to the acquisition of his American rival OSIsoft; an operation that cost the British at least 5 billion dollars in August 2020. It was an acquisition that caused a stir because Aveva owed heavily to its former competitor's PI System solution. The latter makes it possible to acquire, compile and share real-time operational data for delivery to large-scale analysis and software applications. Today, the PI System is used by many players, such as Kellogg's, Nestlé, Heineken, ArcelorMittal, Dutch ProRail or Biogen. The operational data management platform is now presented as a native Aveva service. Amish Sabharwal said, however, that a security update has been added to the PI System without providing further details.
Sustainability, Skilled Workforce and Resilience
Comprising two years of pandemic (a point apparently not to be missed today), Peter Herweck has so far listed three major trends for change. "The first is sustainability. More than 50% of Fortune 500 companies are committed to being carbon neutral by 2030. And that's driving big change across the value chain. The second is the evolution of the workforce underway. At least 50% of industrial workers will retire in the next 10-15 years and this group of skills is invaluable to our customers. They must pass on all this knowledge to the younger generation. And digital is a critical mechanism for them to do that. Finally, the third move is the need to stimulate agility and stability ".