After two years in virtual mode, KubeCon gathered its ecosystem at the Fiera de Valencia to share best practices and the latest innovations around the Kubernetes container cluster orchestrator.
Live from Valencia. Five years after the first European KubeCon in Berlin, the convention dedicated to the Kubernetes platform will return to the old continent with a stopover in Valencia, Spain, from May 18 to 20, 2022. After two years of conferences in virtual mode, for in Due to the Covid pandemic, 7,000 people (developers, administrators, exhibitors and employees of the CNCF foundation) are expected to show up and 10,000 online for video broadcasts. As with all events of this type, participants plan to pass certifications to refine their skills and sharpen their CV. The Cloud Native Computing Foundation (CNCF), which oversees the Kubernetes roadmap and organizes this event, has announced two additional certifications: the Prometheus, the tracking tool associated with K8's, and the CNF Certification Program for in telcos. The first aims to validate the knowledge of engineers in the observation, monitoring and management of open source systems, while the second (CNF for Cloud Native Network Function) aims to help telecom operators use container orchestrators and native cloud tools to ensure better interoperability for their customers. The latter is interested in all solutions that run in a certified Kubernetes environment, and encourage cross-cloud compatibility. Orange began working on this platform to ensure interoperability with suppliers such as Ericsson or Nokia, and to offer a service platform for its internal needs, but to serve customers. This initiative is just beginning with the French telecom operator, as Philippe Ensarguet, technical director at OBS, explained to us in an interview. We will return to this topic at greater length tomorrow.
For the return of a physical edition of KubeCon, developers and other administrators are at the venue at the Fiera de Valencia. (CNCF Credit)
During the KubeCon keynote on May 18, Priyanka Sharma, Managing Director of CNCF, which is leading the development of the Kubernetes platform, stressed on expanding the K8 ecosystem with the particular arrival of aircraft manufacturer Boeing as a platinum partner. the IT giants Apple, AWS, Cisco, Microsoft or Oracle. Five years ago in Berlin, the main partners were Google and IBM, which are still among the major contributors (with Red Hat for IBM since the latter's acquisition) to the platform. Worldwide, CNCF gained 38 additional members for this year's KubeCon and surpassed the bar of 800 affiliate companies.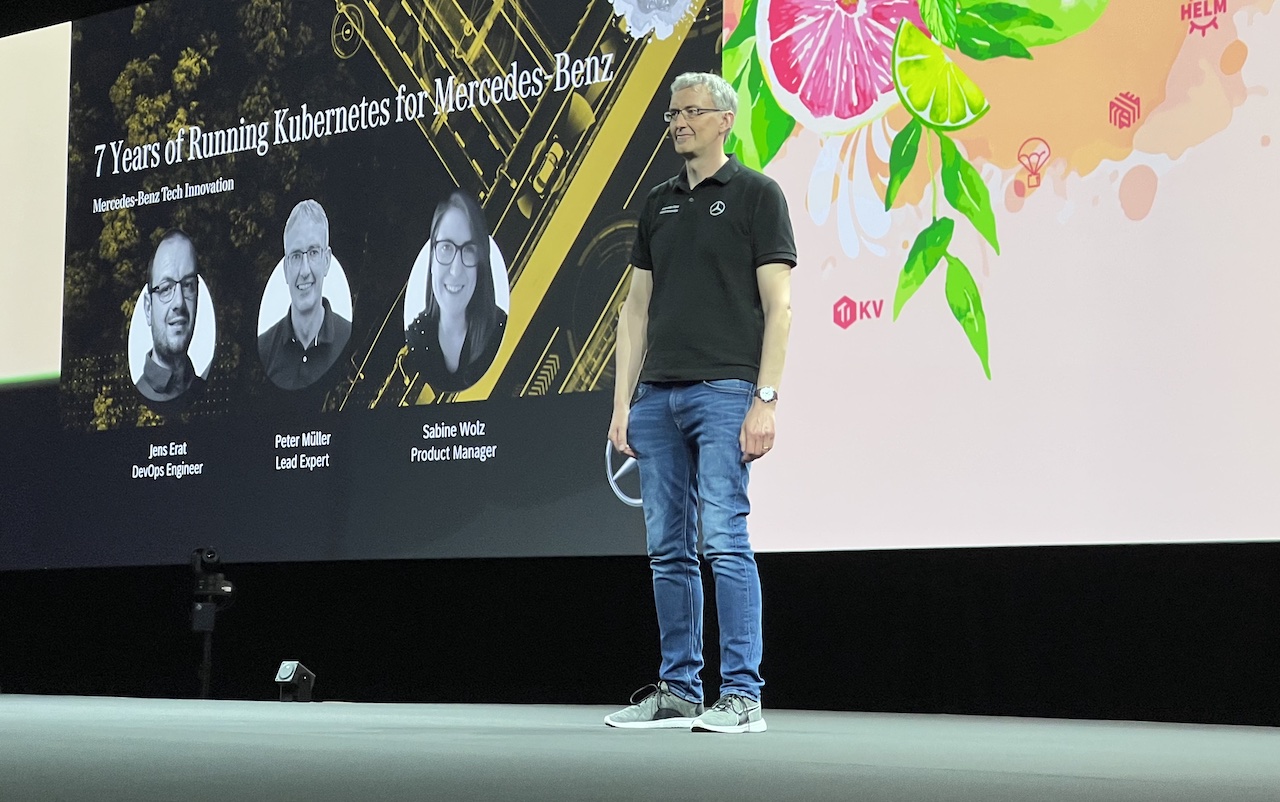 Peter Mueller, Mercedes-Benz's leading expert, worked on moving its container clusters using a tool developed from Kubernetes. (Credit SL)
To better get to know its community, CNCF commissioned the SlashData company to conduct a study on its users. Priyanka Sharma pointed out that nearly 7.1 million developers worldwide work on native cloud applications, including 5.1 million on Kubernetes. An increase of 51% compared to the first study in 2020. Container cluster managers are particularly valued in large companies (over 5,000 employees): according to the study, a quarter of developers use Kubernetes to manage their cluster of containers. Mercedes Benz Tech Innovation, formerly Daimler TSS, spoke during the keynote to demonstrate its use of Kubernetes with particularly large moving container clusters (930 clusters in total now on three continents). "You don't have to be big or famous to use Kubernetes. We have a set of tools to manage our containers, but it is painful-with failures during deployment-and a lot of work eventually ", explains Peter Mueller, leading expert at Mercedes-Benz. "We looked at the solutions in the market and created our own cloud management solution. In open source, we had a lot of options. So we went from a few weeks to a few minutes for the deployment of our applications after management validation. " The automaker's team has published a document called the FOSS Manifesto to highlight and share its best practices around Kubernetes and other open source solutions.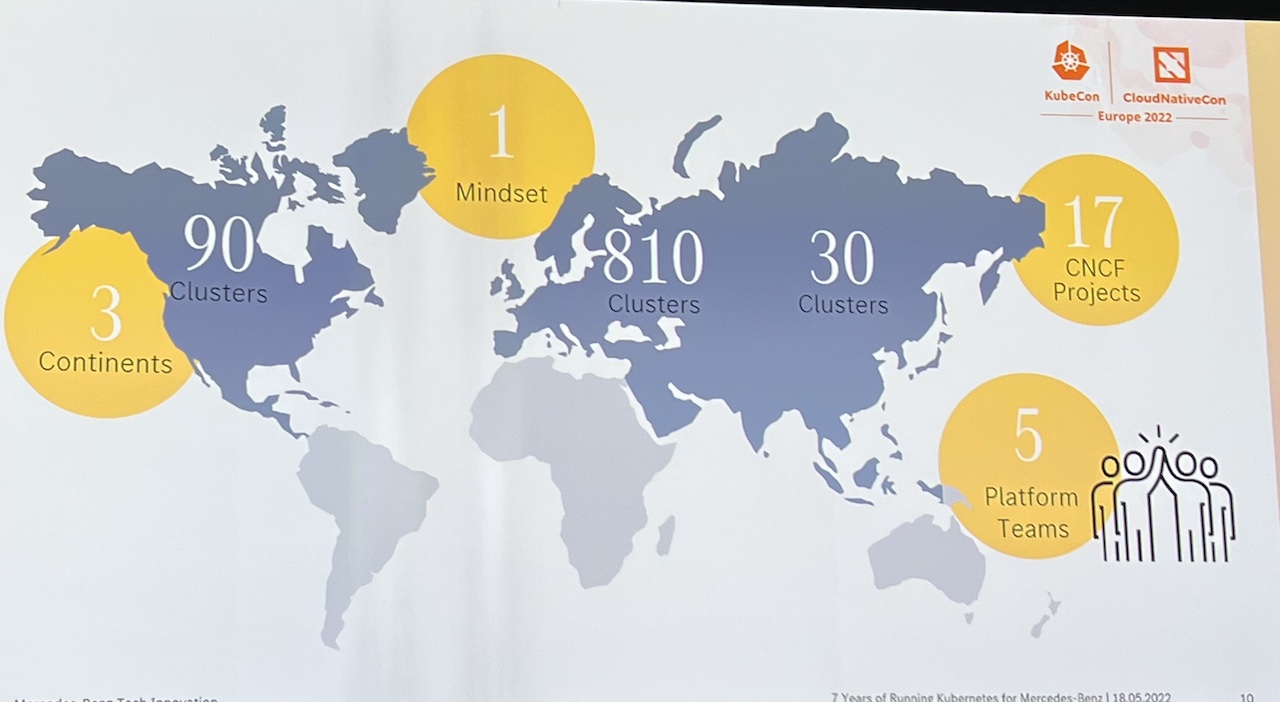 The Mercedes-Benz innovation entity migrated more than 900 clusters from May containers to API model clusters to simplify deployments and maintenance. (Credit SL)
Among the trends this year, let's mention the desire to reduce energy consumption in data centers with better use of distributed workloads and especially the development languages ​​used. Some frameworks and languages ​​are actually better than others according to CNCF (see table below). Decarbonization also works on publishers, it remains to convince developers and administrators to work differently. The increase in the cost of energy could be the expected detonator in a fast growing IT industry. Internet traffic will increase by 40% by 2020, while data centers that consume 2% of the world's electrical energy will drop by 8% by 2030 if nothing is done.
According to CNCF, some languages ​​are better than others in terms of energy consumption. (Credit SL)