IT start-ups in Africa just raised more than $ 2 billion in funding in 2021, more than 200% from funding in 2020, according to Disrupt Africa. Overview of financing, its origins and the sectors targeted in different countries.
African tech start-ups are emerging. By 2021, more African tech start-ups will be raising more money from more investors than ever before, with fintech companies-including some based in Nigeria-being strongly represented among the big winners. According to the seventh edition of Disrupt Africa's African Tech Startup Funding Report, 564 startups just raised over $ 2 billion in funding in 2021, representing a 206% increase from 2020. Disrupt Africa shows that the average deal size has doubled from over $ 1.7m in 2020 to $ 3.8m in 2021.
For Zachariah George, a managing partner of Launch Africa Ventures, a pan-African fund that aims to fill gaps in the investment landscape, there are several reasons for the growth of this funding. "To start, I think there's a better understanding of the opportunity in Africa, that the amount of data has dropped significantly in many African economies – which has been a barrier for customers – and the penetration of the internet and "Mobile telephony has improved which means more. People are online now," said Mr George. He also pointed out that the pandemic is driving "forced digitalization" across the continent as more and more people turn to the internet to perform many day-to-day tasks. "This trend will continue even after the pandemic, because people now know the convenience and savings that come from digitizing various aspects of their lives."
So who got the most funding?
If we look at the ten start-ups that got the most individual funding, most were Nigerian companies, including some fintech Flutterwave ($ 170M), Kuda ($ 80M) or Moove ($ 63.2M). There are also retail specialists TradeDepot ($ 110m) and energy Daystar Power ($ 62m).
Olugbenga Agboola is CEO at Flutterwave. (Credit: Flutterwave)
Among the biggest winners of funding from other countries are two Egyptian start-ups-fintech MNT-Halan ($ 120m) and e-commerce specialist MaxAB ($ 55m)-as well as young people growing up in AI Gro Intelligence ($ 85m) and agritech Twiga Foods ($ 50m) from Kenya, and fintech Yoco ($ 83m) from South Africa. In fact, these four most digitally established countries – Nigeria, Egypt, Kenya and South Africa, dubbed the "big four" – account for approximately 92% of total funding. But that doesn't mean the rest of the continent isn't developing. Research from Disrupt Africa shows that approximately 40% of the remaining funds went to start-ups in Ghana, Morocco and Tunisia. Startups in Zimbabwe, Uganda, Rwanda and Ivory Coast will also gain momentum in 2021, according to the report.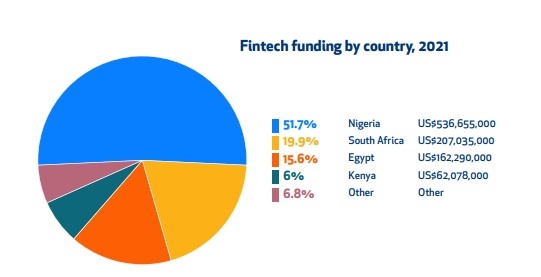 Nigeria is the country on the African continent that attracts the most investors. (Credit: Disrupt Africa)
Fintech and e-commerce are the rising stars
Fintechs only got less than half of the total amount of funds invested in African tech start-ups in 2021. But it's important to note that they've only reached just over a third (numbering 184 so far). day) of funded companies, more than double that of e-commerce companies (70 in total)-the sector with the second highest number of start-ups on the list.

Fintech is a very popular sector for investors. (Credit: Disrupt Africa)
Putting the financial and retail sectors at the forefront, the report tracks the evolution of the continent's population as they have widely adopted mobile telephony and mobile payments. Fintechs are transforming financial services in Africa. The e-health, logistics and e-education sectors have also attracted investors.
More investors, more jobs
Not only was there more funding in 2021, but there were also more investors and more jobs created. The Disrupt Africa study shows that at least 771 different investors invested in African tech start-ups in 2021. This represents an increase of just over 108% compared to 370 recorded in 2020. .Which is even more encouraging, many successful African founders are now paying. to their success by using the money they earn to back up start-ups themselves.
According to the report, one of the main benefits of the success of these start-ups is that they make a significant contribution to community work. The start-ups featured in the report employed nearly 18,000 people in total during the investment period, representing an average of approximately 30 people per company.
An important male ecosystem
More than half of African start-ups that get funding in 2021 started less than three years ago, meaning the investment appetite is ripe for new faces and ideas. While most of the most profitable start-ups are over five years old, one, Moove, is only three years old. Unfortunately, the Disrupt Africa study revealed that the sector remains relatively male-dominated. Only 21% of funded start-ups have a female co-founder and only one of the ten most profitable companies has a female co-founder.
We are excited to announce our $ 23M Series A led by @Speedinvest at @Leftlanecap, bringing our total funding to $ 68.2M! This will allow us to strengthen our mission to democratize vehicle ownership.
Read the press release here. https://t.co/ZKC0nZfw6w pic.twitter.com/1UGYJldJ9R

—Moove (@Mooveafrica) Aug. 9, 2021
Start-up Moove is just three years old and has already raised $ 68.2 million.
While these numbers are promising, Zachariah George believes the industry is just beginning. "Africa represents less than 1% of global venture capital and less than 3% of global GDP. ". And if we look at the numbers for 2022-with about $ 400 million raised in January alone-expect similar record numbers for African start-ups in the coming months.