The 35 -year -old carpenter has $ 44,000 in his TFSA. With individual stocks and ETFs, he wanted to have more financial flexibility in his late 40s. (Photo: courtesy)
SPOTLIGHT ON MY TFSA is a section where individual investors share with us their good and bad investment moves while submitting their portfolio to a pro review.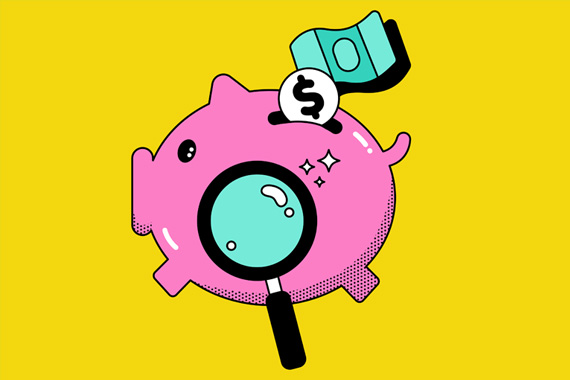 (Illustration: Camille Charbonneau)
This construction worker from Victoriaville has an important quality for anyone seeking prosperity: he is hardworking, very hardworking. "I got that from my dad. When I was a kid, he took a summer vacation to pick strawberries with me. The very young picker (from 9 to 15 years old) spent part of his summers on the farm. "I recorded my earnings in a book. On a very good day, I could earn a hundred dollars. In the fall, he deposited the values ​​of his crops into a savings account and gave himself a gift. . "I bought myself an article at the end of the season. One year it was a bicycle, the other a television, "he recalled.
At school, as part of his Secondary V economics course, he was introduced to the world of security for the first time. "We had already done stock market simulations and I liked it so my mother-who worked at a financial institution-helped me the following year, for my 18th birthday, to open a brokerage account. But his lack of knowledge and the excessive commission fees at the time ($ 28.95) would slow him down. "I invested about $ 500 in Bombardier and Mitec Telecom. I lost a bit in the first and doubled my bet in the second, then I closed my account six months later. "If he stops his investment career, he doesn't stop aging and continues to earn by working on a dairy farm.
After building his own house and establishing his family, the young carpenter-joiner returned to the stock market in 2017, at the age of 30. Discussions with an acquaintance of his son's hockey community will awaken this old interest in him. . "He told me about the possibility of managing my investments on my own and saving money on management fees. It challenged me a lot, but I was also scared and unsure.
After careful consideration and some reading, he opened another brokerage account and transferred assets from his RRSP invested in mutual funds. A self-directed TFSA account was also opened. "Of course, I made some rookie mistakes, but it allowed me to learn. He will, among other things, burn his fingers with Nemaska ​​Lithium, for which he will lose more than $ 2,000. But he will pay for it in the title of clothing manufacturer Canada Goose (GOOS, $ 32.56), which he will buy for about $ 20 and resell for about $ 90. Gradually, over the years, he will make a change in his portfolio by incorporating exchange-traded funds (ETFs). "My husband is fully invested in ETFs and performs better than me, spending too much time reading and researching. Today, ETFs from BlackRock and Vanguard make up more than 50% of his TFSA.He also holds value type stocks that pay a growing dividend, such as Enbridge (ENB, $ 58.43) and Royal Bank (RY, $ 138.96).
The young investor is relying on a work retirement fund. This is why he is more aggressive with his investments; he wants his TFSA to serve as an additional financial cushion in the long run. "This gives me more flexibility and allows me to work at a lighter pace in my late 40s or early 50s. To achieve this, Louis Simoneau makes weekly deposits into his TFSA and RRSP .He currently manages a portfolio with a total value of $ 86,000. "We don't have a big lifestyle. We make one trip a year, but we want to travel more in the future. While waiting to travel the planet, he continues to learn about personal finance and investing. He recommends reading "And if you know enough to invest in the stock market", by Peter Lynch, "Pile et face", by Michel Villa, and "Thinking big: a lesson in business, life and freedom", by Luc Poirier.
In the eyes of a pro
"Pay yourself first and invest it is often the first piece of advice I give people. There is no doubt that Louis Simoneau applies this method," said Luc Girard, portfolio manager at Noël Girard Lehoux, Desjardins Securities. He also saluted his hard -working and frugal side. "That's where it all starts. In general, he wants to build this TFSA which consists of both individual stocks and ETFs." I like his hybrid approach. You can see it's over that he is in his homework. This may include mutual funds. »
However, he wonders about the share granted in fixed-income securities, i.e., approximately 4% (present in his VGRO ETF), the balance being in equities (with 3% cash). "The duration of its fixed income – that is, the maturity of its bonds – is about eight years. In a context of rising interest rates, that seems long to me. Luc Girard believes investors need to consider whether they want to increase their bond exposure (and shorten their tenure) to make it worthwhile, or focus on a 100% equity portfolio. "What is the profile of his investor? He should clarify his choice and assume it. »
From a geographic perspective of his equity positions, he observed great diversification, with allocations of approximately 54% in Canada, 41% in the United States and 5% worldwide. "If we are heading into a recession in two years, will the U.S. dollar still serve as a safe haven? Luc Girard believes he could consider slightly increasing his exposure to both the U.S. and international. markets.
From a sector perspective, he considers TFSA's portfolio to be overweight in finance (34.26%) (which he pairs with real estate), healthcare (23.56%) and consumer decision making (12.35%). "He needs to pay attention to this, because these three sectors represent 70% of the portfolio. He also expects the real estate market (17.42%) to face hurdles as interest rates rise. "We are in the midst of rising rates. This will increase mortgage costs and put pressure on property prices. »
Finally, he warns young investors against more speculative securities like Aurinia Pharmaceutical, which bring more volatility. "This is 10% of its portfolio and the company, which has a market capitalization of $ 1.6 billion, is not yet profitable. »