In recent years, containers have quickly gained importance. They now define the ideal IT environment: efficient, highly scalable, and in theory less resource intensive.
According to a study called "Voice of the Enterprise," conducted by analyst firm 451 Research, more than 58% of respondents in DevOps organizations are "actively" using containers. In addition, 31% of respondents were in the stage of proof of concept or planning testing, according to Jean Atelsek, analyst at 451 Research.
Meanwhile, Enterprise Strategy Group (ESG), another Boston-based analyst firm, asked companies where their applications and production workloads run, both on-premises and in the cloud. ESG's report, "Application Infrastructure Modernization Trends Across Distributed Cloud Environments," shows that virtual machines will host approximately 25% of on-premise and cloud workloads by 2022. However, containers have adoption rate of 17% on-premises and 21% through cloud services, and is expected to exceed all other types of deployment by 2024, at 26% and 27%, respectively.
Because they must bring agility and a kind of speed, organizations choose to build or refactor applications based on microservices and containers.
Previously, IT teams had to carefully plan code deployments on monoliths. Highly decoupled architectures now allow them to prepare small updates as they go, without disrupting user access and experience.
Modern application deployment models also make it easier for developers to inject AI and machine learning algorithms into their software, and-in general-to test new features. This greatly speeds up growth rates and slightly simplifies IT operations.
"People really don't want to manage the infrastructure anymore. They just want to create their applications and run them, "explained Jean Atelsek.
Few publishers want to implement this change. Cloud providers, for example, now offer services such as Amazon Elastic Kubernetes Service (EKS), Azure Kubernetes Service (AKS), and Google Kubernetes Engine (GKE). These services should reduce the infrastructure management overhead associated with deployments of Kubernetes, the latest container orchestration engine.
"Hyperscalers bring together the engineering solutions they present as turnkey," said the 451 research analyst.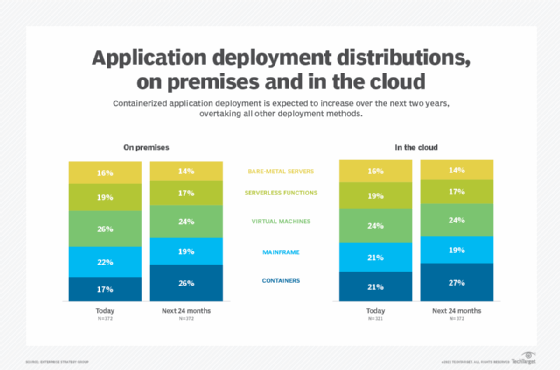 The challenge of moving and managing containers
Many established companies have created large, robust application environments with large installed bases and several million lines of legacy code. Today, these companies find it increasingly difficult to compete with younger, cloud-native companies that value flexibility and speed.
But this is not an easy move to make. Traditional monolithic applications — those with millions of lines of code, in particular — are difficult to transform into microservices and containers, both in technology and practice.
Even after the move, it can be difficult to find personnel with the skills to manage a container deployment. It's as complicated as training them internally. The cloud platform can relieve some of that pressure, but it can't take it away. The technologies, which are relatively young, sometimes hide unexpected surprises that require the constitution of a new team of experts. Always, poor planning will lead to disaster.
"The danger of cloud reproduction the chaos that reigns in existing environments is very real", Jean Atelsek confirms.
Container management represents not only a major technological change, but also a radical cultural change. The simultaneous implementation of these evolutions is one of the most important obstacles to be overcome. Containers, microservices, and cloud architectures will only benefit a business if it effectively implements and manages them. And as they proliferate in the market, it's not always easy choosing the right container management platform for your needs.
For example, while managed services such as EKS, AKS, and GKE can simplify deployments, they present drawbacks that need to be addressed.
"Buying a full service makes [la gestion des conteneurs] it's easier because vendors do more than just integration and abstraction work, "said Janae Stow Lee, IT Operations Consultant, Evaluator Group. "The downside of this move, of course, is you're giving the keys to your IT realm to someone who doesn't always have your best interests at heart."
The question then is whether simplifying an all-in-one managed service equals losing access and control to the back-end. This option must be weighed against the complexity of managing the IT department itself.
This difficult decision and trade-off, in the context of the widespread use of containers, prompted the Evaluator Group to expand its scope beyond IT management consulting to look at the management of these components. In particular, the analyst firm seeks to direct clients to the services and platforms that best meet their needs.
Based on a series of interviews with CIOs to identify their current concerns, the Evaluator Group has created an interactive tool called "2022 EvaluScale Insights for Container Management Systems" to enable its customers to evaluate container management offers based on the features they need most. The first iteration of the EvaluScale Insights tool focused on comparing container management services and platforms.
"Over the past two years, many companies have asked us to give them more advice," Janae Stow Lee explains.
Addressing the lack of skills
The IT sector has suffered for several years from a lack of skills that continues to worsen as information systems become more complex. This cannot be predicted by organizations or analysts, but the future of containers depends on this topic.
"Adoption is growing, but the skills needed to configure and orchestrate the containers are minimal."


John AtelsekAnalyst, 451 Research

"Adoption is growing, but the skills needed to configure and organize containers are minimal," Jean Atelsek said. Additionally, organizations with massive monolithic architectures have a harder time attracting skilled IT staff, compared to cloud-native organizations that are "fast and destroy everything."
As infrastructure, platforms, and applications become more complex, many traditional entry-level computer workstations have been automated in the name of reducing manual labor and ensuring consistency.
Thus, many new graduates are faced with a labor market where, from their perspective, the starting line continues to diverge. Young graduates are required to master environments in which they are not necessarily trained.
Faced with this fact, companies employ developers whose training they must end, when they have not decided to devote a good portion of development and maintenance tasks to external partners.
"When skills are scarce and processes need to change, dividing decisions around that issue involves a problem. Instead of building a center of expertise, you're trying to build multiple skill sets. there are many places, "said Janae Stow Lee of the Evaluator Group." You don't effectively use the expertise at your disposal. "
That being said, all is not lost when it comes to mastering containers. Some vendors, such as Red Hat, create interfaces that do not require in -depth knowledge of Toilets. These UIs allow users to navigate and interact with their environments through a series of point-and-click sequences, rather than a set of APIs that enable behind -the -scenes services.
" [Les entreprises] appeals to people who don't have in -depth knowledge of Kubernetes, "said Rob Strechay, principal analyst at ESG." As more and more people need to support Kubernetes, and containers [incitent] if a good customer experience is needed, improving ease of use is paramount. "
Reducing complexity should help close the skills gap, but it does not eliminate the need to understand how the underlying architecture works.
In addition to improving and simplifying user interfaces, cloud providers create common configurations to reduce deployment work. Hyperscalers, in particular, address the skills gap by integrating container runtimes into pre-configured platforms. "There is no need for the user to worry about the different configuration settings required to configure a container-based application or a container-heavy environment," explains the 451 Research analyst.
Cost control, an important issue
Originally, containers were considered a way to save big, but time has proven that is not the case.
Although there are widespread open source technologies in the containerization market, most companies go through a vendor that can offer reliable support services and integration with other tools. But these add-ons and services are expensive.
"The principle of entering your bank card and immediately benefiting from computing and storage capacity was interesting five years ago," commented Jean Atelsek. "But when you're spending millions of dollars a month to run that infrastructure, it can't be neglected by the CFO and CIO, as well as the security managers."
Rising costs are common and a growing theme in the container market over the past two years. This problem was exacerbated by the global pandemic that shook the economy and forced businesses to adapt to an entirely new model of work. Many cloud-based architectures have cracked under strain, and companies have seen their operating costs rise. But in 2022 – and especially in the future – those numbers are far from sustainable.
Enterprise Strategy Group (ESG) is owned by TechTarget, which also owns MagIT.