Microsoft now has its own cloud gaming platform. Named Xbox Cloud Gaming with Xbox Game Pass-formerly Project xCloud-it offers over 100 Xbox Series, Xbox One, Xbox 360, and Xbox games to play on PC, Mac, Chromebook, Android, and iOS devices on Internet.
Like GeForce Now or Google Stadia, Xbox Cloud Gaming with Xbox Game Pass (formerly xCloud) gives Xbox Game Pass Ultimate subscribers the ability to play multiple games through Microsoft's cloud. The principle is simple: to run a hundred titles on a medium other than a console.
Here's everything you need to know about Microsoft's game streaming service, including compatible devices and all available games.
What is Xbox Cloud Gaming with Xbox Game Pass?
Formerly named Project xCloudnow called Microsoft's cloud gaming service Xbox Cloud Gaming with Xbox Game Pass.
Xbox Cloud Gaming is Microsoft's new video game streaming platform, designed as a complementary service to its Xbox One and Xbox Series X, Xbox Series S game consoles. The service is available in 22 countries, currently only within the subscription framework Xbox Game Ultimate Pass.
Basically it is One streaming service in the same way as Netflix or Disney+, but for video games, because all games are hosted on Xbox Series X hardware, located on remote Microsoft servers. The live video of the game is sent to one of your compatible devices (such as an Android smartphone or Mac) over the internet. In return, the actions you take on the controller are sent in a different way, signaling that you are playing a game on your device itself.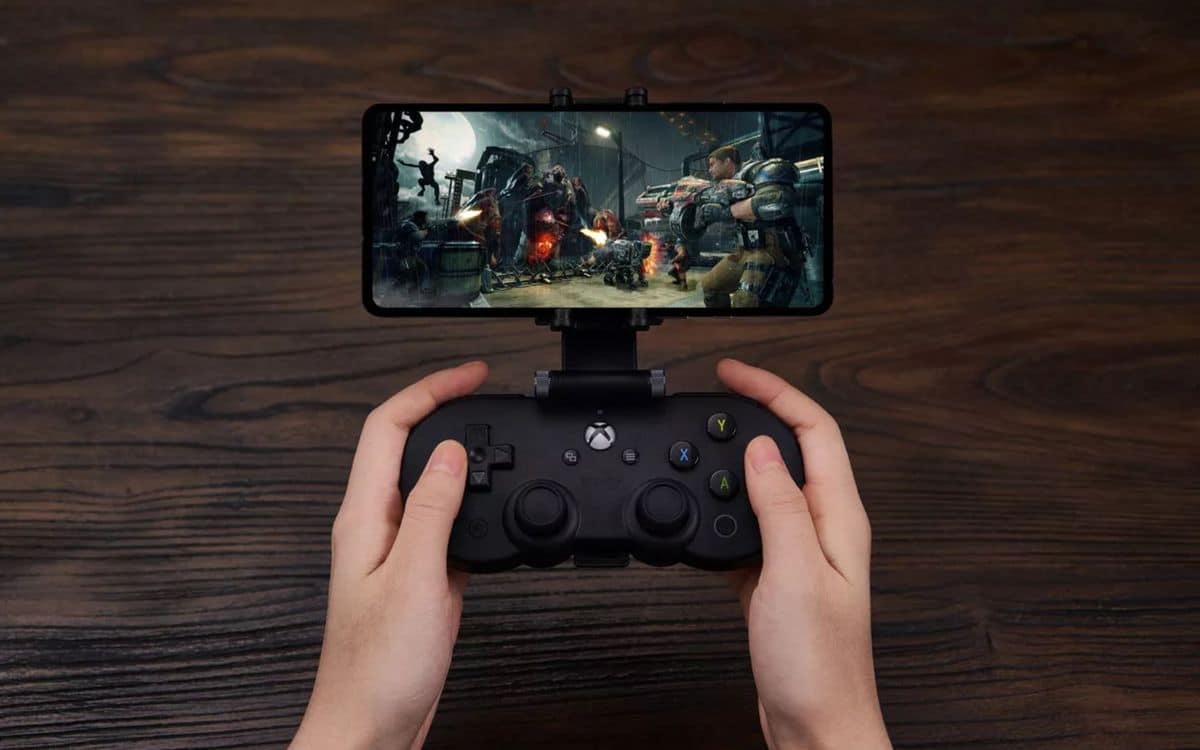 This isn't a new idea: PlayStation Now has been available on PS4 consoles for a few years, Nvidia has been offering GeForce Now on PC and mobile devices since 2014 and Microsoft's main rival is Google Stadia , launched in 2019 already. However, the Microsoft service is not a separate offer: it is an add-on with no additional subscription costs to Xbox Game Pass Ultimate.
Thus, Xbox Cloud Gaming is not designed to replace game consoles. Instead, the service runs alongside Microsoft machines. It offers almost the same playable titles and even lets you retrieve and resume your saved games, regardless of the device you're using: mobile, console and even PC.
Xbox Cloud Gaming: What platforms can I play on?
Very early subscribers can benefit from early access to xCloud exclusively on Android, since last August. Later, the Redmond company confirmed that xCloud will be available on iOS and PC from the spring of 2021. A release window is mostly respected as the service is finally released this summer on PC, Mac, iPhone and iPad. " We bring the Xbox experience directly to the devices you use the most ", Microsoft underlined in a press release.
Right now, Xbox Cloud Gaming is available with Xbox Game Pass in 22 countries, as a dedicated app and still for Android devices. It is also available through a web browser on iOS, PC, Mac, and Chromebook. Safari, Chrome, and Microsoft's Edge browsers are all supported.
Xbox Cloud Gaming: how to play?
The priority is to have a Wi-Fi connection 5 Ghz (if possible with optical fiber) or a mobile data connection of 10 Mbits/s on reception at least.
For Android, you need to download the Xbox Game Pass app from the Google Play Store or Samsung Galaxy Store. You can play cloud games through the app and even download games to your Xbox console or Windows PC.
On the other hand, the games are only available in English so far and we have seen many crashes in our tests. This is normal: the service is still in beta. So we should expect recurring problems and feel free to share our experience with Microsoft to improve the service. Besides this, graphics settings are not yet available in all games.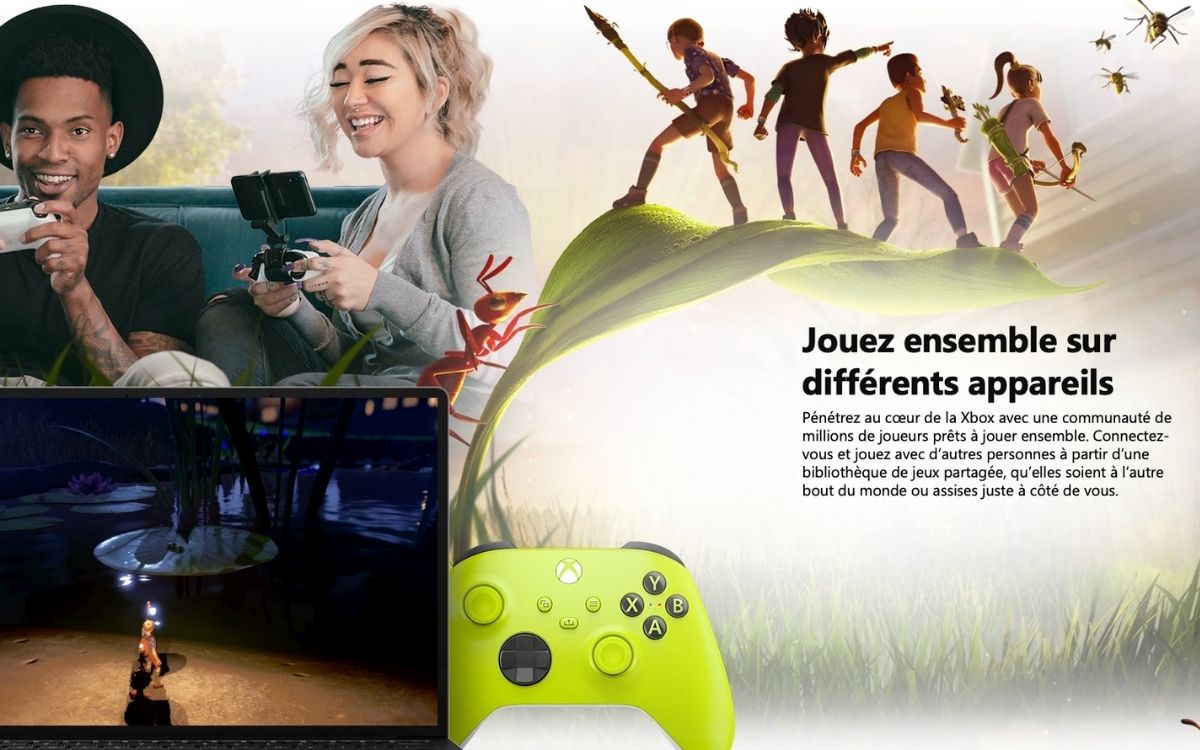 If you want to play on the iPhone or iPad, you need to go to xbox.com/play in your device's Safari web browser. You can then create an app on your home screen that will take you directly to the service.
Here are the iOS and iPadOS devices supported by Xbox Cloud Gaming:
iPad Air (3rd generation)
iPad Air (4th generation)
iPad Pro 11 2nd Generation
iPad Mini 5th generation
iPad 8th generation
iPhone XR
iPhone XS
iPhone 11
iPhone 11 Pro
iPhone 12 Mini
iPhone 12
iPhone 12 Pro
iPhone 12 Pro Max
Some games on Xbox Cloud Gaming now offer touch controls (currently in their fifties). However, most of the time you will need it as well a Bluetooth-enabled Xbox One wireless controller play without problems. Xbox also recommends getting a phone holder for the controller (unless you're playing on a tablet).
Xbox Cloud Gaming: How Much Does It Cost?
As the name suggests, Xbox Cloud Gaming with Xbox Game Pass is free for anyone with an Xbox Game Pass Ultimate subscription. The first month is currently at 1 €, the following are at € 12.99 on automatic renewal. In addition to Xbox Cloud Gaming, an Xbox Game Pass Ultimate membership includes:
More than 100 games for consoles, smartphones and PCs and new games being added all the time
Xbox Game Studios titles will be available on release day
Exclusive discounts and offers for members
Free perks, including in-game content and partnership offers
Xbox Live Gold with Gold Deals, Gold Games and Console Multiplayer
A library of the best Electronic Arts titles on console and PC, exclusive rewards and content just for members
List of games on Xbox Cloud Gaming
Here is the current list of all games available on Xbox Cloud Gaming (as of July 2, 2021). If you are looking for a specific game, feel free to search the page.
A Plague Tale: Innocence
ARK: Survival Evolved
Astroneer
Banjo-Kazooie
Banjo Tooie
Batman: Arkham Knight
Battle Chasers: Nightwar
Battletoads
Beholder Complete Edition
Black Desert
Blair Witch
Bleeding Side
Bridge Constructor Portal
Call of the Sea
Carrion
map
Celestial
Sons of Morta
City Skylines
ClusterTruck
Code Vein
Conan Exiles
control
Crackdown 3
Kuliglig 19
CrossCode
Cyber ​​Shadow
Dark Alliance
Darkest Dungeon
Darksiders Genesis
DayZ
Dead in the Light of Day
Dead Cells
Deep Rock Galactic
Get off
Desperado III
Tadhana 2
Destroy All People!
dirt 5
Not honored 2
Dishonored Definitive Edition
Dishonored: Death of the Outsider
Adventures at Disneyland
Don't Starve: Giant Edition
Donut County
Doom (2016)
Doom (1993)
Disaster 3
Disaster 64
Doom Eternal
Doom II (Classic)
Double Dragon Neon
Heroes of the Double Kick
Dragon Age: Inquisition
Dragon Quest XI S: Echoes of an Elusive Age – Definitive Edition
drake was hollow
eastshade
eFootball PES 2021 Season Update
Elite Dangerous
Empire of Sin
Enter the Gungeon
F1 2019
Fabe's birthday
Pabula II
Pabula III
Fallout 3
Fallout 4
Fallout 76
Fallout: New Vegas
Five Nights at Freddy's
Five Nights at Freddy's 2
Five Nights at Freddy's 3
Five Nights at Freddy's 4
For honor
to drill
Forza Horizon 4
Forza Motorsport 7
Frostpunk: Console Edition
Fusion Frenzy
Gears 5
Gears of War 2
Gears of War 3
Gears of War 4
Gears of War: Judgment
Gears of War: Ultimate Edition
Gears Tactics
Genesis Black
Goat simulator
Bow down
Golf with your friends
or 2
Grand Theft Auto V
Greed
Underlying
Guacamelee! 2
Halo 5: Guardians
Halo Wars: Definitive Edition
Halo Wars 2
Hello: Spartan Assault
Halo: The Master Chief Collection
Haven
Hellblade: The Sacrifice of Senua
Hello Neighbors
Hollow Knight: Voidheart Edition
Hotshot Racing
Human Fall Flat
Outlaw of Hypnospace
Ikenfell
Injustice 2
Jetpac refueled
Joy Ride Turbo
Jurassic World Evolution
Just reason 4: Reloaded
Kameo
Katana Zero
Killer Instinct DE
Killer Queen Black
Lonely Mountains: Down
Madden NFL 20
Maneater
Marvel Vs. Capcom: Infinite
Mass Effect: Andromeda
MechWarrior 5: Mercenaries
Middle World: Shadow War
Minecraft: Dungeons
Mirror's Edge Catalyst
MLB The Show 21
Monster Hunter: World
Monster Sanctuary
monster train
Moonlighter
Morkredd
MotoGP 20
Mount and Blade: Warband
My Time In Portia
Narita Boy
NBA 2K21
neon abyss
Neoverse
New Super Lucky's Tale
NieR: Automata
Night in the woods
No Man's Sky
Nowhere Prophet
forgetfulness
Octopath Traveler
Ori and the Blind Forest: Definitive Edition
Ori and the Will of Wisps
Outer Wilds
Long 2
Outriders
Overcooked! 2
peggle 2
Perfect Dark
Perfect Dark Zero
Phogs!
Pikuniku
Columns of Eternity: Complete Edition
Pillars of Eternity II: Deadfire – Ultimate Edition
Planet Coaster: Console Edition
Plants Vs. Zombies: Battle for Neighborville
Plants vs Zombies Garden Warfare 2
PlayerUnknown's Battlegrounds (PUBG)
Power Rangers: Battle for the Grid
victim
Project Winter
Psychonauts
Angry
Anger 2
Rain on Your Parade
ReCore: Definitive Edition
Red Dead Online
Remnant: From the Ashes
Resident Evil 7 Biohazard
River City Girls
Rush: A DisneyPixar Adventure
ScourgeBringer
Sea of ​​Thieves
Second Extinction
Secret Neighbor
Warrior of the shadow 2
Kill the Spire
Slime Rancher
Sniper Elite 4
SnowRunner
Spiritfarer
Star Renegades
State of Decay 2: Juggernaut Edition
Stealth Inc 2: A Game of Clones
steep
Stellaris
Stranger Things 3: The Game
Streets of Anger 4
Snape streets
Subnautica
Very Hot: Mind Control Delete
Land of the Supra
Tell Me Why Episode 1 – 3
terraria
The Bard's Tale IV: Directors Cut
The Bard's Tale Remastered and Resnarkled
The Bard's Tale Trilogy
The Catch: Carp and Coarse Fishing
The Dark Crystal: Age of Resistance Tactics
The Elder Scrolls III: Morrowind
The Elder Scrolls V: Skyrim Special Edition
The Elder Scrolls Online
The Evil Within
The Evil Within 2
The Falconeer
The Gardens in Between
The Little Acre
The Long Dark
The Messenger
The Outer Worlds
The Sims 4
The Ascension 2
The tourist
The Walking Dead: A New Frontier (Episode 1 – 5)
The Walking Dead: Michonne
The Walking Dead: Season Two
The Walking Dead: The Complete First Season
The Wild of the Heart
theHunter: Call of the Wild
Thronebreaker: The Witcher Tales
Rainbow Six Siege by Tom Clancy – Deluxe Edition
Torchlite III
Fully Accurate Battle Simulator
Fully Reliable Delivery Service
Touhou Luna Nights
trail makers
Train Sim World 2020
Two Point Hospital
Undermine
Undertale
Unravel Two
Rugged Heroes
Until the End
Viva Pinata
Viva Pinata: Problems in Paradise
Warhammer Vermintide 2
Wasteland Remas
Origin