Since February 24, more than 450,000 refugees have crossed the Ukrainian border and one hundred thousand have temporarily settled among Moldova's four million inhabitants.
While its citizens await the visit of United Nations Secretary-General António Guterres, UN News visited the country.
Changes
From Odessa, Natalia and her one -year -old daughter currently live in the MoldExpo exhibition complex, which has been turned into a reception center for refugees.
"I was offered to go to Europe, to France," said this 34-year-old mother. "But I don't want to reach that. I hope it's all over and I can go home, "she explains.
When the war began, it was impossible to penetrate the vast territory of the spacious pavilions.
"Without a single square meter free, I have never seen anything like it in my life and people keep coming," said Svetlana, an interpreter who helps the UN and other organizations communicate locally. population and to refugees.
"The people of Moldova immediately started to raise funds and literally filled the exhibition center with various goods, they kept bringing things," he continued. "My friend, a lawyer, temporarily moved across the border to give legal advice to newcomers. And there are hundreds of people like him.
UN news
Natalya, Refugee Cash Program employee.
A flexible space
Today, the MoldExpo complex, which until recently served as Covid's hospital, contains 360 refugees. In the early days, it hosted up to 1,200 people at night.
The exhibition center was turned into a transit center where people, exhausted from the dangerous travel and madness of war, found shelter, hot food, legal advice and, above all, human sympathy.
It gives a little break to the locals in thinking about where and how to go from here.
The rush outside
There is always a long queue at the Ukrainian Embassy in Moldova. The staff was too tired, so it was difficult for those who quickly fled to replace documents that might have been lost or left with them.
"We are Dnieper gypsies," said one woman in response to our greeting. "I have a daughter in Germany, but we can't take her there because we don't have identity papers and need time to replace them."
Right now, she lives with her sisters in a small box at MoldExpo – with the hope of getting to Germany.
Stationed to help
At MoldExpo, UN staff, NGOs and volunteers work around the clock.
The UN has organized "blue dots" for families with children and UNFPA provides "orange safe space" for the specific needs of women and girls.
Some people need medication and other forms of medical help.
In the 'safe orange zone', refugees receive instructions on how to avoid nets cleverly constructed by human traffickers.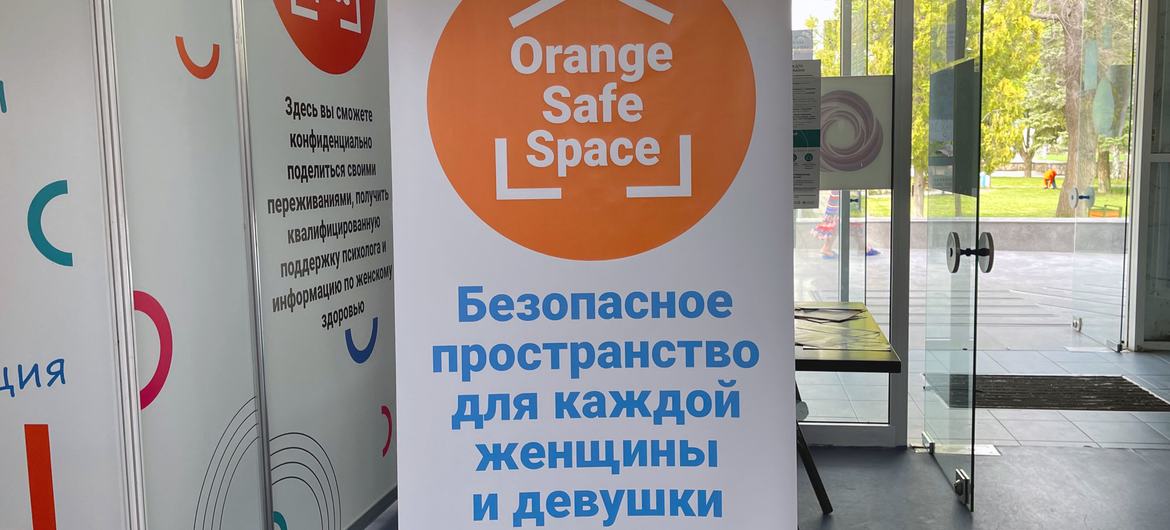 UN news
UNFPA's orange safe space at MoldExpo, Moldova.
heartbreaking encounters
Natalia says it's hard for her to control her emotions when she looks at people who have lost everything in an instant.
"I had this case that left me shaking for two or three days," he said, telling the story of a 75-year-old former university professor from Kharkiv.
This woman's son is a soldier, her son and son -in -law are doctors, while her son -in -law is a policeman.
Due to the obligation, none of them could leave Ukraine, so the old woman had to bring her five grandchildren – aged 4 to 14 – to a safe place.
"She couldn't stop crying," Natalia continued.
"He has been calling them for two days and all the phones have been turned off; he was afraid that something had happened to them, Kharkiv continued to be bombed. Everyone in our center was comforting him, we tried to communicate with them using our phones and distracted the kids with sweets ".
Fortunately, a few days later the four came out alive, just no connection.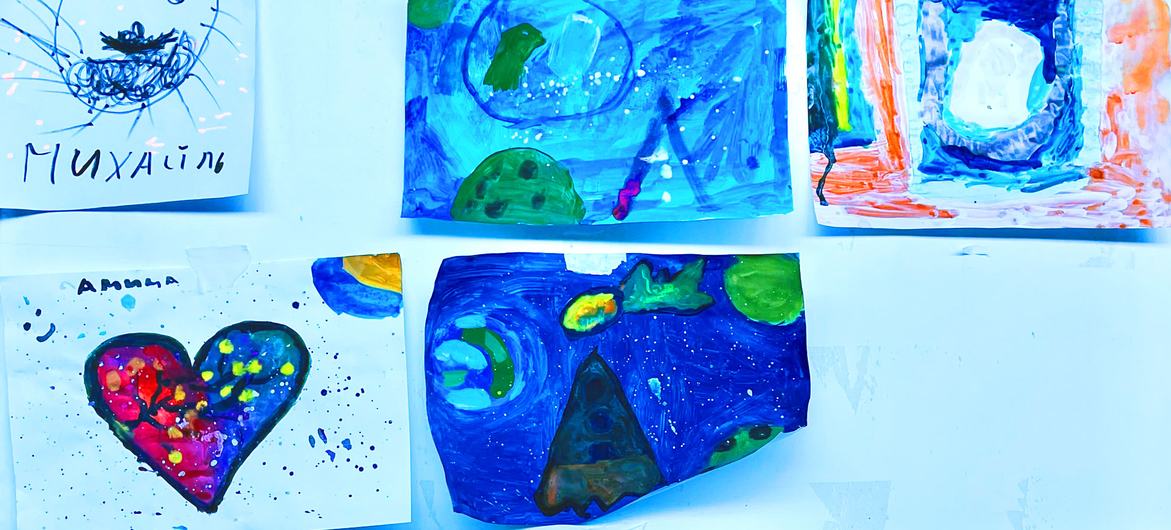 UN news
Drawings made by young refugees hang in the MoldExpo complex, a space for Ukrainians traveling to Moldova.
Help with money
While tens of thousands of people receive economic assistance from UN agencies, MoldExpo also hosts a center for financial assistance.
"People are embarrassed to receive money, but they just need it," said Natalia, who works at the UN's material assistance center.
"We often hear:' don't get the idea wrong, we have it all there, we don't want anything '. Many of them offer to work as volunteers and ask how they can help ".
Open houses, hearts
Lump-sum financial assistance of approximately $ 190 is provided to families hosting refugees for at least a week. But is it really a question of money?
At 73, Margarita Yevgenievna has no plans yet to retire as a teacher.
She shares her small two -room apartment with refugees.
"Three people from Odessa are in one room and I'm in another. Until after the war, they will live with me," he said, adding, "I also have three children from Ukraine in my class."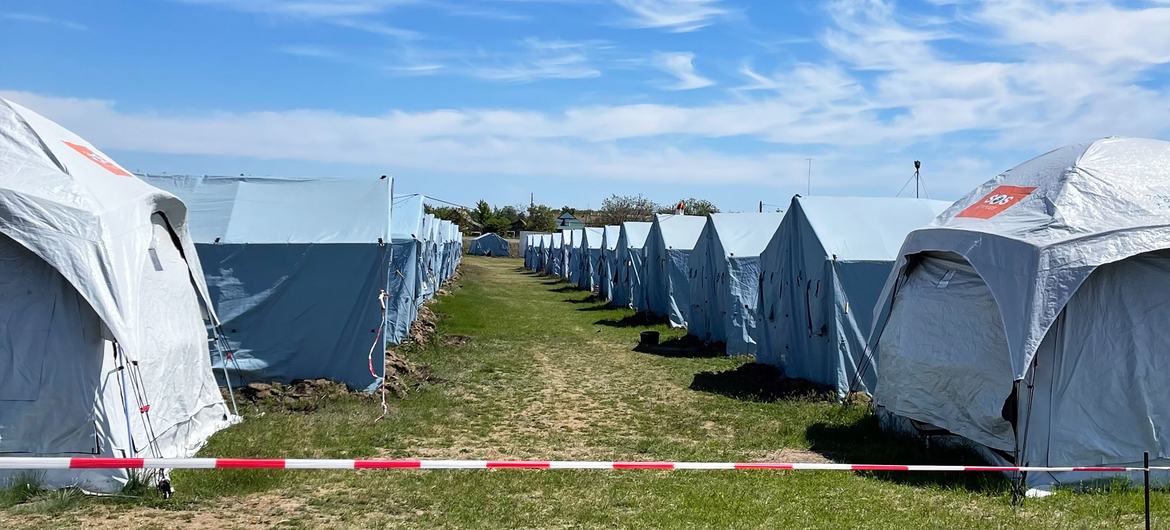 UN news
Refugee camp in Palanka, Maldova, on the border with Ukraine.
Still crossed the border
The flow of refugees dropped significantly, but did not stop.
About a two-hour drive from Chisinau, UN agencies and the Moldovan government set up a tent camp on the Ukrainian border.
Refugees can rest there or spend the night there, depending on the schedules of the buses that will take them to the city or to Romania.
"We didn't even expect such a welcome, we proceeded randomly, it was just too scary to stay," said Irina, who had just arrived from Odessa with her son. "We are really grateful to Moldova and the UN."
A warm greeting
At Chisinau airport, on the wall between the passport control booths, one can read the following words: "Moldova is a small country with a big heart".
The head of the United Nations will soon arrive to support the refugees and personally thank the Moldovans and all who helped them.