Quantum has announced the availability of new storage equipment but at the same time continues its transformation towards more services and software solutions …
Quantum has officially launched two new storage solutions: the highly video -focused H4000 Essential appliance and the performance -focused F2100 NVMe appliance.
F2100 NVMe for performance seekers
Quantum is building its "F-Series" storage appliance range from the top using a performance-focused F2100 NVMe model. As is often the case with Quantum, the first target audience is video and multimedia production seeking performance to speed up rendering and image/video processing workflows. But for Quantum, its bay capabilities should also appeal to medical research centers and performance -seeking companies for their AI/ML applications.
The latest version of the StorNext 7 in-house OS clearly powers the appliance F2100 NVMe shows performance that is interesting to say the least: up to 50 GB/sec on concurrent reads (multi-user), up to 20 GB/sec on writes and up to 737 TB of raw storage space.
Brian Pawlowskin VP Development at Quantum explained that " the F2100 comes with Quantum's latest block storage software, which is now common on the F-Series and H-Series lines. Not only does this mean we can deliver features and tweaks faster, but it's also an important step toward a truly unified user experience between Quantum StorNext, the F-Series and H- Series, and our CBA software. »
The array comes in the form of a 2U server with 24 NVMe drives and a dual controller. Connectivity is provided by selecting 8 Ethernet ports or 16 32Gb FibreChannel ports.
Bay is of course compatible with the cloud monitoring and proactive maintenance solution, Quantum CBA.
H4000 Essential all in one dedicated to multimedia
Quantum has made workflows in making multimedia content one of its core specialties. The manufacturer launched its H4000 series last year. The new "H4000 Essential" appliance made official this week comes from this series but focuses on VSEs/SMEs and small creative teams. This "all-in-one" appliance is unique for its embedded software layer that combines both Quantum's popular StorNext 7 shared storage system and an advanced multimedia asset management solution , the Quantum CatDV (CatDV is a common option in traditional H4000 appliances).
According to the manufacturer, The H4000 Essential appliance provides small creative teams with highly available shared storage, automated content indexing and discovery, and workflow-based collaboration. Requiring no special IT skills, it can work in minutes and offers unique features that include media content management and storage. ".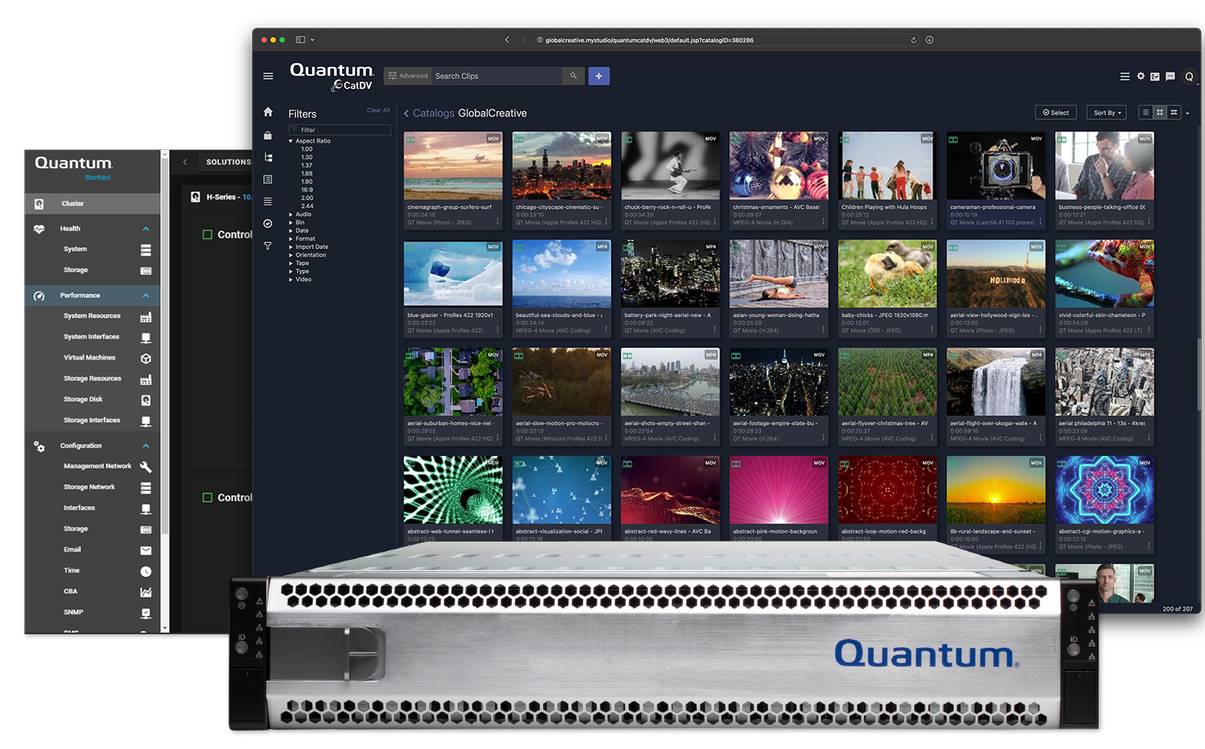 Appliance features H4000 Important is specially designed to meet the needs of small independent creative teams:
-Starts with a 2U server with 48 TB or 96 TB of raw storage powered by the in-house OS: StorNext.
– The solution can be extended simply by adding servers up to 384 TB.
-Highly available dual-controller architecture (based on AMD 24-core processors).
– 25GbE connection
– Combines StorNext and CatDV
-Automatic content ingestion, metadata retrieval, creation of thumbnails and filmstrips
-Automatic cataloging and indexing of content
– CatDV panel integration with Premiere Pro
-Integration with Quantum's Cloud-Based Analytics (CBA) software for remote and proactive system monitoring
-Archiving plugins are available for Backblaze B2 cloud storage, or other storage possibilities compatible with S3
Always more software and services
Continuing its gradual transformation into an "as a service" solution provider, Quantum is also announcing new software solutions.
Beyond CBA (proactive monitoring in the cloud), Backblaze (Cloud archiving), and CatDV (media content management), Quantum has announced the "MyQuantum Service" to offer its customers an SSO portal to access Quantum resources that include access to CBA analytics, documentation, support resources or downloads.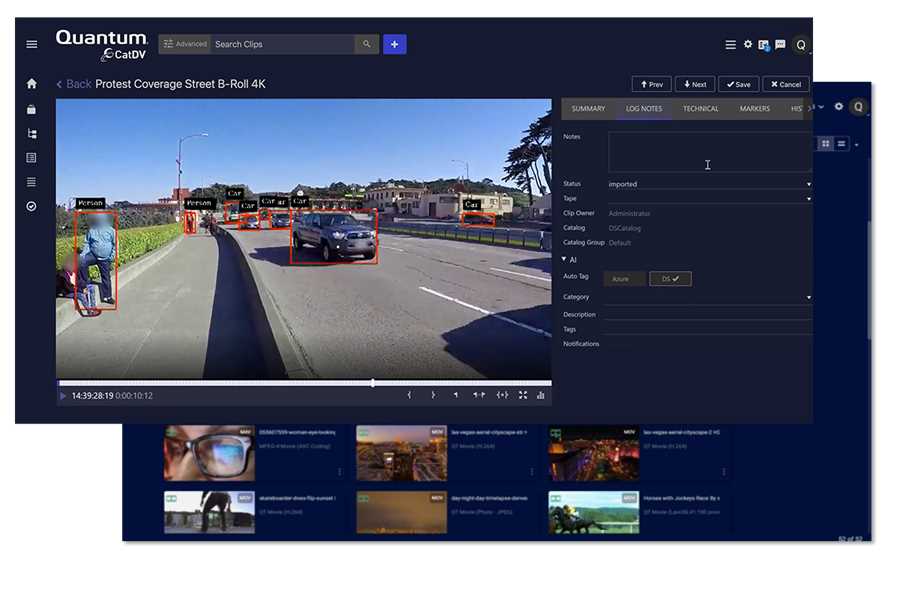 Another new thing, Quantum has partnered with NVidia to enrich its CatDV solution with functionalities NVIDIA AI to offer new AI-enhanced features to evaluate and enrich video content. This new solution makes it possible to take advantage of an on-premise GPU infrastructure to take advantage of AI functionalities that until now were only accessible via the cloud.
Dave Clack, Vice President and General Manager of Cloud Software and Analytics at Quantum, explained that "Quantum CatDV has used NVIDIA GPU systems for many years as part of our media innovation implementations. With this solution, customers can now add industry -leading and proven NVIDIA AI and machine learning technologies to their content workflows. Additionally, this solution serves as a centralized platform that allows users to find hidden value in content libraries and strengthen human editing of content like never before. ".
---
Also read:

> Quantum has announced new hyperscale archiving features with its Scalar i6H.

> VAST Data will double the capacity of its bays thanks to the new 30 TB SSD!

> NetApp launches new high-end all-flash array

> Pure Storage launches new ultra-high-end // XL bay.

> Quantum launches its H4000 series to better store and protect video productions