Blackmagic Design announced the Blackmagic Cloud Store, a new high-performance network-attached storage solution with four 10G Ethernet connections and a parallel memory core capable of supporting maximum switching speeds on each 10G Ethernet port simultaneously at the same time … what to manage 12K RAW files without panicking!
© Blackmagic
The Blackmagic Cloud Store is an ideal storage solution for movie and TV when large files are shared between multiple users for editing, rating, audio posting and VFX. It even handles Blackmagic RAW 12K files. Users do not experience latency and do not need to store files locally. This is the perfect solution for DaVinci Resolve.
Unlike standard rack-mounted storage products with cooling fans, the Blackmagic Cloud Store features a vertical, portable, and quiet design. Internally, it has a set of flash memory cards that work similarly to ensure speed and data protection. The 4 10G Ethernet ports work as switches, allowing 4 computers to be connected or run together using link aggregation for incredible 40G Ethernet speeds. It also features an HDMI monitoring output for users to view the storage live on a TV or monitor.
The Blackmagic Cloud Store, available in 20 TB, 80 TB and 320 TB models, offers plenty of space for all corporate files and video media. The M.2 flash memory card offers extreme reliability, high access speeds and zero seek times. M.2 cards are arranged in parallel RAID 5 groups to operate faster than a single card, providing very high throughput and fault tolerance.
Users can set up a local cache of their Dropbox files. The work is so much faster because the files are immediately available. Users save space on their computer by transferring cached Dropbox files to the Blackmagic Cloud Store. They can also sync multiple Blackmagic Cloud Stores via Dropbox. Everyone then has a local copy of the files and those located in different geographical areas can collaborate without latency. Dropbox is also a great backup solution.
" We are excited about the new Blackmagic Cloud Store said Grant Petty, CEO of Blackmagic Design. " We are highly dissatisfied with existing storage solutions, as they do not have the performance required by the high-end film and television industry. Now colorists, visual effects artists and sound engineers can work on the same project in DaVinci Resolve simultaneously! »
Just connect a TV or monitor to view the status of the Blackmagic Cloud Store live via its HDMI output. The memory map shows a graphical representation of the memory core and real-time read and write access for connected users. Additionally, 4 graphs show data transfers over 4 10G Ethernet connections. The main space indicator shows users the main memory capacity and its current usage. The status of each Dropbox connection is also displayed. With the built-in Ethernet switch, each port can be plugged into a separate computer, or they can work together to provide 40G Ethernet.
The two USB-C ports in the Blackmagic Cloud Store can be used to upload and save files. If users connect a media card reader or USB-C disk to the ingest port, all files on that disk will be uploaded to the Cloud Store. Although Dropbox is a great backup solution, by connecting a USB disk, it is possible to make local backups free of charge and with complete confidentiality. It works with both USB-C disk and USB-C disk array.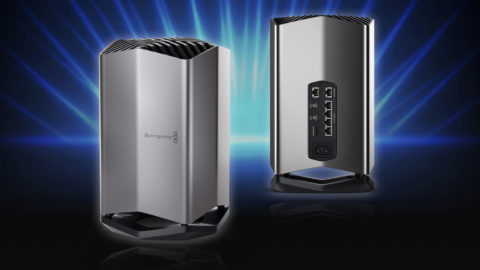 With the Blackmagic Cloud Store, users have full control over their private storage space. There are no subscriptions, monthly licenses or tracking fees for their usage or data. Thus, they can manage a private network that is completely not connected to the Internet. This is important for many security standards where computer networks cannot be connected to the Internet outside. With the Blackmagic Cloud Store, users meet enterprise requirements with total freedom. To change the settings, they can use the Blackmagic Cloud Store utility available for Mac and Windows. The utility also allows adding synced Dropbox folders.
Features of the Blackmagic Cloud Store
Smooth design with quiet cooling.
Includes 20 TB, 80 TB and 320 TB models.
High performance RAID 5 flash memory.
Sync to Dropbox.
Includes HDMI monitoring output with real-time storage status.
Includes four 10G Ethernet ports with integrated switches.
Supports Ethernet connection via USB-C to computers.
USB-C ports allow local file ingestion and backup.
No subscription, no license and no tracking of user data.
Includes utility software for Mac and Windows.
Availability and prices
The Blackmagic Cloud Store will be available in 20 TB, 80 TB and 320 TB versions – in the second quarter of 2022 from 9000 euros from Blackmagic Design resellers worldwide.