Joe Biden has requested more than $ 800 billion in military spending for the coming fiscal year. His spending plan will not make the world safer, but it will likely deliver more than $ 400 billion in public money to private sector companies.
Source: Jacobin Mag, Stephen Semler
Translated by readers of the Les-Crises website
For the second consecutive year, Joe Biden plans to increase the military budget.
The budget request for fiscal year (FY) 2023 that Biden will send to Congress this month will propose more than $ 800 billion in military spending; $ 773 billion for the Department of Defense (DOD) and most of the rest for the Department of Energy's nuclear weapons programs. If we exclude the period of military budgets between 2007 and 2011, which made it possible to successively increase military personnel, first in Iraq and then in Afghanistan, Biden's plan calls for giving of more money to the Pentagon for fiscal year 2023 than any other. years since World War II.
A massive Pentagon budget means a massive redistribution of wealth, and the main beneficiary is not "our troops", as American politicians like to say. Instead, most of DOD's budget goes to profitable corporations: 55% of the $ 14.5 trillion provided by Congress to the Pentagon between fiscal years 2002 and 2021 went to corporations around the world. private sector through contracts.
The proportion of the Ministry of Defense's annual expenditure devoted to contracts has changed little in the last twenty years; the value of contracts has increased dramatically and decreased in conjunction with the general budgets. The amount of federal funding that can be expected to be privatized in a particular Pentagon budget can be deducted or less than its total amount. This means that a proposed $ 773 billion budget for the Department of Defense – as Biden would propose – is an important proposal to privatize $ 425 billion in public funds.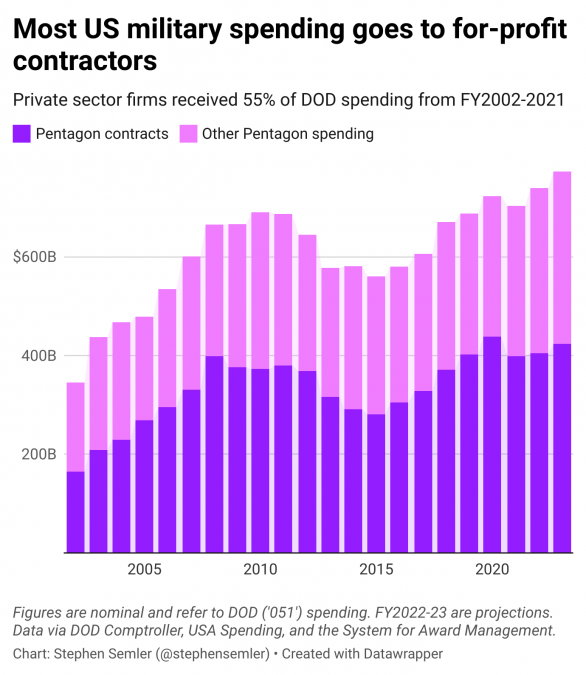 This is not good for social programs in fiscal year 2023. the federal discretionary budget – generally absorbs about half of all discretionary funding. Biden's first budget request was the same. However, the main difference was that it was proposed shortly after the U.S. bailout was passed in Congress and before the collapse of the president's multi-billion dollar plan for climate, infrastructure and health.
In other words, Biden's proposal for fiscal year 2023 is likely to be similar to the standard pre-COVID pandemic budget, where "national security" spending replaces social spending. This should not happen. Even establishment figures, such as Hillary Clinton, have argued that the pandemic will lead to a "rethinking of national security," in which non-military threats will eventually be taken as seriously as those military threats – new priorities to be reflected in future budgets.
The president seems less interested in this question. Biden has worked out his way to stigmatize social spending but not military spending, though the latter would be a more appropriate target. For example, Biden blamed the $ 1,400 stimulus check for causing inflation, even though the total amount of this provision ($ 391 billion) was less than the amount Biden's first and second military budgets were likely to divert in the first place. profitable military contractors ($ 405 billion and $ 425 billion, respectively).
Furthermore, there is ample evidence that social spending – such as stimulus reviews – reduces poverty and enhances security, while military spending does not. The Pentagon budget enables an imperial architecture that includes 750 overseas military installations and active counterterrorism operations in at least eighty -five countries. Through his budgets and stated policies, Biden has already established that he has no intention of significantly changing the global footprint of the U.S. military, despite empirical evidence suggesting that this position promotes instability. Studies have shown that placing U.S. military personnel overseas increases the likelihood of terrorist attacks against the United States, with states experiencing more terrorism after conducting interventions. of the military, and bases abroad often exacerbate geopolitical tensions.
The establishment of foreign policy often describes military spending using phrases such as "investing in our national security," as if only funding the Pentagon somehow produces security as a result of politics. Biden will likely rely on this assumption – that more military spending means more security – to justify his massive request for Pentagon funding for fiscal year 2023.
Recent polls suggest that most Americans reject this reasoning. Congress should do the same.
About the Author
Stephen Semler is the co-founder of the Security Policy Reform Institute, a grassroots U.S. foreign policy think tank.
Source: Jacobin Mag, Stephen Semler, 03-03-2022
Translated by readers of the Les-Crises website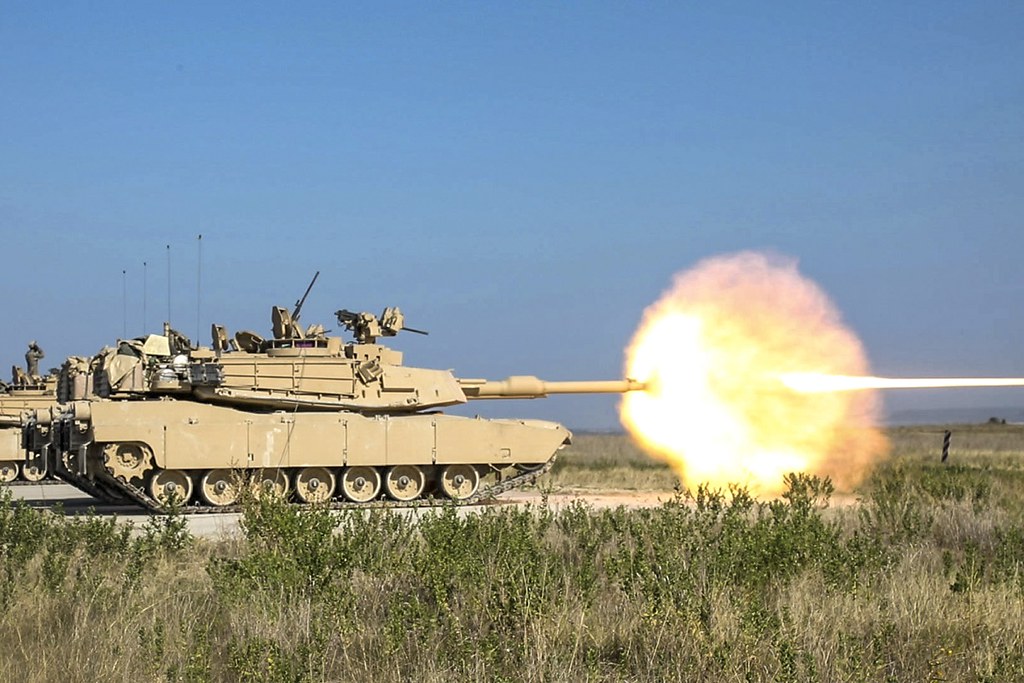 We offer you this article to expand your field of reflection. This does not mean that we agree with the vision formed here. In all cases, our liability stops with the statements we report here. [Lire plus]Either way, we're not tied to comments the author might have made elsewhere – and even less than those he might make in the future. However, thank you for letting us know via the contact form of any information about the author that could damage his reputation.