Companies have so-called cloud-native projects in their roadmap, that is, projects designed to work online, because they understand that this is the key to being more agile. Being more agile here means delivering new products and services faster, while maintaining a controllable cost model. The problem with projects is they are resistant to moving systems and data currently in the datacenter.
Some applications will actually require a major overhaul. And this is for the main reason that many companies still want to invest in traditional data centers. In this context, providers of colocation data centers have succeeded in luring some companies by offering to reduce the costs associated with operating their own computer rooms. With them, businesses can rent IT space in large facilities that have all the power, cooling, and networking needed to run IT equipment.
More importantly, colocation space providers have evolved: they have now presented themselves as hybrid cloud specialists. "We had to adapt because of changes in how companies wanted to deploy their core applications," said Jeff DeVerter, CTO at hosting company Rackspace.
"One of the big changes we've seen in colocation is the proliferation of smaller, closer to customer locations. This is an evolution of private clouds used in conjunction with public cloud resources or datasets. The lines between public and private are starting to become less visible and this trend is expected to continue, "he added.
One way to avoid silos and offload IT loads
In its report "Datacentre and colocation market trends 2021," Forrester describes the concept of data gravity, which introduces strategic decisions in expansion plans based on where data will remain in the future. "Companies should be careful not to create data loops that increase the cost of migration, network access and contract terms," analyst Abhijit Sunil warned in the report.
As such, Forrester urges IT managers to consider a hybrid cloud model for deploying workloads in the future. In this case, the critical applications are hosted in a colocation data center and can have direct access to the cloud through gateways in the same data center.
According to the Information Services Group (ISG), businesses have learned that using colocation in the data center market is a way to implement multicloud strategies and address concerns about data sovereignty, safety and regulations.
"One big change we're seeing in colocation is the proliferation of smaller, closer to customer locations.»


Jeff DeVerterCTO, Rackspace

According to a recent study conducted by the company in the UK, approximately 60% of business applications in the UK are still running in premises and many private data centers are run by in-house staff. The study suggests that the reasons why companies choose colocation are, among others, the need to audit data localization, the transfer of software licenses to the public cloud, the capacity and accessibility of hyperconverged systems and improving management tools.
"In an effort to save time, money and space, many large businesses will seek to move their in-house IT operations to managed colocation facilities, or even sell all of their data centers to stop renting. just the space they need to work, "said Barry Matthews, analyst at ISG North Europe.
According to him, businesses are increasingly looking at colocation service providers as an extension of their business, where the latter takes care of tracking the inventory of IT resources, interacting with internal user support. of the company, and monitoring the proper functioning of the systems in real time.
More appropriate independence, latency and cost
As a result, in addition to providing data center hosting for customers 'own systems, some colocation providers have expanded their offerings to managed services, where virtualized applications are powered from system shared with multiple customers.
This colocation solves another hurdle that companies fear: tying hand and foot to the technologies of a public cloud provider. In this context, colocation service providers ensure the connection between a classic data center and all large public cloud services, AWS, Azure or Google GCP, via fast Direct Connect links. These links make it possible to take advantage of each online service as if all applications are hosted side by side, but without barriers to authenticity.
"To save time, money and space, many large businesses will look to move their internal IT operations to managed colocation facilities.»


Barry Matthews ISG Northern Europe

Last year, in its 2020 Multi-Tenant Data Center and Services Industry Report, 451 Group described colocation as a clear way to connect enterprises, service providers, and cloud computing platforms.
Businesses often want to use more than one public cloud, because each of them has specific strengths, whether it's dedicated solutions or pricing. However, companies are afraid to overcome operational barriers in many clouds. And this is one of the trends driving the expansion of colocation services. ISG research found that many customers turn to service providers to help them manage multicloud environments.
In addition, local colocation brings the benefit of better latency, i.e., better speed when it comes to retrieving business information. This advantage is particularly important when data is to be processed close to where it was generated or when regulations prohibit the processing of data outside the country in which it was generated.
Finally, there is the question about cost. One of the first things CIOs need to consider is how much savings from hosting applications and data in a public cloud. When using public cloud, public infrastructure-as-a-service (IaaS), and platform-as-a-service (PaaS) offers, companies continue to be charged, as they are consumed, rather than a payment times when they purchase their data center capacity.
However, companies are realizing that some applications and data formats are not very suitable for public cloud deployment. An application that does not require elasticity to deal with activity peaks will cost less to operate from an environment that does not charge for hosting based on usage.
As research firm Gartner points out in a recent report, companies face difficulty in accurately estimating the costs of a cloud infrastructure. "They are often surprised by invoices that they can't lightly explain, and they have difficulty identifying the things responsible for costs. As a result, financial management is often overlooked, until spending is out of control , "Warned Marco Meinardi of Gartner.
Skills that are becoming hard to find in the job market
Colocation data centers are also full of staff skilled in modern technologies. And that's good, because, according to ISG, many companies fear a possible lack of technological skills.
This skill gap was first highlighted by a recent survey conducted at Rackspace Technologies in 1870 of IT decision makers. The survey found that more than a third (35%) of artificial intelligence (AI) research and development initiatives have failed or been abandoned, while a large proportion of projects (48%) outsource technical support to trusted external sources. partners, due to lack of internal resources.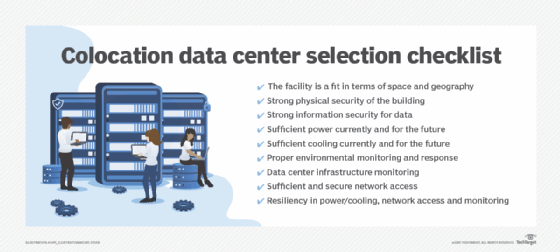 Also seeks technical knowledge in the field of high performance computing (HPC). "Supercomputing applications are in dire need, including high-density data centers. They are offered directly by colocation space providers, or through partnerships," said Abhijit Sunil of Forrester. brands Cyxtera, Digital Realty and Equinix, which, for example, offer turnkey facilities for centers with Nvidia DGX infrastructures equipped with all necessary storage.
Although IT leaders are aware of the lack of skills in advanced technology fields such as supercomputing and artificial intelligence, research from the Uptime Institute shows that the skills crisis is affecting all parts of the data center. . According to a survey he conducted recently, 81,500 new jobs for data center specialists need to be done by 2025 in Europe, the Middle East and Africa (EMEA zone).
All of this suggests a growing crisis in practice, which the Uptime Institute predicts will further push companies to outsource at least some of their data center computing to public cloud or colocation providers. He also noted that private data centers are typically small, offering several opportunities for economies of scale, including for staff. For example, all data centers, regardless of size, require positions for computer hardware technicians and electricians.