The European aircraft manufacturer is convinced that the widespread use of SAF (sustainable aviation fuel) will allow the sector to accelerate the transfer of its energy while waiting for the hydrogen plane.
Achieving carbon neutrality for aviation is no small feat. Of course, there is a clean plane, propelled by hydrogen, but its development will take time and it will take at least a decade before we see it flying in the sky.
Airbus, which is just beginning its first hydrogen plane tests, is still convinced that we can transfer this energy faster if the sector relies on what already exists: sustainable fuels, bio-fuels or agro-fuels or SAF (Sustainable Aviation Fuel).
Composed of both plant and biological waste, SAF reduces CO2 emissions by up to 80% compared to conventional aviation fuels.
The SAF is "now"
"Bio-fuel planes are here," insisted Guillaume Faury, Airbus boss at BFM Business in September. "Also, at Airbus, we have a bit of frustration because all the planes we deliver are capable of (loading) 50% bio-fuel into tanks. And it's not used. But the good news, there's a very short-term potential to go very fast on bio-fuels as this sector develops, meaning that airlines are willing to accept slightly more expensive fuel, "he explains.
As proof, Airbus flew an A380 from Toulouse on March 25, whose tanks were 100% full of sustainable fuel. The flight took 3 hours.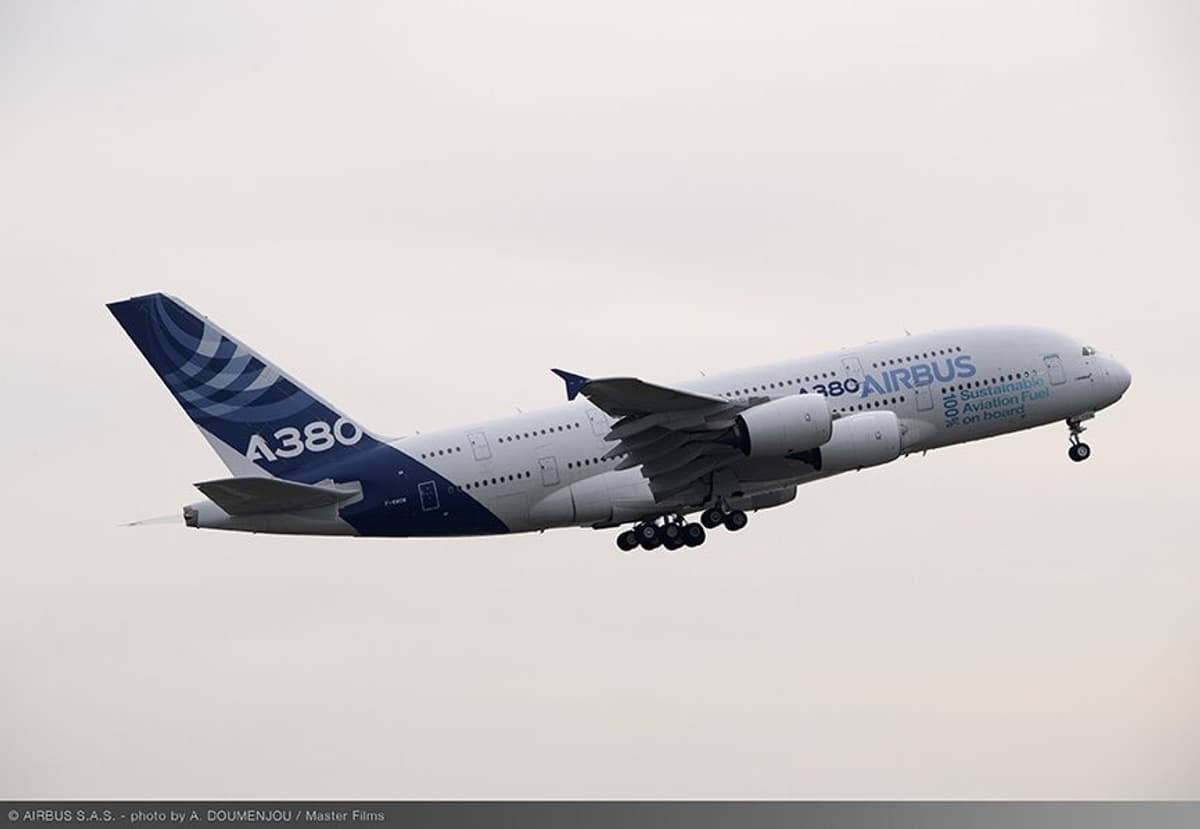 "27 tons of unblended SAF were provided by Total Energies for this flight. The SAF made in Normandy, near Le Havre, France, was made from esters and hydrotreated fatty acids (HEFA), free of aromatics and sulfur, and mainly consists of used oil, as well as other fatty waste.The second flight, with the same device, will take place from Toulouse to Nice airport this Tuesday, March 29 to test the use of the SAF during take-off off and landing "details the aircraft manufacturer.
Airbus is actually stepping up tests because it's the third type of aircraft to fly 100% SAF in 12 months; the first was an Airbus A350 in March 2021 followed by a single aisle A319neo in October 2021.
Prices are too high
The group specified that all of its aircraft are currently certified to fly with up to 50% SAF mixed with kerosene. The goal is to achieve 100% SAF certification by the end of this decade.
However, in practice, the use of SAF remains marginal in the industry. "Use is not limited by technological reasons, but by market factors: insufficient supply and prices too high ", lo in a report French MPs Bernard Deflesselles and Nicole Le Peih after an information mission on the future of the aeronautics sector.
As a result, in 2019, they had 0.1% of global aviation fuel consumption.
The European Commission predicts gradual obligations for the SAF's integration into aviation kerosene, from 2% in 2025 to 5% in 2030 until then jump to 20% after five years and to 32% in 2040 then 63% in 2050.
A prospect that is too far-fetched for parliamentarians proposing an inclusion obligation of 10% in 2030 and 35% after ten years "to send the sector a clear signal" on the availability of these biofuels and therefore is the reduction in their price.
Agreement between TotalEnergies and Safran
"Without public impetus, the development of sustainable fuel is almost impossible", warned two deputies of the European Affairs Committee.
But things are moving. Airlines and aircraft manufacturers are about to enter the battle order. Ryanair, which estimates that 34% of its decarbonization will come from increased use of these fuels, said it is working with the EU and suppliers to speed up SAF supply. It also created the Sustainable Aviation Research Center in partnership with Trinity College Dublin to accelerate R&D around these fuels.
The massification of production should make it possible to lower prices. As a result the proliferation of agreements between manufacturers, energy producers and airlines.
In France, TotalEnergies and Safran (which notably makes aircraft engines) announced in October that they were forming a strategic partnership. Aim "in the short term, to obtain compatibility of current engines with an incorporation rate of up to 100% of SAF and in the longer term, to optimize the energy and environmental efficiency of engine/fuel pairs".
The mobilization of the sector and the appetite of companies makes it possible to rely on the marketing of aircraft powered by 100% SAF in a short period of time. "The economic equation is changing", added Guillaume Faury of Airbus who estimates that an aircraft whose tanks will only be filled with agro-fuel is possible by 2035 "thanks to joint work, collaboration to find the right solutions .
Olivier Chicheportiche Journalist BFM Business