Microsoft has launched its offer of Windows PCs running through the cloud, intended for primary professional use. The Redmond company offers Windows 365 from 28.20 euros per user per month.
If by 2021, cloud gaming has already carved out a prominent place in the public debate, the rise of cloud computing will not last long. Especially when a giant like Microsoft puts its way. We've been hearing about the Windows cloud PC offering in a few months. Presented temporarily as a competitor to the company Shadow, which offers PCs in cloud oriented video games, the Windows solution is for its part clearly intended for the professional world.
The offer is called Windows 365 and it is available now. How does it work concretely? In exchange for a monthly fee, Microsoft proposed to broadcast via the Cloud a Windows PC streaming to one device, and more specifically, to a fleet of devices. This is clearly a way for Windows to adapt to new more "flexible and remote working habits", as the Redmont company wrote in the project presentation.
How much is that ?
Two options are offered: one focused on SMEs, the other on large companies. Regardless of the size of the business, the rates are the same, and they are arranged at monthly rates per user. In its basic version, Windows 365 offers PCs equipped with 2 virtual processors, 4 GB of RAM and 128 GB of storage, and costs 28.20 euros per user per month. The most expensive version costs 60.10 euros per user per month, and it embeds in each PC 4 virtual processors, 16 GB of RAM and 128 GB of storage.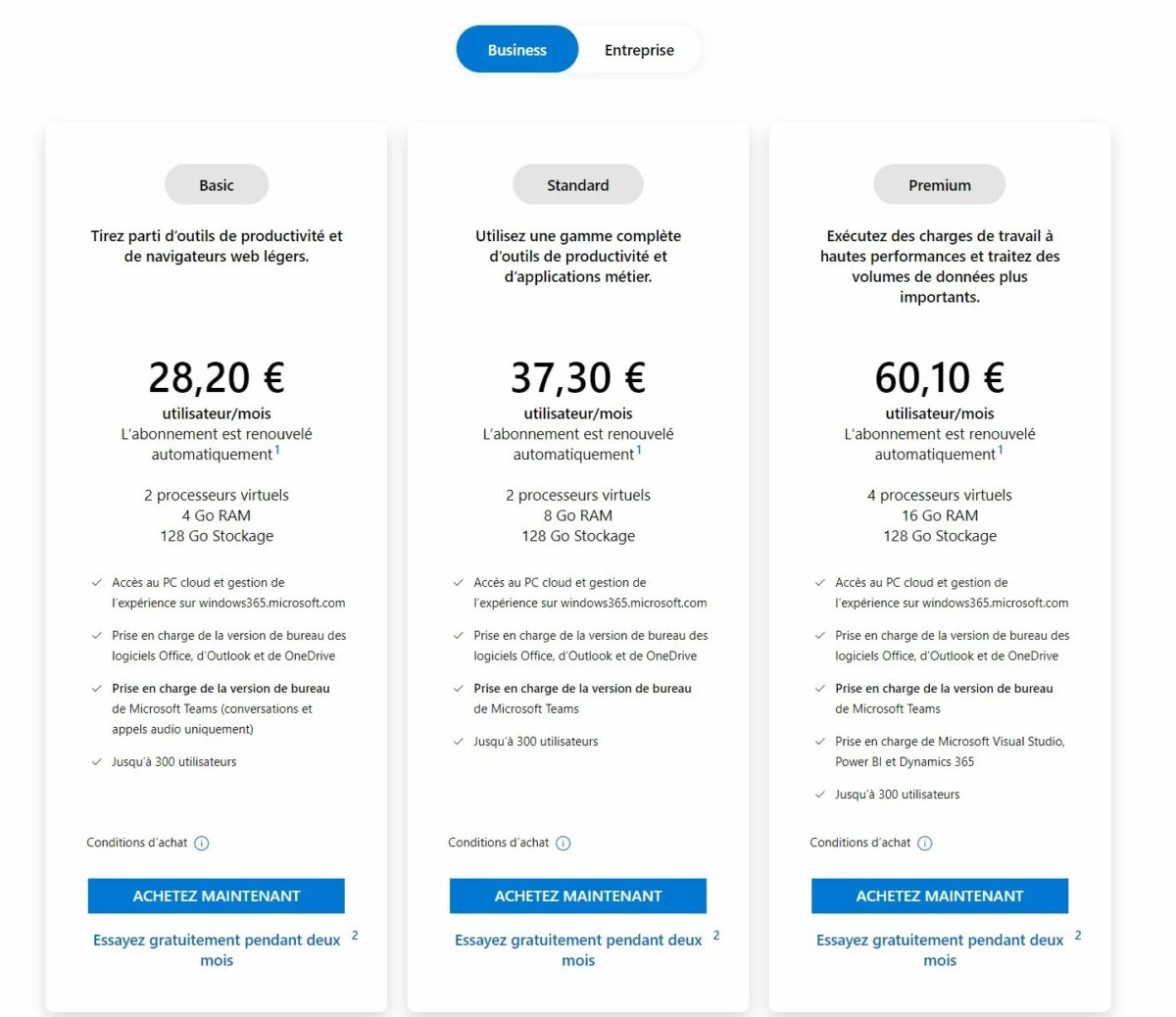 It should be noted that a more extensive price list is also available on Microsoft's site, with the possibility of paying slightly when using a cloud PC on a Windows 10 device. expensive, with a virtual processor, 2 GB of RAM and 64 GB of storage, can cost 18.20 euros per user, if the Cloud PC is used on a machine that already has Windows.
| Processor | RAM | Storage | Price in euros |
| --- | --- | --- | --- |
| 1 vCPU | 2 GB | 64 GB | € 21.90 user/month |
| 2 vCPU | 4GB | 64 GB | € 29.10 user/month |
| 2 vCPU | 4GB | 126 GB | € 31.90 user/month |
| 2 vCPU | 4GB | 256 GB | € 40.10 user/month |
| 2 vCPU | 8 GB | 128 GB | € 41.00 user/month |
| 2 vCPU | 8 GB | 256 GB | € 49.20 user/month |
| 4 and vCPU | 16 GB | 128 GB | € 63.80 user/month |
| 4 and vCPU | 16 GB | 256 GB | € 72.00 user/month |
| 4 and vCPU | 16 GB | 512 GB | € 95.60 user/month |
| 8 vCPU | 32 GB | 128 GB | € 115.70 user/month |
| 8 vCPU | 32 GB | 256 GB | € 123.90 user/month |
| 8 vCPU | 32 GB | 512 GB | € 147.50 user/month |
On the other side, the maximum price is set at 147.50 euros per month and per user, for a machine featuring 8 virtual processors, 32 GB of RAM and 512 GB of storage.
Why a Cloud PC?
The main idea behind this offer is simple: the flexibility offered to the user. In fact, as Microsoft wrote, "These cloud PCs can stream all of their custom enterprise apps, tools, data, and settings to any device, including your Mac, iPad, Linux, and Android devices. »
Another advantage offered by this flexibility of use: "You can continue where you left off because your Cloud PC status remains the same even if you switch devices "says Microsoft again.
How about security and stability?
The other advantage promised by Microsoft is a security benefit for the company. The stored information is all visible "In the cloud, not on the device". In addition, multi-factor authentication (equivalent to double authentication in Windows) is automatically integrated.
The stability of a cloud-powered PC can be a concern for businesses, and Microsoft understands that. This is why the Redmond company delivers Windows 365 with a diagnostic tool, Endpoint Analytics, that allows "to identify Cloud PC environments that do not meet a particular user's performance needs".
If Microsoft already offers a cloud computing service with Azure, it requires a certain number of virtualization skills to set up. What Windows 365 offers here is a turnkey solution, which Microsoft "simplifies the virtualization experience by managing all the details".
---
To follow us, we invite you to download our Android and iOS application. You can read our articles, files, and watch our latest YouTube videos.