Three-quarters of CIOs will prioritize API initiatives according to a new Forrester/Axway study. A priority that will motivate the need to open information systems in a secure way, but also and above all Business. If you manage value properly …
APIs have changed IT and infrastructure. They are clearly at the heart of the Cloud because they make it possible to exploit its services. They are also at the heart of transforming infrastructures by transforming previously closed systems and solutions into platforms that facilitate interconnections. Finally, these are open windows to IS, opening up access to the companies 'legacy Data and Services. This openness is more than just sharing and access problems. It is also – and increasingly – a business accelerator.
For several years now, the adoption of APIs has been, for CIOs, neither a skills problem, nor a technical problem. The real challenge lies in the company's ability to make them business machines and consequently to ensure management is capable of optimizing its value.
A new study, conducted by Forrester and sponsored by Axway, sheds light on the current role of APIs in creating business value as well as the challenges CIOs now face in maximizing at the cost of this business.
API culture
Synonymous with agility, opportunity, and integration, APIs have become one of the key levers of digital transformation. " Our research shows that APIs can be a huge revenue for businesses. To seize opportunities and achieve business goals, businesses must turn to API consumption explained Brian Pagano, Chief Catalyst Axway. Because if the study highlights a strong trend, it's that companies are becoming aware that they should now develop fewer APIs and allocate more energy to their consumption. The idea is to focus developments on APIs that actually provide business benefits and directly contribute to bringing value to the business. Then to ensure that these APIs are widely adopted.
According to the study, 86% of CIOs and IT managers surveyed know that the value of APIs does not depend on their development but on their adoption. And 71% acknowledge that they are not meeting the expected business benefits of their APIs, mainly due to lack of adoption, user experience problems, lack of metrics.
We must establish an API culture with a desire to make APIs business sources and not just technical solutions.
" Many companies are pretty enthusiastic about APIs, but it's important they learn to focus on the 'right' APIs, the ones that will bring value to the business. What is often missing is a holistic view of APIs and metrics to make data -based decisions explained Brian Pagano.
These challenges constrain the business value of APIs
The study thus demonstrates a growing desire among companies to bridge the gap between the development and consumption of APIs to promote their adoption and increase the commercial revenue generated by these APIs.
But for that, CIOs must find levers that allow them to free themselves from the 4 main challenges posed by APUs: take metrics on the value of their APIs, offer experiences that facilitate the discovery and handling of APIs, s ensure the adoption and use of developed APIs.
Thus, the discovery and ease with which developers and citizen developers can try and use APIs remain important topics that have conditioned the Business value of APIs and the ROI of their development: 69% of CIOs expect better ROI from their APIs if developers are made it easier to discover, subscribe, and use them. According to them, returns on APIs would increase by 21% on average if discovering, subscribing and using these APIs were made easier.
Preach for your parish: The benefits of API Management
Since the study was funded by Axway, it is certainly interested in the benefits brought by API Management solutions with this goal of improving the discovery and use of APIs. According to a survey conducted by Forrester, such tools help improve the use of APIs (and therefore generate more revenue) for 59% of managers surveyedto reduce the complexity of managing APIs (for 50% of managers), to simplify the administration and subscription of APIs (for 49% of managers), to increase the use of new services ( 48%).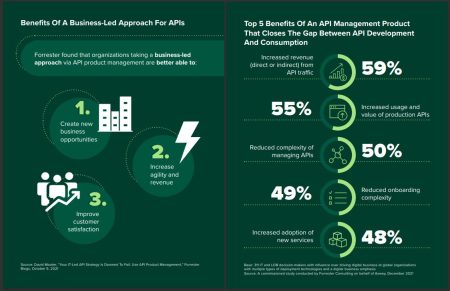 In other words, API Management tools are not only intended to facilitate the management and security of hundreds of APIs but actively contribute to advancing the adoption and therefore the economic profitability of APIs. .
" An API management platform bridges the gap between development and deployment through centralized, automated management, leading to increased revenue and increased cost of APIs – not to mention reduced complexity of the API end by Brian Pagano.
---
Also read:

> An instructive and questionable AI API Magic Quadrant

> API security, the new challenge for companies

> "APIs help companies change their business model…"

> Monetization of APIs: the future martingale of the financial sector?