The new "Cloud Observatory" study conducted by IDC for the New Relic reflects the adoption of the Cloud in France. If the cloud continues to grow strongly in France, French companies seem to be more focused on "Cloud Also" than "Cloud First" …
The new Cloud Observatory 2022 from New Relic and IDC is based on a survey of more than 200 CIOs and IT managers from the public and private sectors. Not surprisingly, it shows that the cloud (in all its forms, private/hybrid/public) is thriving in France, inviting companies to renew and modernize.
According to the study, the public cloud should continue to grow in France by 21.6% per year on average between 2021 and 2024. Its adoption is primarily driven by infrastructure scalability (which has been key in the world of uncertainty), infrastructure modernization (a permanent necessity) and business stability (a requirement to ensure the lowest cost of continuing the business). Access to innovative services occurs only in 4ika position, aspects of the budget are sent rather than under classification.
Furthermore, 35% of French companies believe that 5 to 20% of their application heritage has already migrated to the public cloud at for 23%, this proportion is between 20 and 50%.
However, this public cloud is only one part of IS for most companies. The "First Cloud" approach is not the majority and "Cloud Also" dominates the scene.
Cloud Observatory: The Private Cloud remains a priority
The proof of this is that the private cloud (in other words the on-premises cloud with more agile infrastructures) is becoming prevalent. Three out of four organizations say they already operate a private cloud or have plans to do so, and most companies plan to increase their investments in this area over the next 24 months.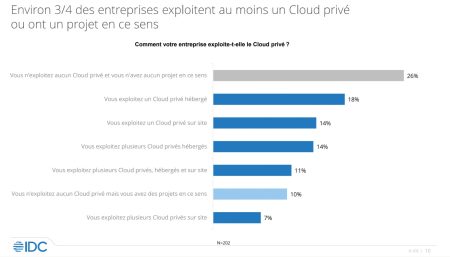 And this interest in the private cloud is being shown on other levels. Typically, "decommissioning internal data centers" is not among the priorities of the moment even though it remains one of the mentioned attractions of the public cloud.
The study distinguishes between "private cloud on-premises" and "hosted private cloud." And it shows that hosted private cloud investments will grow faster than private cloud on-premises: 56% of companies that opt ​​for a private cloud hosted will increase their investments in this hosted cloud while 66% of companies with on-premises private cloud do not expect to increase their investments in the next 24 months).
Incidentally, it should be noted that "data security" and "dependency risks (Lock-In)" are still ongoing and always considered to be two major pitfalls, the two main risks preventing wider use of the cloud . public.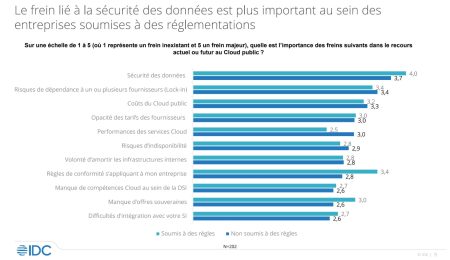 Cloud Observatory: 1 in 2 companies are constrained by specific regulations
Another interesting information from this study, 48% of companies are subject to specific regulations, outside the GDPR. It should also be remembered – and not surprisingly – that in the public sector, On-Prem remains the majority meanwhile in the private sector, On-Prem is losing strength, particularly in favor of SaaS considered the first strategic choice in terms of application modernization. However, this significant number once again demonstrates that current government and European policies to strengthen the adoption of "sovereign" cloud solutions are a real opportunity for French and European cloud providers to take advantage of. . It's up to them to diversify their offers and be competitive against the American giants, despite the size difference.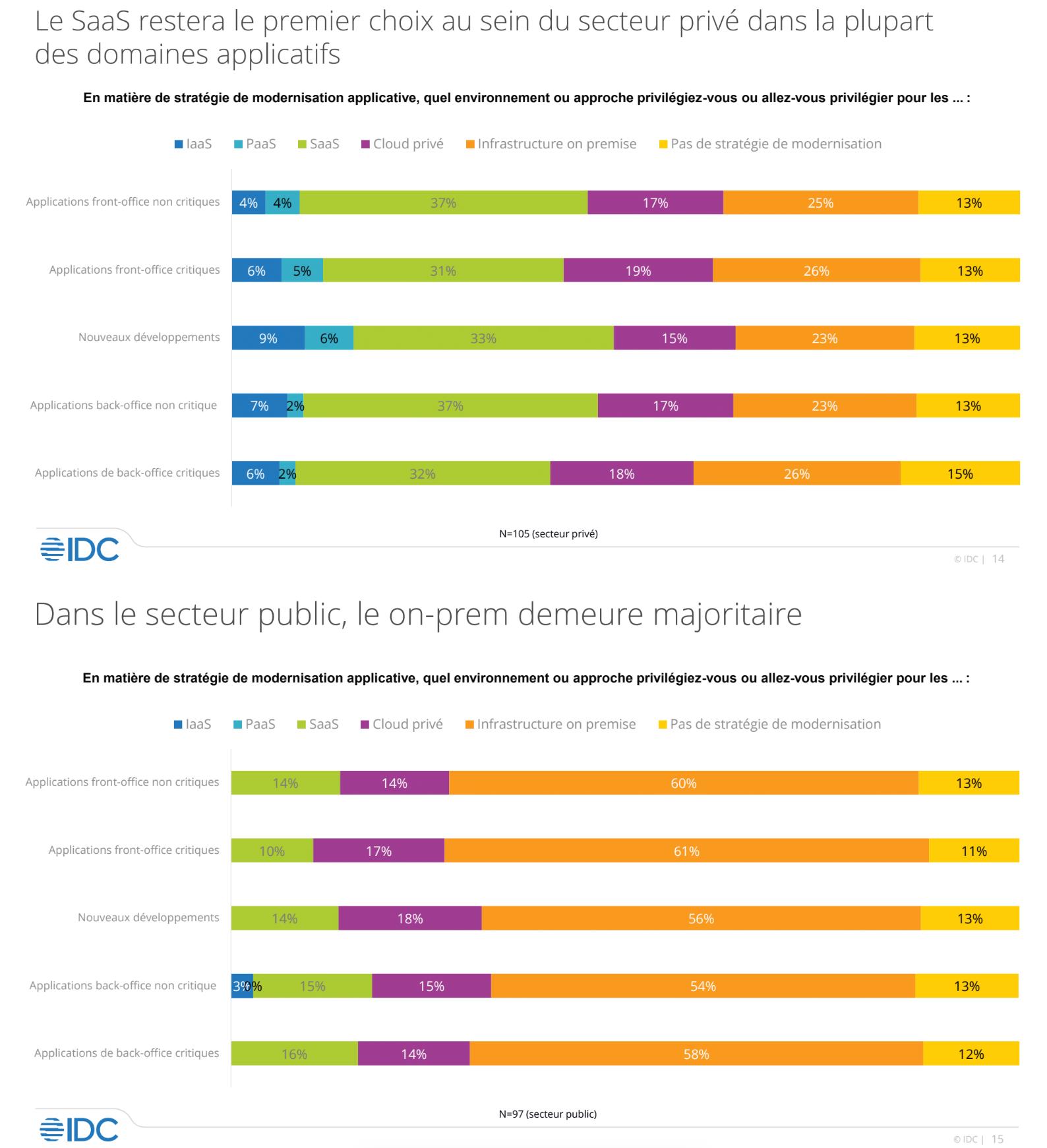 Cloud Observatory: multicloud is evolving but also has its refractories
On the side of surprises or trends in France against the current, we retain one figure: 40% of French CIOs surveyed are resistant to multicloud and rely on a cloud! One option that is first of all explained by the ease of use of such an approach, the greatest ease of integrating skills within the IT department and simplified monitoring.
On the other hand, for those who opt for a multicloud approach, the main motivations lie in the possibility of selecting the most suitable solution for each BU, the stability in the event of a cloud failure and access to a better offer. .
However, these multicloud companies recognize that multicloud raises challenges, the three main challenges are interoperability, control over operational costs and the importance of implementation costs. However, it is surprising to see tracking in different environments late. Probably because 70% of companies say they are extremely satisfied with the tracking tools delivered by cloud service providers.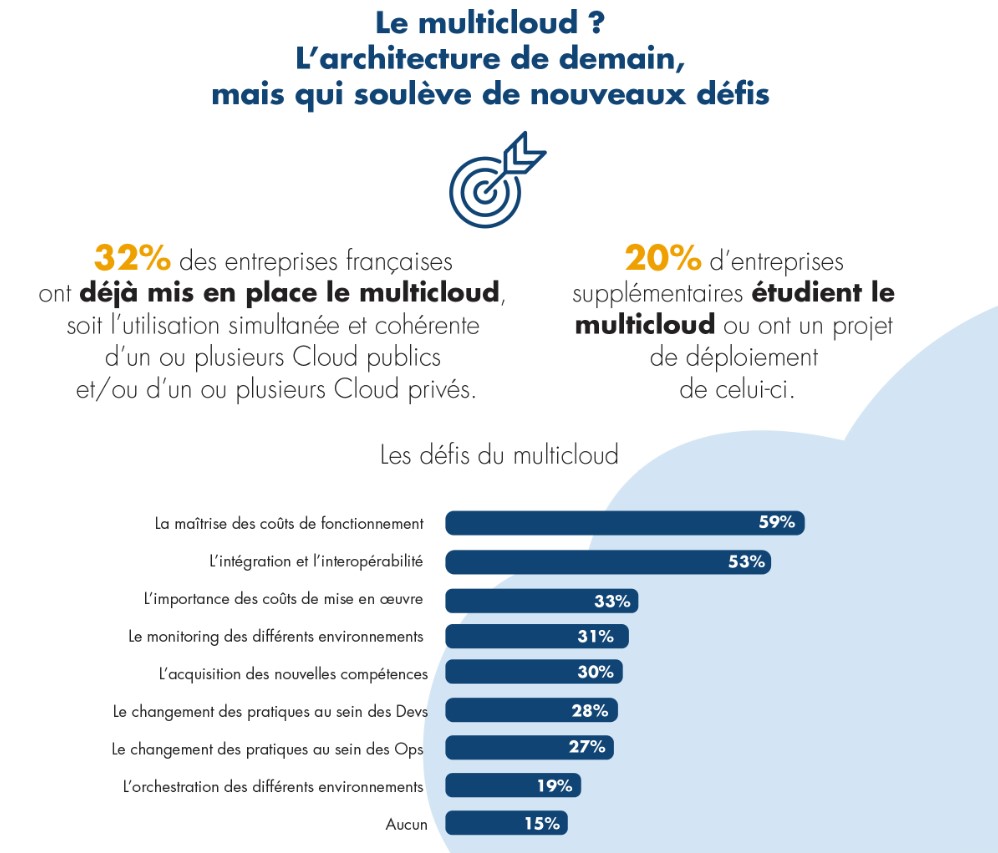 Finally, we note that 62% of CIOs believe that within 5 years, their information systems will continue to rely primarily on the balance between cloud and on-site infrastructure!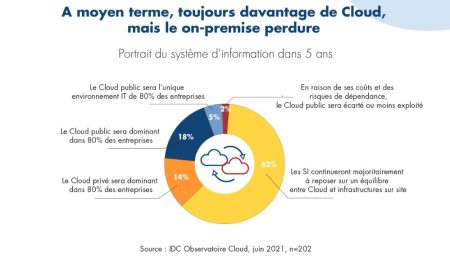 Also read:

> Gartner confirmed that more than half of IT spending will be in the cloud by 2025.
> A CIO who inspires a cloud of trust
> "Companies are just in the beginning of adopting container and hybrid cloud. We need to help them grow.»
> PFUE: when will there be an environmental assessment of the cloud on a European scale?
> Forrester forecasts for 2022…
> Gartner forecasts for 2022 and beyond…