The world's leading dairy group, Lactalis is preparing to move to its own private cloud infrastructure with the ambition to provide its subsidiaries with a level of service equal to the level of service of major public cloud providers. The project is huge, the project has been in preparation for three years and should be amortized in less than five years.
The least that can be said about the French multinational's Lactic project in the food industry is its opposition: at a time when companies are evolving towards hybrid cloud and multicloud, the world leader in dairy products has decided to replace its 80 outsourced data centers with 10 fully in-house.
It's also very ambitious: Lactalis has given itself less than two years to complete this radical transformation, which is more than the simple transposition of IT assets.
Simplified, simplified, modernized … its infrastructure will undergo drastic changes in the face. " Lactalis is built by external growth with the desire not to reinvent the wheel every time, explained Arnaud Desbordes, the group's IT infrastructure manager. Today, the group's IT consists of more than 80 machine rooms, 4,200 servers, 40 different operating system versions, 12,500 CPUs and 2 petabytes of data, all spread across 80 countries and used by 35,000 collaborators. In other words, we are faced with a very diverse infrastructure, inherited from successive acquisitions, very difficult to maintain and extremely costly in terms of human resources, risks, etc. With rationalization and simplification as goals, Lactic is both a result of our inner culture – we are accustomed to doing things ourselves – and of the desire to gain agility. »
The IaaS project, Lactic is part of a Cloud Management Platform strategy, the goal of Lactalis is to offer a level of service similar to that of Azure, AWS or GCP within the group.
For Arnaud Desbordes, this is therefore only the first brick, the more or less long -term goal is to provide a catalog of PaaS services.
Carefully thought out, carefully prepared, the project actually started in January 2018 with studies, inventory, framing … First stage, the overall design stage monopolized approximately 40 people in 2,000 hours of work. To oversee the project, Lactalis assigned 35 people over approximately 1,300 hours to define management. About 70 people (internal and external) then worked for two months, three hours a day, on the detailed design. "We started from scratch to avoid re-creating heterogeneity by adapting the details of each,said Arnaud Desbordes.To achieve our goal of providing resources as easily as public cloud providers, we needed to automate our infrastructure as much as possible, so we moved to hyperconvergence to build our core infrastructure model.»
Two other factors also explain this option: centralized and simplified management of computing, storage and network from a single console and increased workload facilitated by the addition of nodes.
For the same reasons, the group chose backups to virtual tapes and justified the number of operating systems allowed within the group: two versions of Windows (+ 2 older versions to keep some specific applications not eligible to renovate) and four Linux distributions against 40 different operating systems previously.
Instead of its 80 current datacenters, Lactalis will have five datacenter pairs by the beginning of 2024-one on each continent-that will offer the same infrastructure. Each subsidiary will be connected to its datacenter by an SD-WAN network currently under construction. With the exception of Europe where the group has its own datacenters, Lactalis is hiring locations from major service providers to host its private cloud infrastructure.
For now, the group is still finishing some elements on the side of its detailed design. The selection of integrators is still underway and the group has only just begun to place initial orders for hardware and software solutions. As negotiations continue, Arnaud Desbordes prefers to remain cautious about his suppliers. The first move is scheduled for Christmas 2021 and it is the United States that will open the ball.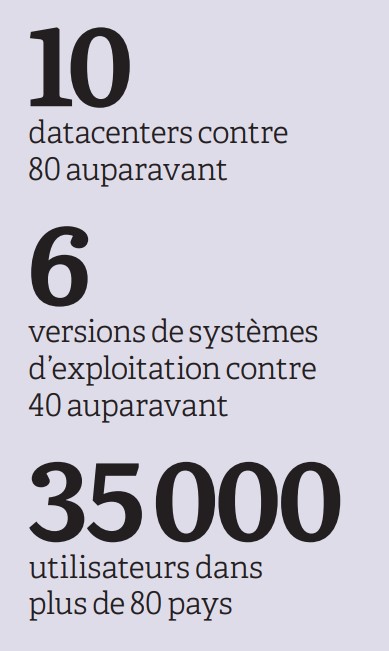 Confident despite the very tight timing, the IT infrastructure manager is convinced that he can meet the deadlines thanks to the massive preparatory work carried out upstream: "The whole group participated in the construction of this project, each IT department is responsible for one or more perimeters,he explains.We are fortunate to have an existing one with very few adhesions, which greatly simplifies our approach. Similarly, we reviewed the work required to streamline the number of operating systems and it was relatively lightweight. With the exception of a few very specific servers, even our AS/400 servers will be migrated to our private cloud infrastructure in the form of VMs. The management of certain automata, on the other hand, will remain on the site: they have too much compliance and do not support the latency generated by a cloud connection.»
Arnaud Desbordes acknowledges however that the onset of Lactic is difficult. But participation at all levels of the hierarchy has resulted in convincing regional management that it is better to comply than to submit. "Initially, we sought to involve our international experts to enrich the project with their skills. On the business side, some are harder to convince than others. But in general, directors realize that they will have stability, in cybersecurity or even in costs, especially in countries where we don't have enough presence to justify a complete IT team.»
Between the avoided costs and the savings made thanks to rationalization and aggregation of purchases, Lactalis plans to amortize its project within five years. Suffice it to say that despite the ways deployed to modernize the infrastructure and gain agility, Lactic should be able to generate tremendous benefits while contributing to reducing the group's digital footprint.
THE COMPANY

ACTIVITY: Food industry

EFFECTIVE : 85,000 employees worldwide

NA : € 21.1 billion (2020)