O-My Booksellers is more of a place to buy manga. It is the only organization dedicated to Japanese art in Canada, animated and run by enthusiasts. By offering a large catalog of books in their main store at O-Taku Manga Lounge, but also at different places of saleLibrary O-Taku has shared a passion for manga since 2010.
We spoke with Jocelyn Callier, director of technology at Librairies O-Taku, with the goal of learning more about the company's origins and discovering the technical and organizational aspects of a unique company in North America.
While the O-Taku Manga Lounge is your primary sales location, you also have other sales areas in partner stores. Can you tell us more about these collaborations?
Jocelyn: In fact, we currently do business with 8 stores. These are partners with products that are close to our culture, a "geek" culture, but don't sell books. Since manga and books in general are a whole field of business, it's a whole relationship that has to be done with suppliers and it's a whole knowledge that is also there. For example, knowing which manga to keep in stock, which ones will be of interest to their customers, etc. This is most of the time stores are interested in the idea of ​​offering manga for sale and therefore the advantage of doing business with us is we offer them turnkey management to sell manga in their store. Our partners can have access to recommendation tools as well as having a stock management solution.
In addition, if our partners are thinking about their cash management system, we often offer them Lightspeed. In fact, we already operate ourselves using this cash register system that we think is easy to use and in addition, we can manage the collection remotely. It just so happened that some of them chose Lightspeed for their entire store because it was simple to use, great design and very user-friendly.
You were one of the first to adopt Lightspeed in Montreal. What is your experience with this cash management system?
Jocelyn: During the launch of the store project, I conducted an audit of the various checkout systems available in the market and Lightspeed quickly stood out from the rest. It met all of our essential needs, such as its API management system that allows us to connect to the system remotely.
Then, for our relationships with our partners, the fact that Lightspeed is easy to implement saves us a lot of time. And this is even more true when our partners are already using Lightspeed. It's very easy to implement with them, because we just added our stock to their system and that's it.
We know that the manga universe is vast and that there are many product references. How do you organize yourself to manage your eCommerce, your stores and your partners at the same time?
Jocelyn: We have a dedicated Lightspeed management system in our warehouse in Montreal where all of our inventory is located, i.e., over 30,000 manga, plus approximately 4,000 references of derivative products. And in fact this inventory becomes our main catalog. In this catalog we update our prices and denominations. Then, we will disseminate the information from this central catalog to the other catalogs of our partners and our stores thanks to daily and personalized activities.
It also allows us to update our categories. In fact, we have developed a unique industry classification that helps guide consumers and help them make their choices. These categories can also affect our partners 'Lightspeed checkout system, which, even if they're not manga experts, allows them to advise their customer in-store.
Then, using Purchase Orders, our partners can place orders from our warehouse very easily thanks to the system we have put in place.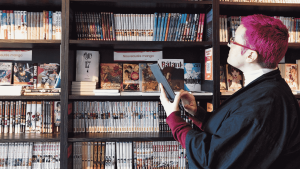 Now, what are the features of Lightspeed that are most helpful in your daily life?
Jocelyn: It's the combination of three things that makes Lightspeed interesting to us. Stock management, money management and the possibility of generating customer files. These three elements combined allow us to manage our in-store sales, to manage our warehouse stocks, to manage B2B and B2C, and ultimately it also allows We know the purchase history of customers, whether they have purchased online, in our stores or with our partners. Omnichannel at its best!
Thanks to these customer files, we have created an automated recommendation system. This was one of our main ideas when we started working with other stores. This recommendation system is based on customer purchases. The sellers of these stores are not always manga experts. Our recommendation tool allows them to provide personalized suggestions to each of their clients. When the latter goes to checkout, the seller can offer him to discover more manga, which helps to increase the average basket of buyers.
The period between 2020 and 2021 is relatively difficult for businesses around the world. How did the Covid-19 pandemic affect you and what was your reaction to this crisis?
Jocelyn: We launched our first manga space with one of our partners at the end of 2019. So we were motivated to open up other sale spaces. Subsequently, we have therefore developed a strategic plan at the beginning of 2020, focused on a deployment of primary physical sales space. Then came the pandemic in March 2020 with store closures and that's where we decided to be 100% digital for a living. This includes developing manga content, Facebook lives, virtual drawing and Japanese lessons but also implementing eCommerce on our website.
Contrary to all expectations, it should also be noted that the manga and home entertainment market experienced dazzling growth during the pandemic, which is therefore interested, when stores reopen, some future partners to add a manga selling place. This allowed us to open up 7 manga spaces and continue to follow our growth plan (even if it wasn't as fast as we'd like of course!). In addition, the deployment of our eCommerce site has allowed us to create click and collect and therefore we were able to maintain a certain level of store traffic.
What is the future of O-Taku Libraries?
Jocelyn: It is certain that at the moment we are focused on the Quebec and French-speaking Canadian market. However, in North America the manga industry is emerging, reaching the well -established comics market. In the rest of North America, there is no equal to the O-Taku Manga Lounge even in New York, a city known for its concept stores. So there is an opportunity for us to explore this market by opening specialty stores in major cities in Canada to meet the growing demand.